The First Tee
The Wisdom of Youth: There's a lot to learn from the stories of these promising teen golfers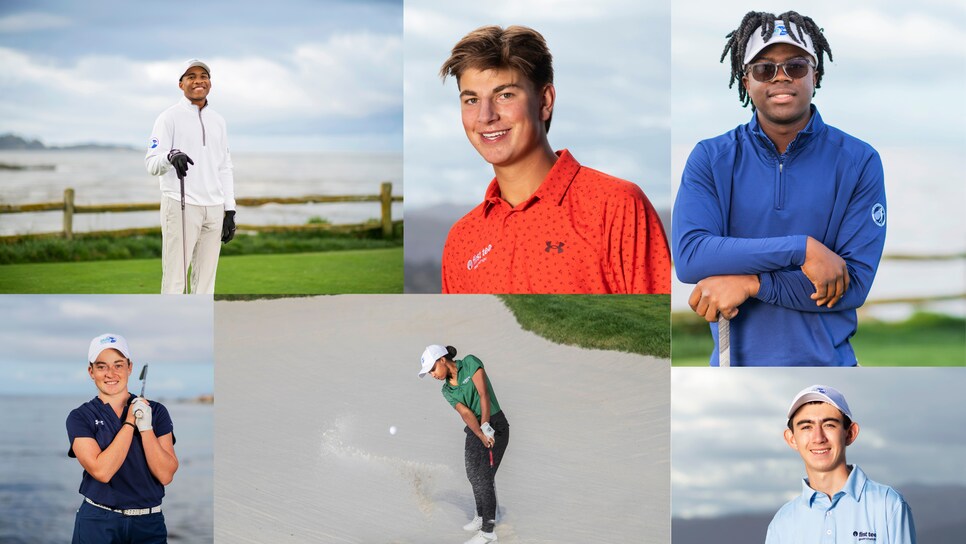 Photographs by Dom Furore
On the 18th hole at Pebble Beach Golf Links, with seals barking in the background and the sun peeking in and out from behind the clouds, a group of teenage golfers stood in disbelief. Were they really going to get a chance to play this legendary course? Out of roughly three million participants in The First Tee program, which was created 26 years ago to introduce children of all economic levels to the game of golf, these 78 kids were invited to compete alongside senior-tour professionals in the PGA Tour Champions PURE Insurance Championship in September 2022.
With pro golf returning to Pebble Beach in July for the U.S. Women's Open, it seems a fitting time to have some of these young competitors share their success stories and impart a little of the golf knowledge they've picked up along the way. Read on to be inspired and, perhaps, learn a thing or two about how to improve your game.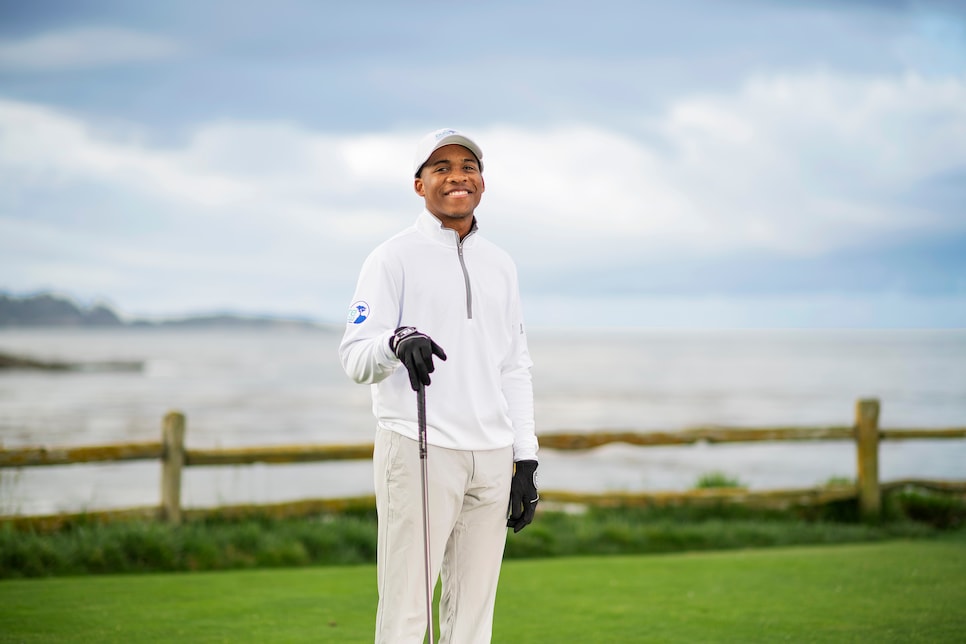 FIRST TEE CHAPTER ATLANTA
HOMETOWN CONYERS, GA
HANDICAP 3.5
GPA 4.0
AGE 17
When BJ Little was 7, he asked his grandfather if he could use one of his golf clubs to try to hit a shot. The result was a cold top. "That was the first time I'd failed at something, and I didn't want to give up," BJ says.
That determination led to joining The First Tee program at Charlie Yates Golf Course in Atlanta a decade ago. "They taught me how to grip the club, how to swing it, how to hit certain shots," he says.
The program also provided other things: "I've found the friendships to be very important," he says. "I always felt like there was someone there I could talk to. Whenever I wanted to have fun, that's where I went."
The First Tee's teaching philosophy is based on nine core values: honesty, integrity, responsibility, respect, courtesy, sportsmanship, judgment, perseverance and confidence. BJ says he wanted to pass that approach on to others. His high school didn't have a golf team, so he took it upon himself to create one with the help of Jeff Dunovant of The First Tee.
"I wanted to show other students that we can play this sport, too." BJ says.
Through The First Tee, BJ met one of his idols, former First Tee kid and current PGA Tour star Cameron Champ. Idolizing Champ had an unintended drawback on Little's game. "Cameron Champ got me into a lot of trouble," BJ says jokingly. Admiring how far Champ hits the ball, BJ tried to copy his swing. That led to him delaying the set in his wrists during the backswing to create a bigger swing arc and going all out on the downswing. It didn't work.
BJ now sets his wrists earlier and dials back his effort to around 80 percent. The smoother action keeps the ball in play and helps him manage his energy.
"The best advice I've gotten is to not mimic someone else's swing," he says.
Laird Small, master instructor at the Pebble Beach Golf Academy, says what BJ did is what long hitters do: "Delaying wrist hinge creates a larger arc. The bigger the arc, the farther the hands are from the ball and the more momentum you can create. The danger is that you can end up swinging past your point of flexibility and lose control. A good reference point for your ideal length of backswing is to recoil like you're going to throw a baseball. Where's your hand? That should be the top of your backswing."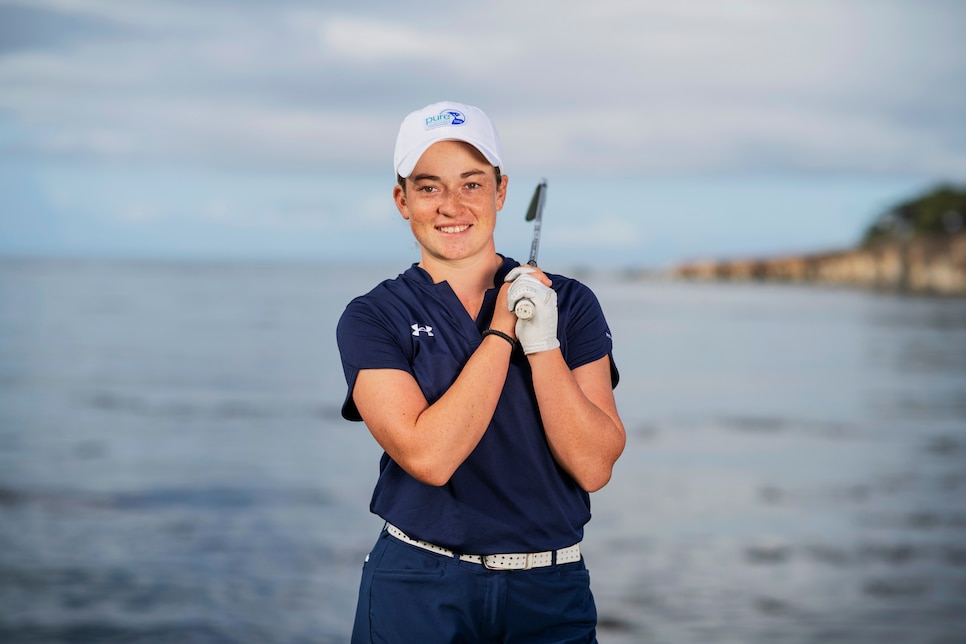 FIRST TEE CHAPTER DELAWARE
HOMETOWN OCEAN VIEW, DEL.
HANDICAP PLUS 3.0
GPA 3.9
AGE 17
Sarah Lydic says she has tried nearly every sport, which makes sense because her parents are gym teachers. When her dad, a casual golfer, noticed Sarah's "natural golf swing" as she swung a teeball bat a decade ago, he encouraged her to join the only First Tee chapter in Delaware. On the golf course, Sarah found a place where she could focus.
"I have ADHD, so it's hard for me to focus at school," Sarah says. "It's crazy, but whenever I've been on the golf course, I haven't had an issue concentrating. Golf showed me that I can focus. It's helped me stay patient. I try to take that confident headspace to the classroom. The last two years, I've gotten mostly A's. That's been a great accomplishment for me because I've always struggled to get good grades."
Outside the classroom, Sarah has become an accomplished golfer who hopes to play on the LPGA Tour. A highlight of 2022 was qualifying for the U.S. Women's Amateur. She missed the match-play cut with rounds of 74 and 79, but the experience was motivating.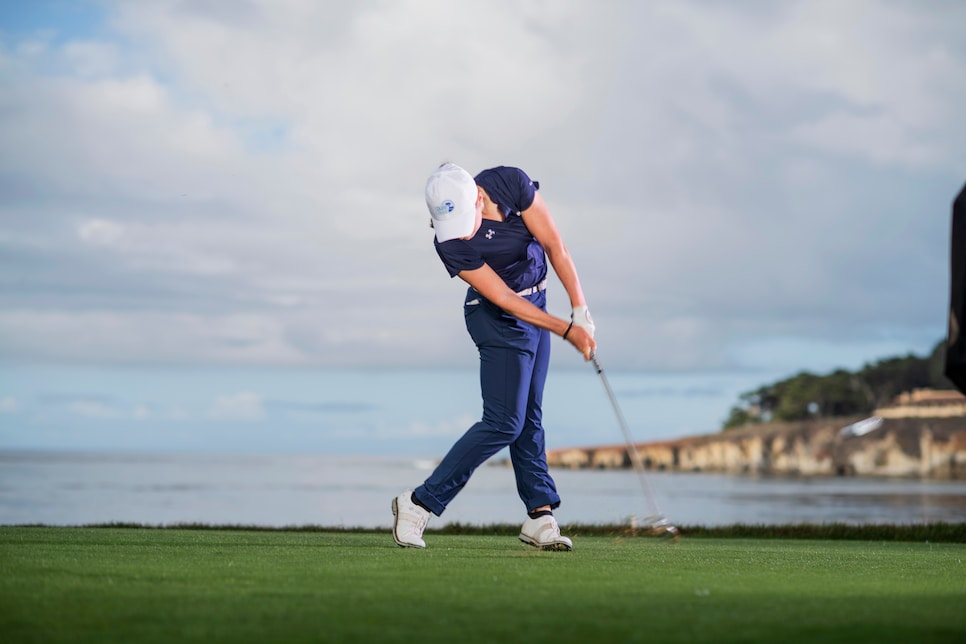 "The best piece of life advice that I've gotten is, you're not going to have a great day every single day, but every single day is a great day," she says.
Back on the golf course, Sarah says her ball-striking has been strong as a result of some advice: "The best tip I've ever gotten is to get through the ball with my irons. I picture getting my weight to my front foot and feeling like my left hand gets through the ball."
Instructor Laird Small says that "most amateurs tend to have the clubhead ahead of their hands at impact, which puts a lot of weight on their trail foot. This produces thin and topped shots."
Instead, set up to the ball but before you swing, push your hands toward the target into a classic impact position where the grip is ahead of the clubhead. "What you'll feel is your weight moves to your lead foot," he says. "That's the feeling you want at impact. It's dynamic."
FIRST TEE CHAPTER PHOENIX
HOMETOWN SCOTTSDALE
HANDICAP 0
GPA 4.2
AGE 16
Lena Durette went to her first golf clinic at age 6 because her parents "thought it'd be good for me once I was older, for playing at corporate events and things like that," she says. It proved influential. She left the clinic asking her parents for a set of clubs, and she has been playing ever since.
Golf was key to getting through the pandemic while transitioning from middle school to high school, she says.
"When I went into high school, it was all online. I was in my room, taking classes, trying to stay focused, dealing with this big transition into high school in a really strange environment," Durette says. "But I had golf. It was the only sport that didn't get canceled. If I didn't have that, I don't know how I would've made friends. We're back in school now, and my lunch table is all my teammates."
Lena wants to play golf in college and would love to go pro after that, but she knows there are opportunities in golf beyond playing on tour.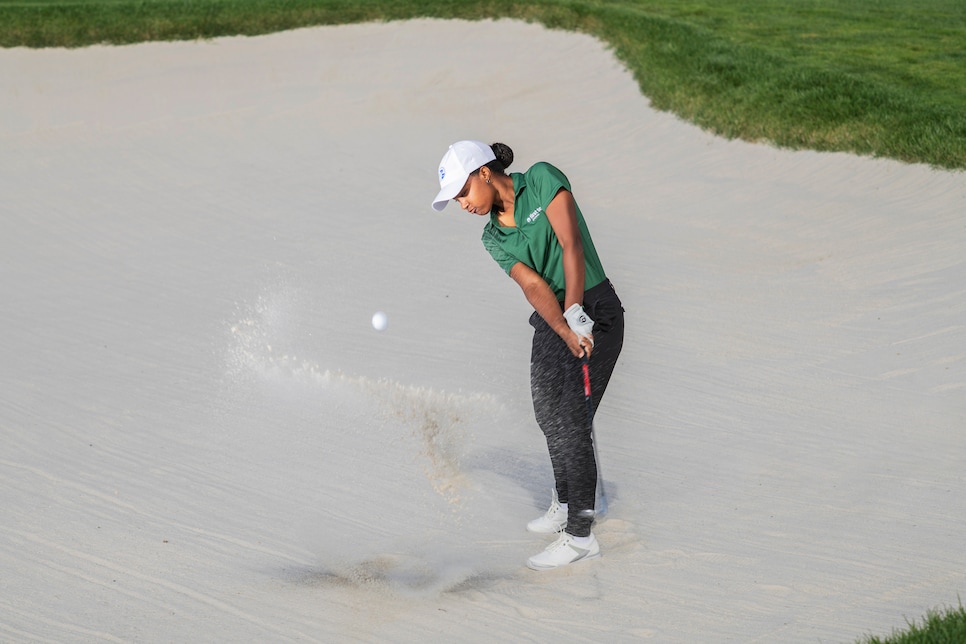 "I was at the [WM] Phoenix Open, and I saw ShotLink and how they calculate distances. I saw clubfittings and how to build clubs," Lena says. "That opened my eyes to other careers in golf."
While she's still playing, she does have a tip for anyone who struggles in bunkers, like most new golfers do. A lot of people get in trouble by decelerating the clubhead into the sand, and the ball goes nowhere. Lena says to think the opposite: "Don't be afraid to go over the green. If you go in with that mentality, you're going to keep your speed up through the ball and will be more likely to make good contact. Open your stance, open the face and use the bounce on your wedge."
Accelerating through in a bunker shot is great advice, says instructor Laird Small, and so is trying to enter the sand behind the ball in the same spot time after time. That adds a level of predictability to how the ball will come out—and that will improve your consistency.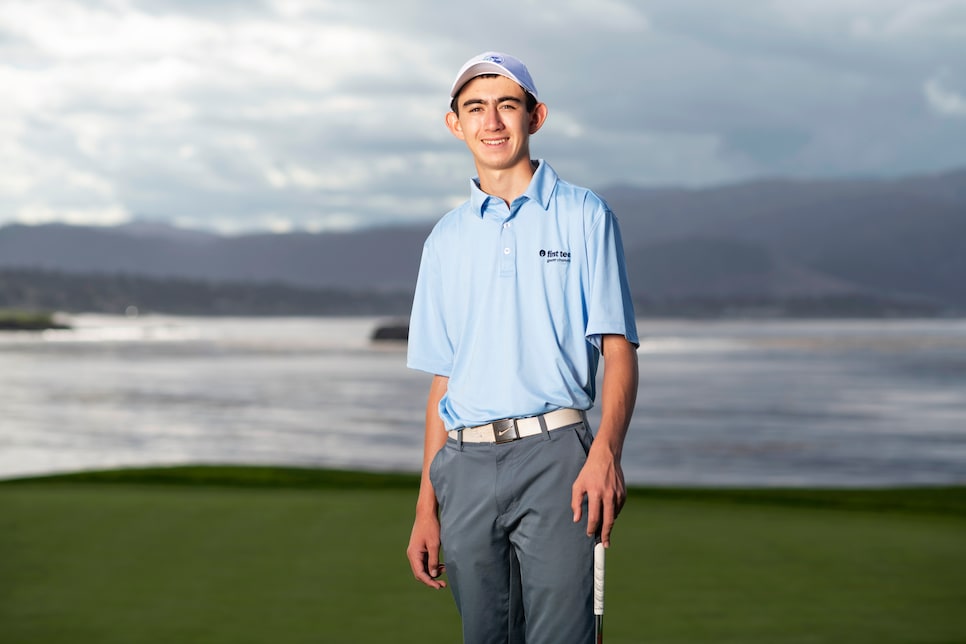 FIRST TEE CHAPTER CHARLOTTE
HOMETOWN CHARLOTTE
HANDICAP PLUS-1.5
GPA 3.85
AGE 17
Robert Thompson's parents don't play golf, but when they saw him fall in love with a set of plastic clubs at age 2, they thought this might be his sport.
"I used the plastic clubs so much, they got me a normal set," Robert says.
His home course, Revolution Park, is the location of the Charlotte chapter of The First Tee. "I enrolled when I was 6, and I've stayed in it ever since," he says. That dedication paid off at the PGA Tour Champions event at Pebble Beach, where he finished 12th in the amateur competition.
"I want to play in college. If I'm good enough, then I'll try to turn pro," he says.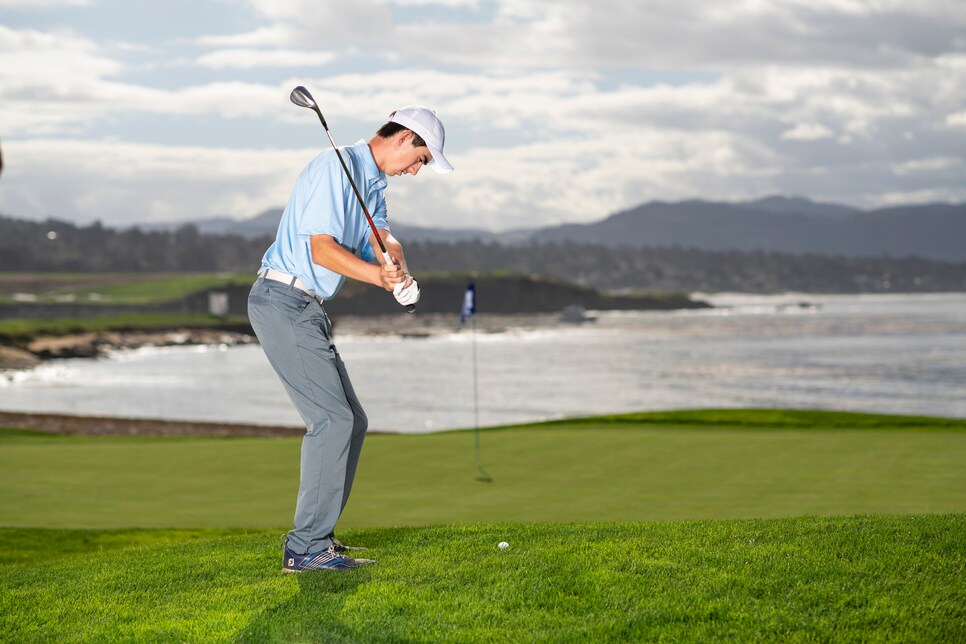 Robert's favorite shot is the flop, and this is how he plays it: "I think about chest rotation in the takeaway and a little wrist hinge. If you focus on your chest, it's more consistent. It keeps your hands from getting too involved. Coming down, I think, Get the chest back to the ball. I hold off the wrist hinge through the ball and then release it. That helps keep the clubface open and gives you as much height as possible."
Good advice, says instructor Laird Small, but use this shot sparingly: "Instead, you want to use a bump-andrun whenever possible. Think of it like off-green putting with a wedge or 9-iron. Use your putting setup and posture, lean a little into your forward leg, and make a putting stroke."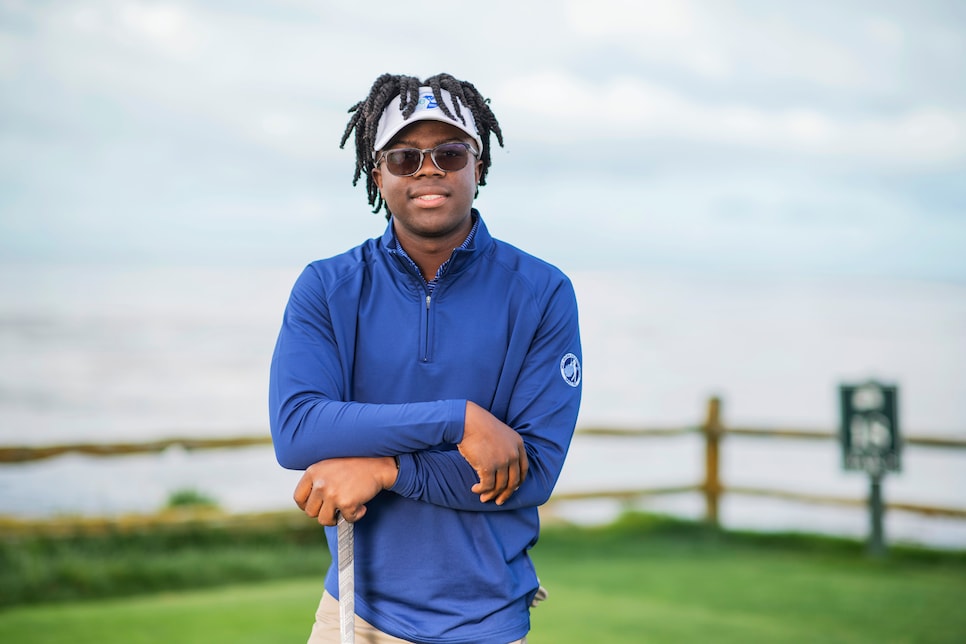 FIRST TEE CHAPTER WEST VIRGINIA
HOMETOWN CHARLES TOWN, W. VA.
HANDICAP PLUS-3.3
GPA 3.7
AGE 17
Serendipitously, the public course where Argyle Downes' father, Raymond, plays also has a First Tee chapter. When Argyle was 5 years old, he attended his first clinic there, and his love of the game grew as he got to play with other kids. Still, his father remains one of his favorite golf partners (and his part-time caddie), a relationship that has been further cemented by an event when Argyle was in the seventh grade that nearly proved tragic. Raymond was in a horrific car accident and fell into a coma. Doctors weren't sure he would recover.
"He did pull through, and everything was fine in the end, but wow, going through that with such uncertainty and not knowing whether he would make it or not was rough," Argyle says.
Raymond is back on the bag for Argyle. They've traveled all over the United States and even to Ireland for golf tournaments. Coming from a small town, Argyle says he cherishes the opportunities he has received because of The First Tee.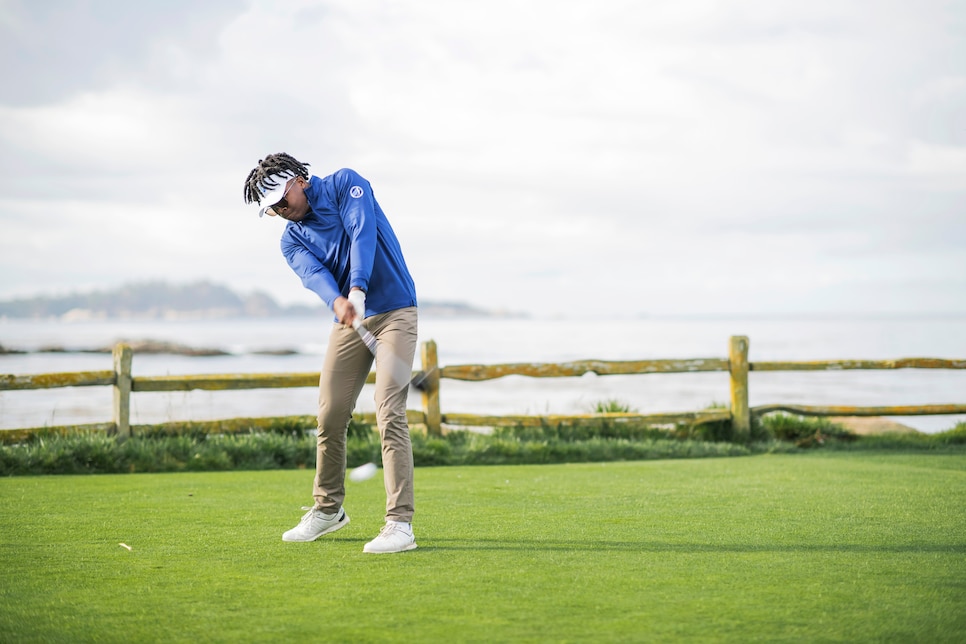 "I wouldn't be the golfer I am," says Argyle, who wants to play in college. "Anything after that, whether it's playing professionally or as an amateur, that's just kind of a bonus. All the great opportunities I get—there's so much I wouldn't have seen or done had it not been for golf."
What's the secret to Argyle's handicap? It might be his approach to golf. "Swing as hard as you can while staying in balance," he says. "Speed means nothing if you can't control it."
Golf is still a target game, says instructor Laird Small: "From the tee, you need to hit it in play. Average players think they need to be on offense when they're on the tee box, but you need to be defensive. You need to get it in play. Ironically, swinging in balance allows you to use the ground so that you can find more distance by swinging less aggressively."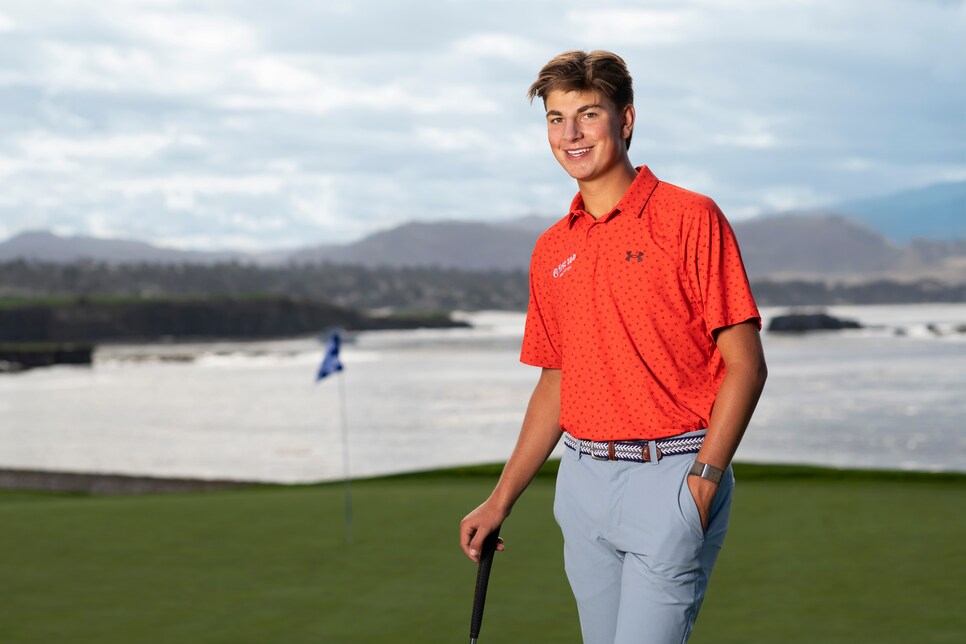 FIRST TEE CHAPTER WEST MICHIGAN
HOMETOWN GRAND RAPIDS, MICH.
HANDICAP 2.9
GPA 3.85
AGE 16
Born with a heart defect, Charlie Seufert spent the first two months of his life in intensive care. He had three surgeries before his first birthday and open-heart surgery in fifth grade. In January, Seufert experienced severe complications and was given a heart transplant.
"The only thing I can control is my attitude," he says. "If I'm full of self-pity, that's not going to help anything. If I hit a bad shot, I'm like, it's not that big of a deal—I went through open-heart surgery when I was in elementary school."
Golf is a family sport for the Seuferts. His mom, Mindy, played at Purdue University, and Charlie's brother, Jack, plays at the University of Michigan. When The First Tee came to Grand Rapids, Mindy signed her boys up.
"My friends didn't play, so it was amazing to have this environment with kids who enjoyed golf," Charlie says.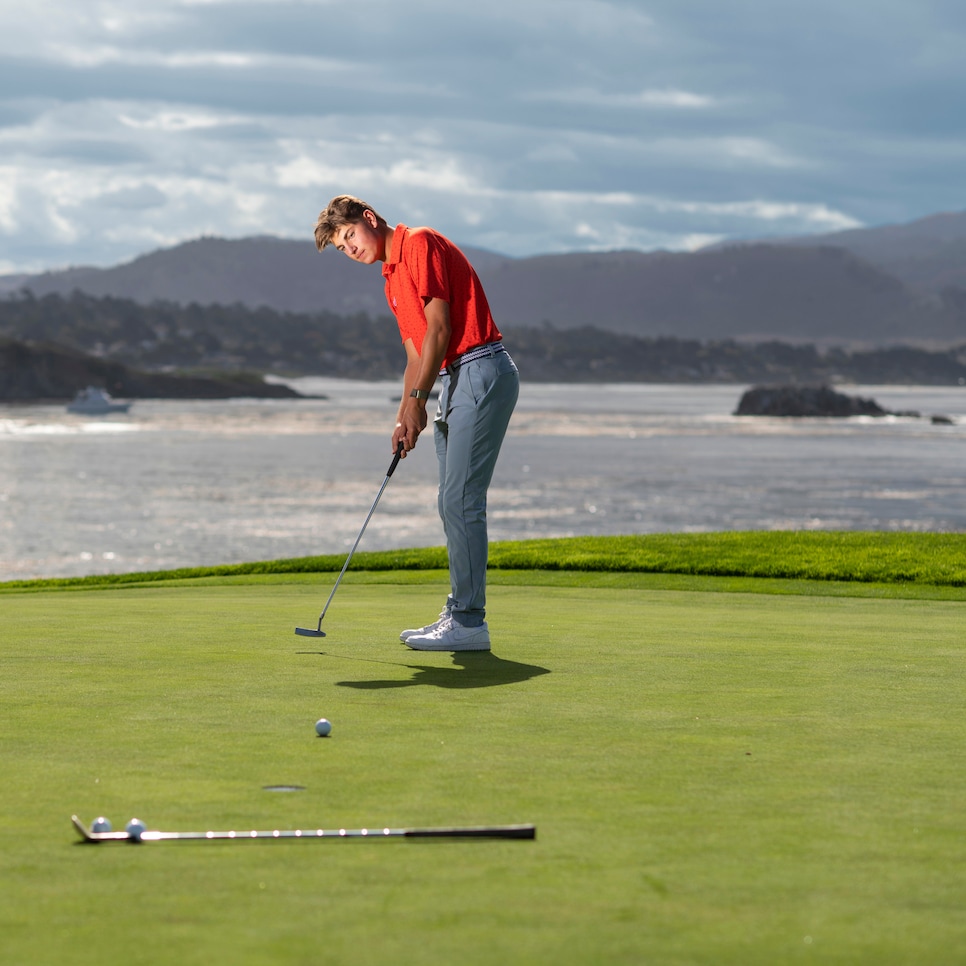 His favorite putting drill involves laying a club three feet behind the hole and hitting 15-footers. If he misses, the ball should stop short of the shaft. It's a great way to improve distance control, says instructor Laird Small.
"Roll it at a speed that gives luck a chance and leaves you with a gimme if you miss," Small says. "That's what this drill does. It teaches you proper speed control."