The Loop
Unfazed by being in the spotlight at St. Andrews, Inbee Park starts strong
ST. ANDREWS, Scotland -- This much we know: If there were doubts about whether Inbee Park could handle the magnitude of the moment as she pursues an unprecedented fourth consecutive professional major, they are gone. She looks like she is going to be in this to the end.
And as much as six birdies on the first 10 holes at the Old Course at St. Andrews erased fears she would be overwhelmed by the history at stake in the Ricoh Women's British Open, the way she responded when the ancient links reared up on its back legs was just an emphatic.
After a sloppy stretch in which she made a bogey on No. 13, a double bogey on 16 and a bogey on 17 to give back much of the gain of a great round of golf, Park closed with a birdie to finish off a 69 that has her right in the thick of things after Thursday's first round.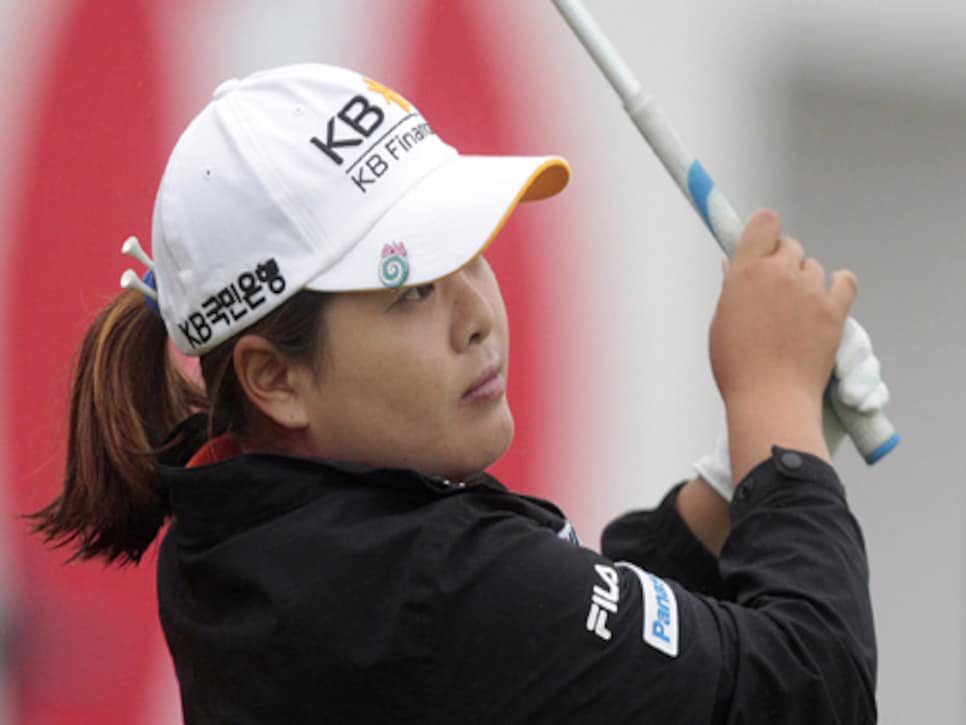 Simply put, Park was as calm as could be as she birdied the first hole from six feet and rolled in four putts over 20 feet on Nos. 3, 4, 6 and 8 before making a four-footer on No. 10.
"I was a little bit nervous this morning before I teed off," Park said. "But then once the round started, and especially playing so good the first few holes, that really gave me a lot of confidence."
The bogey on No. 13 came after a missed fairway in the right rough and the double bogey on No. 16 followed a play from a greenside pot bunker away from the hole and then a three-putt from 90 feet.
And the stroke she gave back on No. 17 was also the result of a poor lag putt from 60 feet. The birdie on No. 18 was from 8 feet, showing she had regained the composure momentarily lost and finished on a high note.
"Felt like a roller coaster today, "Park said "I played very good on the front nine and then I had a little bit shaky on the back nine. But I still feel really good about the game. I was six under through 10 holes and that means I could do the same thing tomorrow."
That attitude is part of why Park has done what she has done, winning the Kraft Nabisco Championship, Wegmans LPGA Championship and U.S. Women's Open to give herself a shot of becoming the first player -- male or female -- to win four pro majors in the same year.
Inbee has a belief system right now that is off the charts. If it is true that what you achieve is limited in large part by what you believe you can achieve, then the sky is the limit for Park. She believes.
And for 10 scintillating holes everyone watching believed as well as Park hit fairways with her driver, knocked irons onto unusually receptive greens and putted the way she has for more than a year now -- lights out.
While there will be those who will look at Park's shaky closing stretch -- a 38 coming in after an outward 31 -- as an indication she was feeling the pressure and has flaws as a ball striker, the fact is she handled the Old Course the way it needs to be tamed.
The key to St. Andrews is to score early and then hold on late, and that is exactly what she did. The teeth of the Old Course are bared beginning at No. 11, and Inbee stepped onto that tee at six under par.
To play the closing eight holes at St. Andrews three over par is far from embarrassing. The only concern will be how those finishing holes have been embedded in Inbee's brain and what impact those memories will have on Sunday if she should be in contention.
"There were a couple of bad drives and a couple of bad putts on the back nine, but it's the first round and could have been much better," she said. "A little bit disappointing, but I'm glad that I've done that in the first round instead of the final round. I'm looking to improve the next three days."
Park blamed the back-to-back three putts on Nos. 16 and 17 -- something that happens for Park about as often as Yankees legend Mariano Rivera blows a save -- on the fact that she had faced no long lags putts until late in the round.
Park is, after all is said and done, perfectly positioned after 18 holes and perfectly prepared to deal with the mental challenge ahead.
"Whether the result is good or bad, I'm just glad that it already started and I finished the first round, 25 percent of the tournament," she said.
"You know, if I could walk out of this tournament with no regrets, that's what I'm looking to do and yeah that's all I could ask for. I tried hard, that's all that matters."
It could very well be that when Park leaves St. Andrews it will be not only with no regrets but with a bit of history as well. Certainly, she proved on Thursday that she is up to the challenge.
If Park doesn't win it will be because someone else beats her, and not that she beat herself. Her message loud and clear in the first round was this: Game on. This should be fun to watch.