News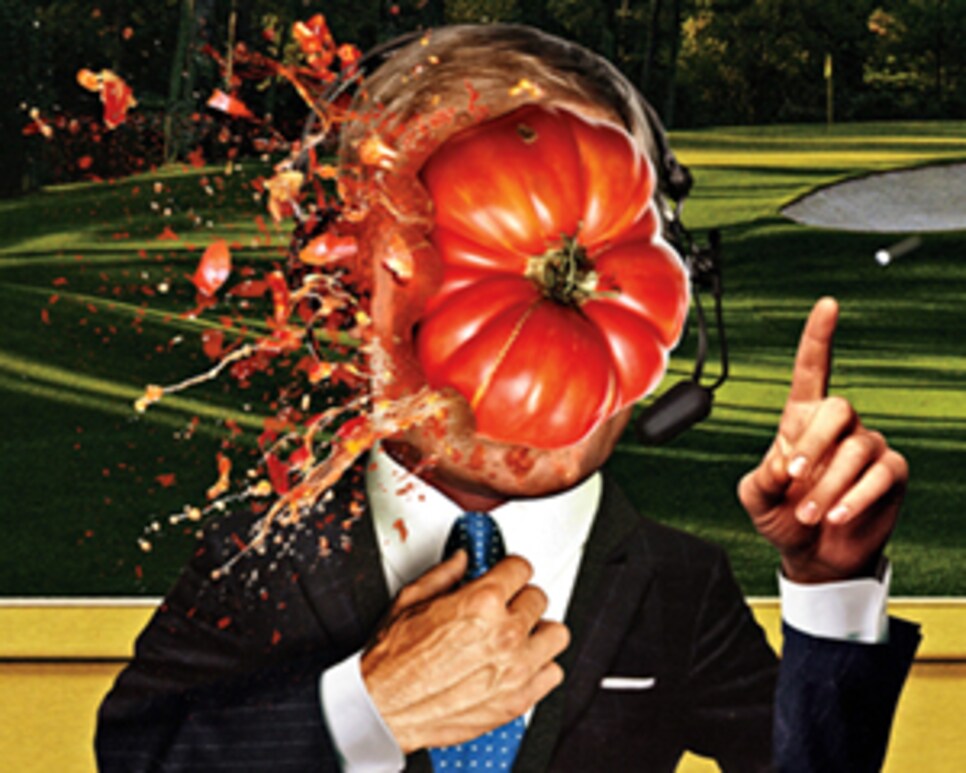 I watch a lot of golf on TV. Every locker room on tour has big, comfy leather chairs and flat-screens. Having a quiet place to chill out away from the crowds and media is nice, but more important, I can learn things that make me more money that week. I'm seeing how my competitors are playing certain holes. I'm seeing how shots really pitch and funnel around greens. I'm maybe catching the little things the leaders are doing versus the guys heading to Cut City.
Which is all to say, I watch the coverage with a keen eye. And what the announcers get wrong is the tour-pro mind-set. I understand it's their job to build drama, but they assume way too much about what's going on in our heads. Johnny Miller is the worst.
Peter Oosterhuis can get pretty harsh, too. With Miller, seems every time a player misses a shot it's because of nerves. Never mind that golf is a hard game. We get weird lies the camera doesn't pick up, and often I just plain make a bad swing. Depending on a lot of factors, I might be quite happy with a wedge shot that settles to 25 feet. And it's entirely possible to put a perfect stroke on a four-footer that doesn't go in. We play tournament golf every week. I get nervous over shots, but it's nowhere near the frequency the announcers would have you believe.
When they bash players, we don't laugh it off as part of the entertainment value. The other week I was on the range, and Miller is working his way down, saying hi to guys and gathering material for the broadcast. My buddy next to me says, "Guess I'll finish this bag of balls fast. I'm not shaking that ----'s hand."
Another gripe you'll hear from players is how the coverage tends to focus on a few certain stars, no matter how they're playing. If I'm in contention and they're showing every shot of Tiger's 76 instead, it rubs me the wrong way, but I get it. No spectators bought tickets because they heard I was coming to town.
I do think the television media could do a better job showcasing the personalities of more guys. We're not just a bunch of robots, which is how a lot of the mid-level players are perceived. The other day I was paired with Bill Lunde, who might be the funniest man on tour. I'm not saying turn it into a circus and do mid-round interviews like on the Champions Tour, but maybe make an effort to film fun segments with guys earlier in the week. Then air those as the tournament progresses.
Having said that, TV does a great job. Golf's the hardest sport to cover because the stadium is massive and every player is starting and finishing at a different time. Brandel Chamblee is paid to be opinionated, and he's going to be right some of the time and wrong some of the time. David Feherty's hilarious. Frank Nobilo does good work. Gary McCord's character on TV is exactly how he is in person. And I know how hard the job is firsthand. Last season I freelanced some for Golf Channel. I was playing so bad, I seriously thought I was going to have to change careers. So after my round I'd strap on a headset to build my portfolio of commentating clips.
Then I won an event and got my PGA Tour card back. Leading up to that win, I had another finish where I got a decent amount of airtime. I studied the coverage, and one announcer noticed something interesting about the timing of my putting routine. It was the sort of shift in technique and attitude you'd never pick up in practice.
If not for that announcer, I might be sitting next to him today. Making a lot less money.