News
Undercover Tour Pro: My Favorite Perk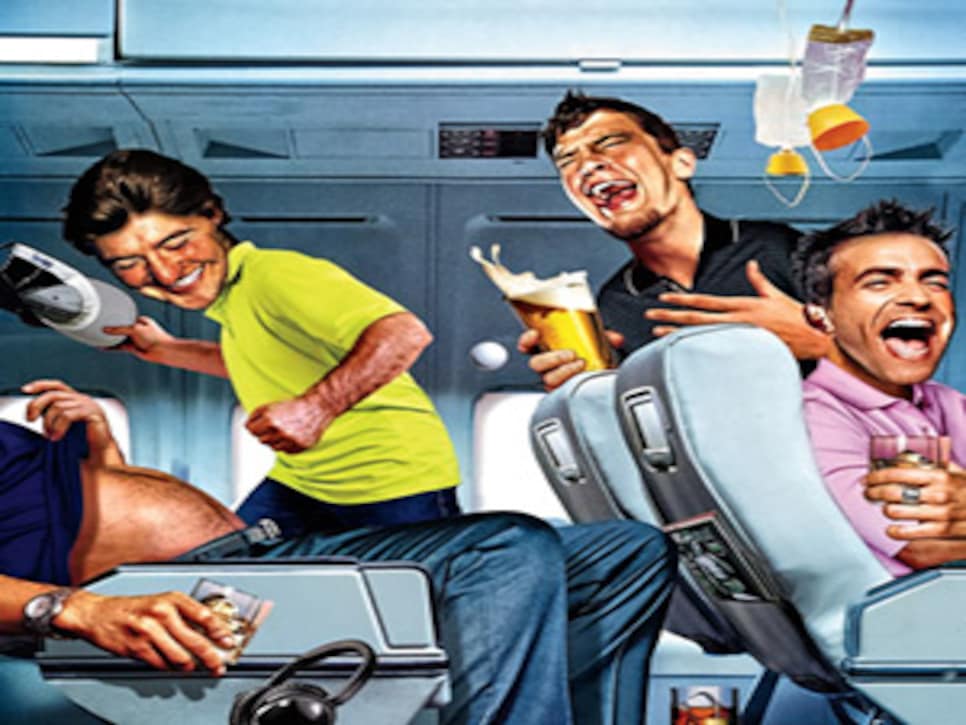 You get 30 or so alpha males together on a plane, and it can get pretty wild.
Every time I board a plane, it's to go play a golf course that's going to be in the best condition its members see all year. The fairways and greens are guaranteed to be perfect, and the weather forecast is usually pretty good, too. Never mind that I made $2 million last year. It's for these reasons and more that I try never to complain about canceled flights, lost luggage or idiotic TSA workers. What's true for business travelers is especially true for PGA Tour players: No one cares what happened to you at the airport.
I don't make enough to fly privately. A few seasons ago I experimented with some jet shares, and it was like setting money on fire. With endorsements and prize money, I figure you need to be pulling in at least $5 million a year to justify the expense. I have enough points, so I almost always get bumped to the front of the bus, but the food and comfort of a first-class cabin don't compare to even a third-class home-cooked meal. There are only a handful of flights each year I enjoy: the charters certain tournaments organize for us.
Because they fall on the schedule the week before or after a major, tournaments like Hartford and Quad Cities will arrange a jet to entice marquee players to commit. This year even the New Orleans event got a plane to take guys to the Match Play in San Francisco. Though it's a regular commercial aircraft, the experience is private. You drive your courtesy car right to the tarmac, there are people who unload your luggage, and the security is minimal. I usually give my extra free ticket to my caddie, but if you have a wife and a bunch of kids you'll be accommodated. I've never heard of a player having to pay for extra seats.
What I love about these flights is the camaraderie. There are no assigned seats. Typically, players with families will migrate toward the back. Guys who want to drink and cut up will congregate toward the front. There can be some horseplay across the aisle. Most fans don't know their personalities because they're not always high on leader boards, but Tom Gillis, Carl Pettersson and Jason Bohn might be the funniest guys out here. Very sarcastic. There's another fella whose signature move on these flights, after a few drinks, is to challenge every player to punch him in the stomach. He's not exactly in great shape, but he's got a rock-hard gut. A Tuesday practice round is a waste if you've got a hangover, so Sunday night is really our only chance to let loose. You get 30 or so alpha males together on a plane after the stress of four rounds of tournament golf, and sometimes it can get pretty wild. Often the plane lands and a group will head straight to a bar and keep it going.
I wish more tournaments would arrange these charters. I'd be happy to pay my fare just for the convenience. The fact that traveling together builds the brotherhood of our tour is the bonus. For me, it's the biggest thing a tournament can do to influence my decision to play. Of course, I'm single. Talk to players with families, and they'll say daycare is most important. Certain tournaments will organize activities like trips to a local zoo, water park and art classes, and apparently some programs are better than others. I don't know much about it. All I hear is that for a lot of these guys, their wives pretty much tell them what events they're playing.
For example, at Charlotte, the tournament directors organized a private jet to take the wives to Charleston for a day of shopping. I'm sure the mimosas were flowing.