News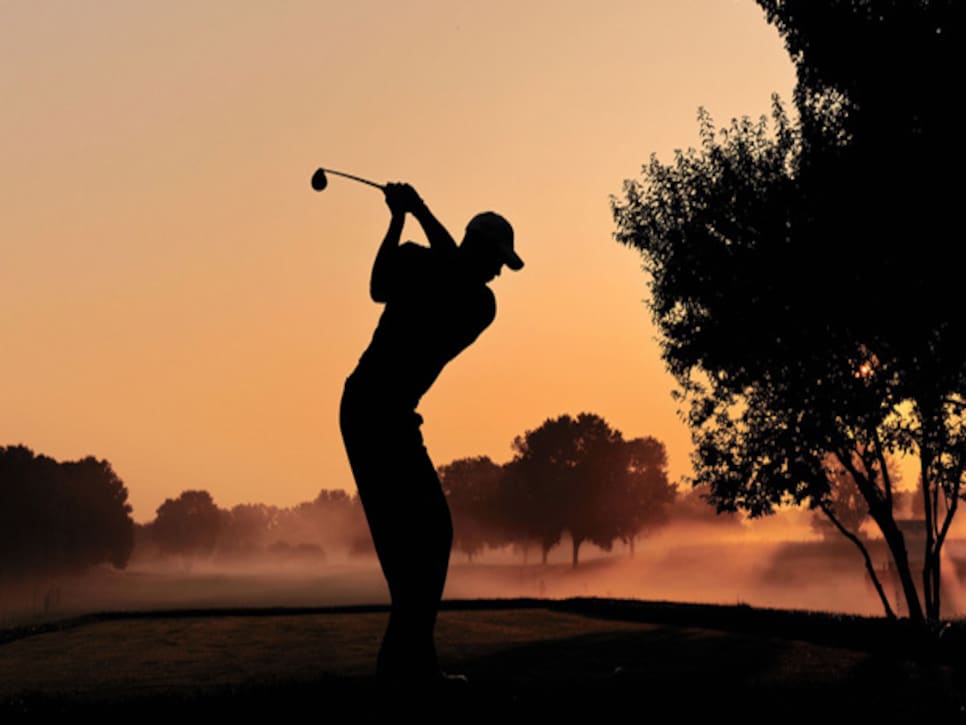 I'm in my 30s, I live in Florida, and I've played practice rounds with Tiger. There's a pecking order, but he won't big-time you.
One thing most people don't realize about Tiger Woods is that he's open to playing with anybody. He usually gets to the course before the sun comes up and plays with the same cadre of guys. But if you set your alarm early, he won't big-time you. That's how Bubba Watson became a regular practice partner of Tiger's for a period, just by showing up to the course real early. Rookies shouldn't feel intimidated to approach him. To play practice rounds with the best player in the world is worth the price of a few hours' sleep.
I haven't tried too hard to break in and get close to Tiger. But he calls me by name, even though I've never been more than a Category 2 player out here. (Category 2 means you didn't win a tournament the year before, and your exemption status comes from finishing in the top 125 on the money list; more on the categories later.) The point is, Tiger's guarded, but he's not going to walk past you like you don't exist. He's super focused, which a handful of players have mistaken for something else. I don't blame Tiger. He's in a tricky spot.
In more than 10 seasons out here, I've never played a tournament round with Tiger. This isn't much of a fluke. My somewhat-infrequent late pairings on weekends simply haven't coincided with his many. As for Thursdays and Fridays, a lot of fans don't realize we're grouped according to categories. Between all the various money lists, different types of medical extensions, career earnings, and on and on, the PGA Tour has 36 gradations of status that determine who gets in the field on a given week. But among players, we basically think of it as three categories.
Category 1 guys won a tournament the year before, and their tee times are always in the middle of the tee sheet. Not too early and not too late. Category 2 guys, like me, fall on each side of them. And then, always in the last tee times of each wave, are the sponsor's exemptions, Web.com Tour players, Monday qualifiers and so forth who make up Category 3. Every once in a while you'll overhear a guy complain. Something like, "Man, can you believe I've been first off four weeks in a row?" There's some blending that happens depending on the strength of the field, but there's no conspiracy.
I prefer to tee off late on Thursday and early on Friday. If you're playing well, it feels like one big round interrupted by a night's sleep, so it's easy to keep momentum. Early on Thursday and late on Friday is too much downtime between rounds. If you miss the cut, then you have to stick around because you probably won't find a flight out until Saturday.
Also at stake depending on your rank is your sponsorship obligation for the week. The top 42 from the previous year's money list, and any alternates or sponsor special picks, play the Wednesday pro-am. The next 20 or so guys usually get a choice of schmoozing at a cocktail party in a corporate tent for an hour, giving a short talk at an event, or running a junior clinic. A part of me would always rather chill out on a couch or practice—but I recognize it's important for us to do more than just show up and play golf. How we give back to communities and sponsors is what makes our tour different from other sports.
I'll always opt for a junior clinic if it's available. Question-and-answer sessions at sponsor dinners are OK, but my last choice is to get up at a podium and speak to 100 people. Some guys, like Joe Ogilvie, love giving speeches. They're smart and well-spoken, and they pick the right rooms to show it off. That's how you open doors to get patches on your sleeve and hat.