News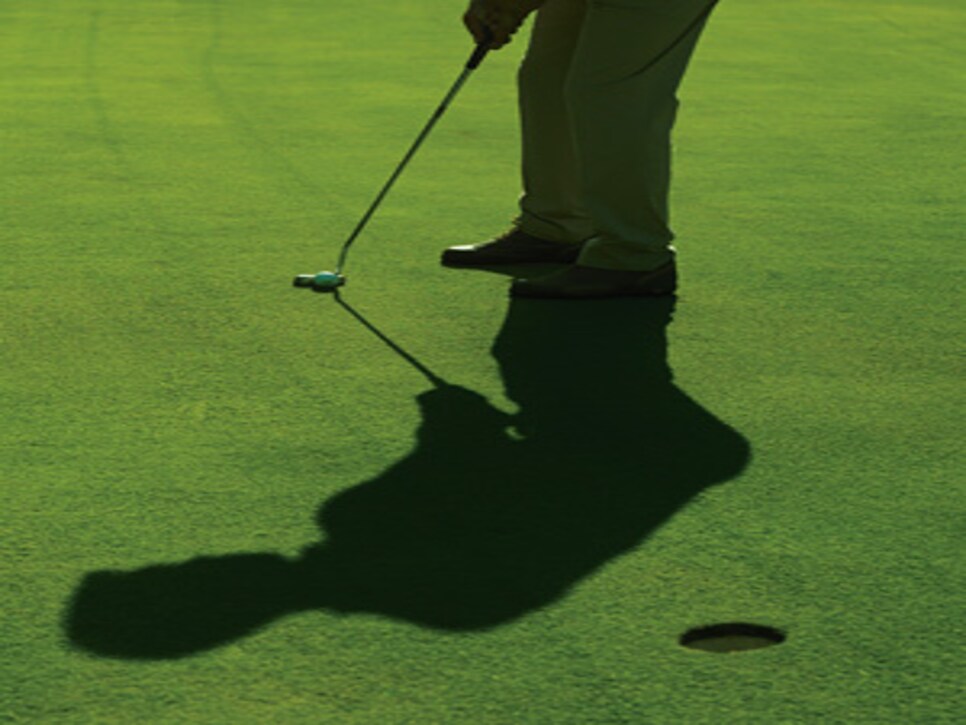 Who am I? I'm the guy inside the ropes at a practice green standing next to 40 putters. As an equipment rep for a putter company, my job is to get as many PGA Tour players using our product as possible. The catch is, we don't pay them, so it's an uphill battle.
Any given week, there are maybe 15 guys in the field who are even thinking about switching flat sticks. The franchise players like Sergio or Phil are out of the conversation. They have multiyear deals with their equipment sponsors, and any changes they make will occur within their company's line. A lower-profile player, who is under contract to play only woods or maybe a set of irons, can stay loyal to that company by also playing their putter. For this, he'll receive "tee-up money," or about $800 to $1,000 for each tournament. There are a lot of players who always take the weekly pay. Of course, this is a laughably small amount compared to what might be earned with just one more holed putt.
The toughest part of my job is knowing who the 15 guys are. This information isn't publicized—even a caddie doesn't always know what's going on in his player's heart—and the 15 "potentials" change every week.
I always fly in Sunday, and first thing Monday I'm at the course, chatting up my network to find out who the 15 might be. Of course, I'm never overt. Players learn to avoid an aggressive rep. I make small talk, maybe ask if there's a certain style I could build for them to try. The better I know a player, the bolder I get. I'll tell them I looked up their putting stats last week and ask details about their misses.
Some guys, like Nick Watney and Chad Campbell, are instinctive. If the look of a putter grabs their attention as they walk by, they'll always stop and roll a few and see how many they make.
Other guys, like David Mathis and Ian Poulter, are highly technical. They want to know why a certain metal was used or what the theory is with a particular insert. I've built Poulter putters to the exact specifications he requested, only to watch him hit one twice, shake his head and say, "No, do it again." He has an incredibly precise notion of how he wants a putter to sound and feel.
Most reps agree Scott Gardiner is the flakiest player out there. Scott is a really nice person, but he's got a new putter in the bag every week. Players who switch a lot typically stay within the same realm of head shape or hosel configuration, but Scott is all over the place. You can spend all day with him Tuesday and Wednesday, watching him putt, dialing in the loft, lie and grip until everything's just right, but there's no telling what he'll have in the bag come Thursday. Whereas when a guy like Matt Every—whom I saw go through eight putters in 12 weeks—tells you a putter is going in his bag, it's in.
My life, you see, is all about The Count. When I return to our home office on Thursday, I report how many putters we'll have in play that week and by whom, as well as any future prospects. On Friday morning the Darrell Survey—the official record of which clubs the pros had in play—lands. And my report and this survey had better jibe.
There are half a dozen putter reps on tour every week, just like me, making about $40,000 to $70,000 a year, chasing the same 15 guys. The competition is fierce, but we're all friends. Sometimes the travel is a grind, and it can seem hard to measure success. The veteran reps take the long view. It's all about building solid relationships with players so that they consider you in a time of need. Any rep who talks about having a big week, or landing a hook in a famous player's mouth, doesn't get it.
At the end of the day, what's in a player's mind trumps anything a rep can do. I just show up with the putters.