News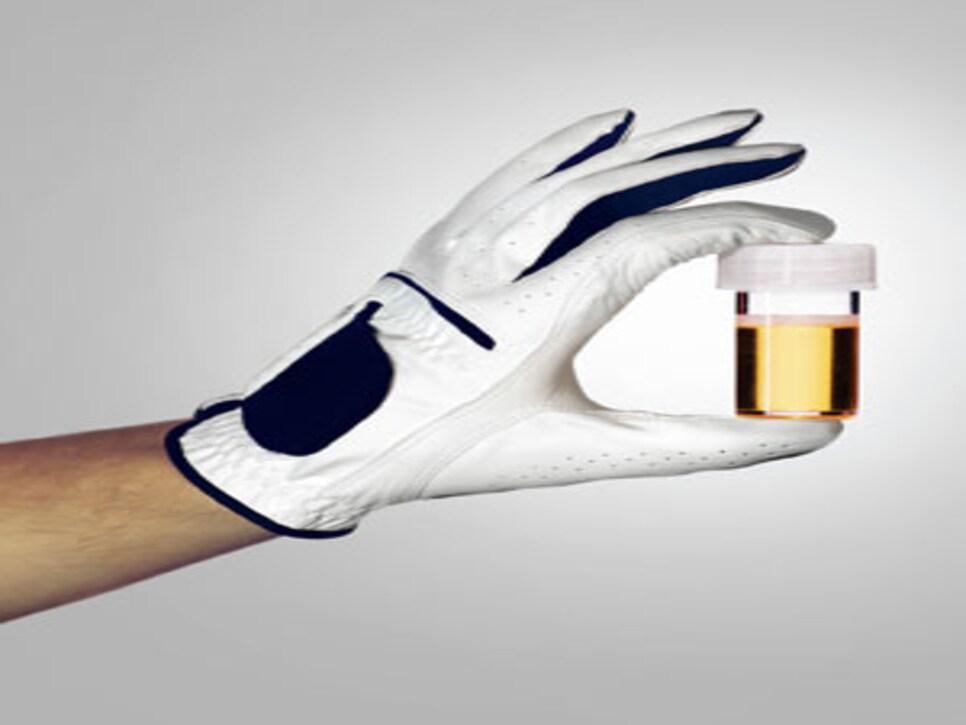 I've been drug-tested a handful of times.
It seems they get you about twice a year, but I'm entering only my second full season on the PGA Tour. I've heard some veterans mention getting tested four or five times in a season. It's never on a Monday or Tuesday. You notice a guy with a clipboard dressed like a golfer, waiting outside the scoring trailer. He's there for you or one of your playing partners.
You follow him into the locker room. Sometimes he makes small talk, sometimes he doesn't, and he's always within earshot. It's hard to feel bothered by any person, much less a stranger, who is so polite about accepting a warm cup of your urine.
Most of the time selection is random, though a guy can be targeted if the tour has suspicions. The dudes doing the testing don't work for the PGA Tour but for Drug Free Sport, an independent company that handles all the collection for several professional and elite college leagues. My name isn't on my specimen, just a number, and the results of that number are sent to only two people at the PGA Tour, commissioner Tim Finchem and program administrator Andy Levinson. I'll receive a form email two or three weeks later that says I'm clean. If there were a problem, the message would come earlier, directly from Levinson.
Somewhere on the lower levels, the system could use a touch of human oversight. Thursday at the 2013 Wyndham Championship was ridiculous. Ross Fisher shoots 64 to share the lead, and how do they let him savor the experience? Force him to pee in a cup in front of another man. Walking off the last green having stitched every aspect of your game together to the best of your abilities is a rare and special moment that deserves space, for any golfer, perhaps even more so for a pro. They could've called an audible and tested The Fish another day.
Of course, when you can't go, you can't go. If your body is telling you it'd rather hit balls or grab a bite to eat, that's fine. The dude just follows you and never lets you from his sight. The only requirement is he gets the sample within 90 minutes after your round.
There are no drugs that make you sink birdie putts or hit it straight. Any golfer who thinks he's found a wonder potion that does, I commend his bravery, as I'm sure the side-effects are horrible. Hitting it farther? I've seen Bubba Watson and Robert Garrigus with their shirts off, and it's not exactly scary. Point is, muscle doesn't necessarily correlate to power in this game. Brandt Snedeker will tell you what a waste of time he thinks testing is. I understand our sport needs to prove we're clean so we can participate in the Olympics. Which we have. It's possible testing has deterred guys from trying things like beta-blockers to calm their nerves, but really, it's just the creation of data. In fact, if the lab would be so kind to email me any strange correlations they discover, like if my scoring average is a stroke lower when certain levels of bacon cheeseburger and light beer are detected, I'd love to know.
What drug testing does is allow the tour to enforce a set of morals. A lot of players think it's bogus that recreational drugs are on the list. Whatever my competitor wants to do in his private time is OK with me. And if a guy wants to take a bong hit before heading to the first tee, good luck, bro. You'll need it. What's weird is the secrecy about suspensions. When a guy doesn't tee it up for a stretch, rumors start about the true nature of his "injury" or "personal reasons." It might be better if it were public and transparent. Then there would never be any conspiracy theories about certain players getting preferential treatment.
I have buddies, including PGA Tour winners, who worried they were going to test positive for marijuana, then were happily surprised when they didn't. But mostly, testing has gotten everybody's attention. There's a player who missed the start of his 2014 season after failing a pot test. Agree or disagree, there's too much at stake to mess with it.