Life on the Bag
Undercover Caddie: Picking sponsors' exemptions can be dirty politics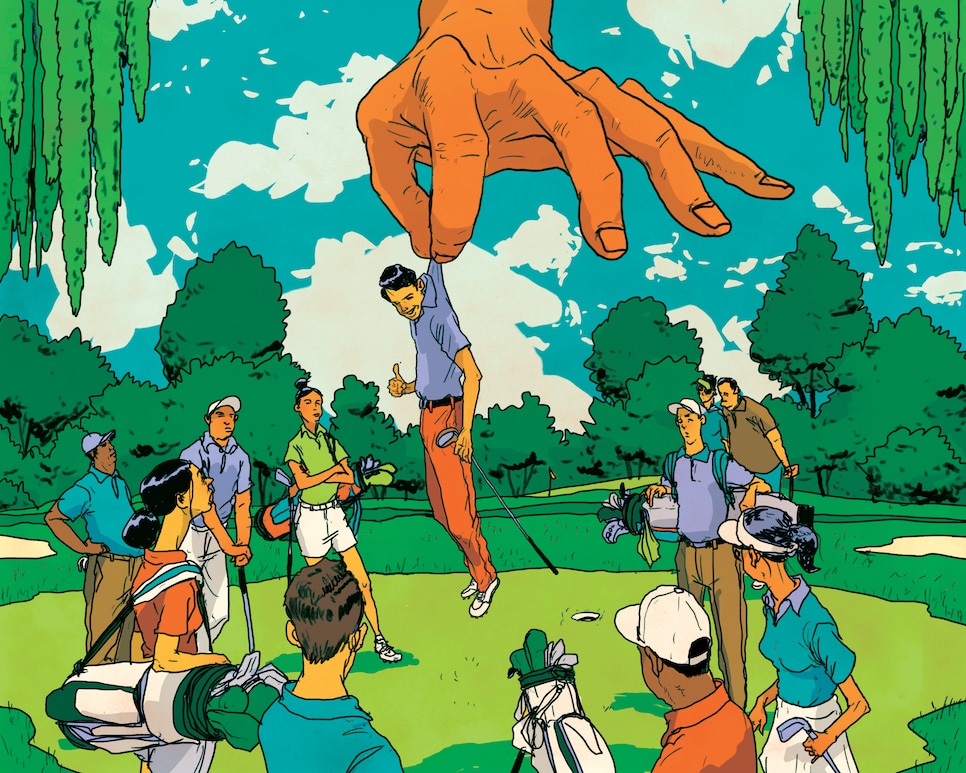 My player is an up-and-coming name. What he has done so far has justified the hype. Yet, at an alternate event—one with names you've hardly heard of that should roll out the red carpet for my guy—he was turned down for a sponsor's exemption. He was surprised—and pissed. I was upset, too, but not surprised. I knew the fix was in.
Sponsors' exemptions are some of the most politically biased aspects of professional golf. The tour gives each tournament up to eight exemptions for their fields, and the events can use them however they like. Players who aren't tour members—like those who play in Europe, or guys just coming out of college—are allowed up to seven exemptions in one year. But tour members can accept an unlimited number of invites, and that's where it can get problematic. Players who are friends with tournament officials get in, or players donate to a tournament's charity with a "wink-wink" that the favor will be repaid. The most egregious examples of nepotism, cronyism and PR struts are usually called out, and social media has spurred a higher vigilance for how these exemptions are used. Still, the problems run deep.
Take my player. You know why he didn't get in? The alternate event is managed by an agency that represents professional golfers. Take a guess which players got the nod for those exemptions? Ding, ding: those who were represented by the agency running the event. If each agency had its own tournament, this wouldn't be an issue, but some of the more high-profile agencies are affiliated with half-a-dozen or more events, and many of those are "rank-and-file" weeks. Because those tournaments usually aren't as popular as the majors or designated events, the politics behind the scenes doesn't get the attention it deserves.
Those smaller events are really important to players on professional golf's margins. Those are the weeks that can turn this job into a career. However, the PGA Tour is set up to help former members rather than guys trying to break in. This is why you see so many players 40 and older who haven't been relevant in years competing in opposite-field events rather than the young guys from the Korn Ferry Tour or college. This is why agencies are so important. If you're a player right out of college, you know that if you sign with certain agencies, you're going to get four to five guaranteed starts for at least the first two to three years of your career, regardless if you have a tour card. If you don't sign with one of those agencies, you're punished for it, like my guy was.
'Golf is supposed to be a meritocracy, and sponsors' exemptions are the opposite.'
There are other tricks, of course. There are some players who have their, ahem, "kids" write letters to tournament directors for them. It happens all the time. This makes for a good story for audiences but not so much in the locker room. Players will invite tournament directors or sponsor officials to their home clubs for a round. Some players promise to do sponsor functions during the tournament week for free; those appearances usually bring a player five- or six-figure fees.
A decade ago, one of my best friends on tour was caddieing for a player who was in decent shape to make the playoffs, but the player knew the last few months of the tour schedule didn't fit his game. He got a sponsor's exemption into an event before that tough stretch and earned enough points to reach the postseason. The price he paid? He had to do a commercial for a rental property at the tournament's host course.
Each tournament acts out of self-interest, of course, but the best ones know how to do it in a way that benefits the tour. Take the John Deere Classic and Travelers Championship. Both stops historically give their exemptions to up-and-coming players, giving them a much-deserved chance. The tournaments hope the players remember the gesture later in their careers if they become more established. You can argue that's one of the reasons why the Travelers went from an afterthought to a designated event. It's a perfect example of a sponsor's exemptions working for everyone.
Those are the exceptions, of course. I know what you're thinking: "Play better." That's the token response when anyone brings this up. I tend to agree, but it's hard to play better when you don't get the opportunity. That is why so many players hate sponsors' exemptions: golf is supposed to be a meritocracy, and exemptions are the opposite. It's no wonder college players sign with the same three to four agencies when they turn professional. Those agencies are on the in, and if you're a golfer, "in" is where you want to be.
One of the intentions behind sponsors' exemptions is to generate interest for the events, which is why you'll occasionally see Steph Curry, Tony Romo or some former baseball player teeing it up with us. The events don't think these guys can truly compete; they are moves to get eyeballs. An alternate or mini-tour event can assert itself into national discussion and significantly increase the attendance with a creative sponsor's exemption. The strategy is mostly successful, but it's also weird. Imagine the Los Angeles Dodgers bringing in Max Homa to bat cleanup in a September game or the Miami Dolphins letting Brooks Koepka take some snaps at linebacker. They would make a mockery of the competition.
I'm not advocating for getting rid of exemptions, mostly because I know that's never going to happen. The tournaments and their sponsors cherish them too much. However, we need to do a better job of policing how they are used. One or two should go to a player with local ties to the event, and another few should be dedicated to those on the PGA Tour University rankings. Maybe give one to a past tournament champ. That's it. Getting a field spot because of who represents your business dealings ain't right. —With Joel Beall