Splash down
Tyrrell Hatton had a watery lie, and both his shot and reaction will make you laugh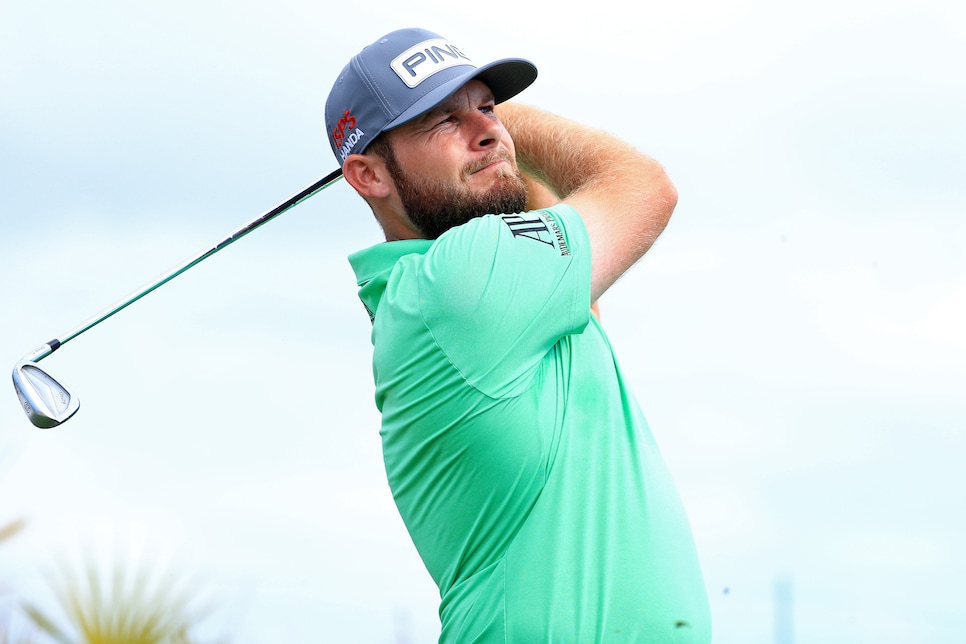 The beauty of Tyrrell Hatton's circumstance in the Hero World Challenge was that it gave us all a chance to consider the delicious outcomes. And because it was Hatton, who can be volcanic and hilarious at the same time, you just knew there would be a reaction worth watching.
In Saturday's third round, Hatton's second shot into the par-5 ninth at Albany scooted down a slope, the ball trickling into water at the edge of lake. The camera never showed us the submerged ball, but it appeared to be a couple of inches deep. Hatton didn't choose any wardrobe drama, like removing his shoes—or pants. He simply stepped down, got some firm footing, eyed his 50-yard shot to the flagstick and took a mighty whack. The ball splashed out as if it was coming out of a bunker, reached the green and stopped 15 feet below the flagged.
Hatton's playing partner, Viktor Hovland, laughed and raised his arms to laud the shot. Hatton broke into a wide grin, removed his hat and took a bow. And if he was pleased with the result, he seemed even happier to have not doused himself with mud. There were only some small spots on white shoes, gray pants and green shirt. He just kept smiling and laughing as he made his way to the green, where recorded a watery par and stayed right in the thick of the hunt near the top of the leader board.