RSM Classic
Tyler McCumber comes agonizingly close to a 59 in his final round of 2021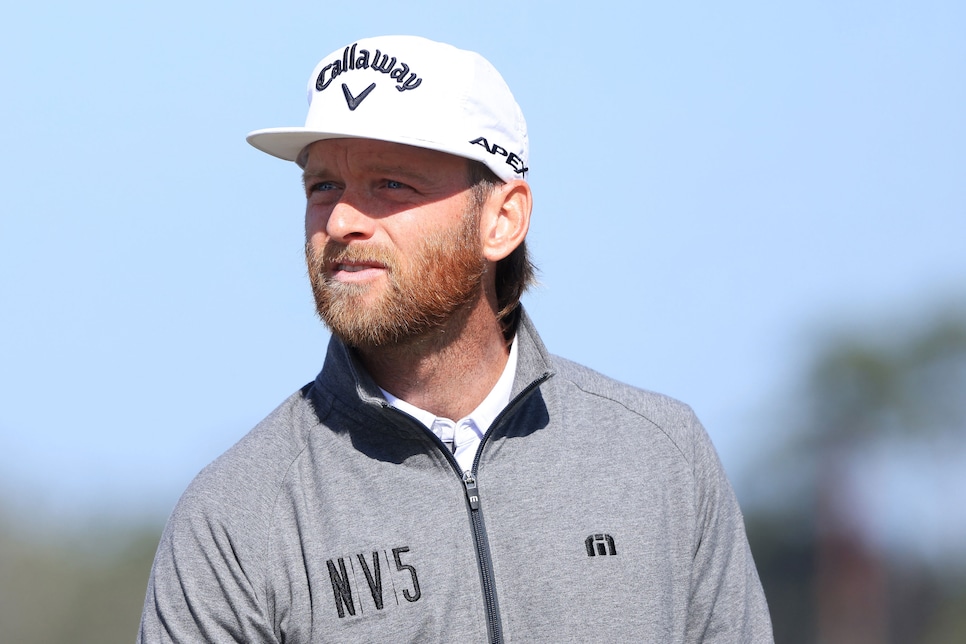 Tyler McCumber had a 53-footer for birdie and a 59 on his final hole Sunday, and just missed it.
Sam Greenwood
ST. SIMONS ISLAND, Ga. — There's an old saying that pros miss their putts on the high side of the break, but moments after shooting 60 to reach 15 under at the RSM Classic on Sunday—tied for second as the leaders made the turn—Tyler McCumber wasn't buying it.
"Pros hit it in the middle of the cup," he said.
To be fair to McCumber, his own birdie putt on the ninth green at the Seaside Course—he started on the 10th hole early Sunday morning—was miles from a gimme. Following a string of five birdies over his previous five holes, he blasted a 3-wood 123 yards from the hole, but hit his approach a groove low with his 52-degree wedge and left himself 53 feet for the 12th 59 in PGA Tour history. The long attempt, which tour players drain roughly 5 percent of the time, came shockingly close, and before it slipped by on the high side, McCumber thought it was good.
He was only one-under through his first five holes, but jump-started his round on the par-5 15th, his sixth, with a 3-iron into the wind from 224 yards that set up a 48-foot eagle putt. A birdie on 16 set him up for a 31 on his front nine, but it wasn't until the fourth hole when he turned up the heat. Five straight approaches to within 10 feet set up that string of five birdies, and turned the idea of 59 from longshot to near-reality.
McCumber said he began considering the possibility on the seventh, and rather than making him nervous, it was a helpful goal to ensure that pushed hard for the finish rather than coasting in.
He was trailed by a favorable gallery all day, including his father Mark, a 10-time PGA Tour winner (whose career low on tour was a 64, according to Golf Channel), and a group of family and friends wearing "Tito's Banditos" hats. (Megan McCumber, his older sister, gave him the nickname Tito in childhood, and designed the hats.) Jay Haas walked with the elder McCumber, watching his own son, Bill Haas, in the same group.
"I'm happy for him," Mark McCumber said after he made his birdie on eight. "I know how hard it is."
Afterward, when asked if his father had ever shot 60, Tyler McCumber laughed.
"He has not," he said. "I know that for a fact. … I have a long way to go in that career to match him, but I'll hold the 60 over his head tonight over a beer."
There's always a certain level of paradoxical disappointment when a player misses a putt for 59, despite the fact that it still indicates a brilliant round. McCumber is no different, but there was one subset of Tito's Banditos who won't be sad at all. Those are Megan McCumber's kids, who told her before the round they didn't want to leave St. Simons Island to go back to their home in Florida.
"I'll tell you what," she told them. "If your uncle shoots 10-under today, you don't have go to school on Monday."
She thought there was no chance, but her little brother proved her wrong, and her kids won't be at all upset that Uncle Tito couldn't quite make history.