Tiger Woods will not play at Riviera this week. Saying that doctors have advised him to take a few weeks to let his latest attack of back spasms suffered in Dubai calm down, Woods withdrew from the Genesis Open, as well as the Honda Classic the next week near his home in South Florida.
After the ray of hope Woods' offered with his performance and body language at the Hero World Challenge in December, it's a time of bleak uncertainty for the 14-time major champion.
There was also uncertainly for Woods exactly 25 years ago at Riviera, but not the bleak kind. The high school sophomore had just turned 16 and was about to play in his first PGA Tour event on a sponsor's exception at the 1992 Nissan Los Angeles Open, making history as the youngest male ever to compete in an official tour event. Would he show that he was indeed a future world-beater?
It wasn't an unreasonable projection. At that point, Woods was already a national figure. Although some remembered his appearance at age 2 on "The Mike Douglas Show," his competitive career had begun in earnest at the Optimist Junior World, where he won his first age group title at 8. From there, his trajectory went only upward. Six months before his Riviera debut, he'd won the U.S. Junior for the first of what would be an unprecedented three times, becoming the event's youngest winner and first African-American champion. When he showed up in Los Angeles, only 30 miles from his Orange County hometown of Cypress, the crowd greeted him with incessant cries of "You the kid!"
Woods missed the cut by six strokes after rounds 72-75, finishing five over par. But just as if he'd contended, Woods made a great impression. His obvious sense of comfort in the environment, the quality of his ordinary shots and his astute self-awareness left hardened observers, who had been ready to declare Woods overhyped, feeling like they had seen the future.
The players in particular were skeptical that Woods would be all that. Many of them had been considered prodigies, and all had stories of peers who as teenagers had been much better than they were but had never made it to the Big Show. But as Woods hit balls on the range, keeping a deferential low profile despite being celebrated by the gallery and the media, they snuck peaks at the ball flight and the body language and nodded their heads.
Woods' playing partners at Riviera—Bob Friend, a rookie, and Dicky Thompson, a second-year man—were consumed with keeping their cards. Each remember not being sure if they had seen something special, but they liked what they saw.
"I noticed that Dick Schaap was there with a video crew, which was impressive," said Thompson, who lives in Fayetteville, Ga., and works for Lowe's Home Improvement. "I guess I'd say Tiger was really, really good for a 16-year-old. His tee shots were towering, like the kids hit them today, but I don't think he was really on. I noticed more how he handled himself. He knew where to stand, what to do and what not to do. Just like a tour player, like he belonged."
Friend, now a realtor in Pittsburgh and an occasional competitor on the PGA Tour Champions, was struck by Woods' hat. "It was the big one with the high crown. We used to call it the "Fire Chief," Friend said with a chuckle. "Tiger was quiet but extraordinarily polite. I met his dad, and his mom went down every fairway. He was long but not super long, but he didn't hit any clunkers. Even his average shots had real good contact, which is something tour players notice about each other.
"I don't think anyone thought we would eventually see what we eventually saw, other than maybe his dad and himself," Friend continued. "I remember once asking Jack Nicklaus about how he felt, at 22 years old, before his playoff with Arnold in 1962 at Oakmont. And Jack said, 'I knew I was the best driver in the world and the best iron player in the world and the best putter in the world. I thought I was going to do OK.' The great champions think differently and see themselves differently. And deep down, I bet Tiger did, too."
It's a view that lines up well with the air of detached contentment that Earl Woods, then a retired contracts administrator for McDonnell Douglas, carried. He didn't say, "Let the legend grow," but he didn't have to. "Our goal is long-term excellence at the highest echelon," he said. "Not instant short-term gratification."
Woods missed the cut by six strokes after rounds 72-75, but made a great impression. His obvious sense of comfort in the environment, the quality of his ordinary shots and his astute self-awareness left hardened observers feeling like they had seen the future.
As for Tiger, he was clearly in his element. He was nervous, but he always was before playing, and he had come to terms with the feeling being a permanent part of the deal, knowing that if he channeled the energy correctly, it could lead to his best golf. He was thrilled to be among the best in the world, not out of hero worship, but because they had the most to teach him.
Woods had played exhibitions with Greg Norman, Mark O'Meara and Ian Baker-Finch and had seen at the closest range possible a quality of golf much higher than what he possessed at the time. If he was going to beat the best, he knew he couldn't be satisfied with dominating junior or even amateur golf. His sights were on the highest level, and at Riviera, he was on the hunt for the kind of nuanced information—ball flights, short-game shots, putting pace, every curiosity he was hungry to satisfy—that could get him there.
Tuesday at Riviera, Woods made it clear to a media ready to anoint him that he had a lot to learn. "I might hit the ball farther than some of them, but that doesn't mean anything," he said. "These guys have got their swings fine-tuned. I don't. They know exactly how far they hit it. The guys on the pro tour don't make dumb decisions. Their thinking is very clear. With me, 16-year-old problems sneak in there every once in a while. I still take too many chances, get too emotional and try things that aren't very smart."
After finishing on Friday, Woods offered this measured assessment: "It was a learning experience, and I learned that I'm not that good. Eventually, I'll be out here, but I'm not that good yet."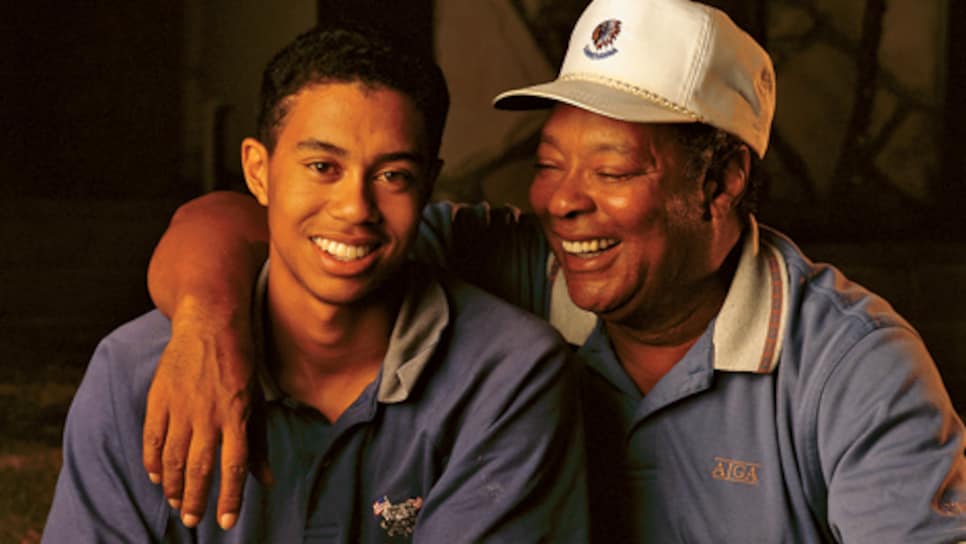 But of course, Tiger was good. He weighed 145 pounds, with a willowy swing that to me was marked by two phenomena: hips that turned so fast on the forward swing that it was difficult to follow their uncoiling, and an always-balanced finish in which the placid repose on his face offered a magical contrast with the swift violence that had come before.
The player I interviewed at Riviera who in retrospect demonstrated the most prescience about Woods was David Ogrin, a straight-hitting journeyman known for his humor and insight. Ogrin, then 35 and four years away from his only victory on the PGA Tour, played the 11th and 12th holes with Woods on Wednesday afternoon, laughing when the skinny kid bombed it 30 yards by him. "He's better than I am, better than a lot of guys, right now," Ogrin said while walking down the 12th fairway. "He's just got to pick up some little things, which he will. Then look out."
Woods picked up all those little things, and then some. But finally, there will be more and more guys better than him. We won't know how many until he returns from his latest injury. His conspicuous absence from Riviera will cause many to ponder the passage of time, and also hope that Tiger the golfer has more of it.