Diehard Fans
Turtle from 'Entourage' still owns (and uses) one of the best/most-dated golf possessions from an iconic episode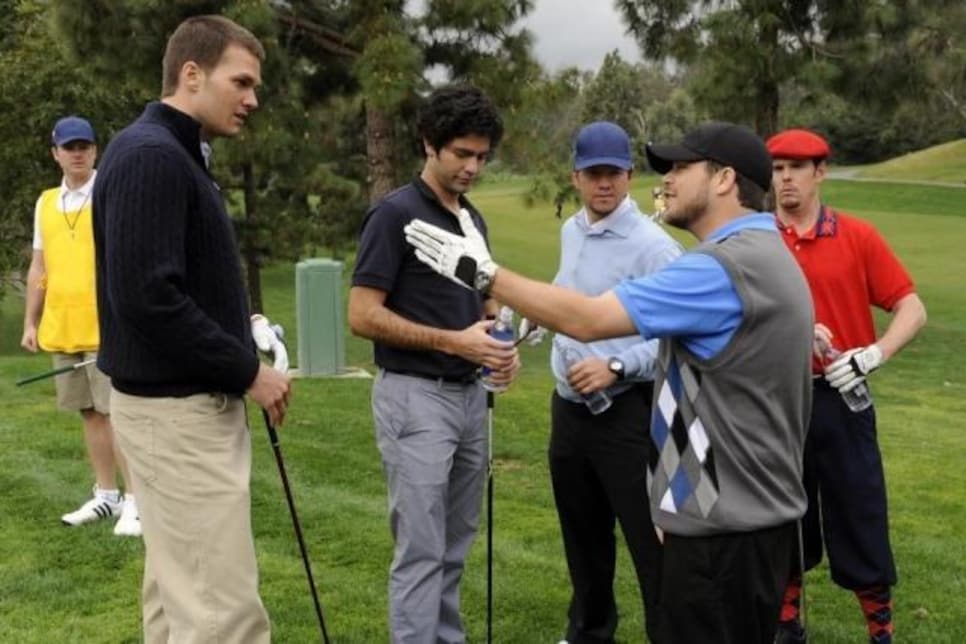 There were countless great golf moments and cameos from the HBO hit show "Entourage" during its seven-year run, but I think we can all agree on what No. 1 is - the Tom Brady episode.
Yes, Phil Mickelson showing up in "ReDOMption" as studio boss Alan Gray's personal coach was up there, as was Ari Gold screaming all sorts of obscenities during a random round with Mark Wahlberg. But the Brady episode, titled "Fore" from Season 6, was the most golf-focused of all, featuring hilarious moments like Johnny Drama breaking Brady's custom driver, Ari getting stuck with Jeffrey Tambor and his sons, and Turtle attempting to muster up the courage to tell Brady he "sucks b---s" to his face.
As we come to find out, Turtle, a diehard New York Giants fan both in the show and in real life, never ends up telling TB12 what he wanted to tell him. The two instead become friends, with Brady inviting Turtle and his fictional girlfriend Jamie-Lynn Sigler over for dinner. It's the type of episode that you could show as a standalone to someone who has never watched the show and they'd likely binge watch the whole thing right after. Naturally, it's one of Ferrara's favorite episodes, too, which is why he kept one of many mementos from the series' run that was featured in that episode - his Giants headcovers, the type you find at a Tri-State area Dick's Sporting Goods in a plastic case that's impossible to open without stabbing yourself with scissors:
As a fellow Giants fan, it's impossible not to respect this move, but as a golf hardo I can't help but suggest an upgrade. Surely, there's an iconic private club or two that Ferrara has been invited to over the years that he could have bought some new headcovers at to flex on people. Then again, these NYG headcovers have more sentimental value than any other headcover could possibly match, and they've likely sparked countless first-tee stories for Ferrara over the years. "Oh, these? Yeah, they're from one of the 'Entourage' episodes. The one with Tom Brady... yeah." That's a flex no amount of money could ever buy.