Style
A look at True Linkswear's first full apparel collection
*All products featured on Golf Digest are independently selected by our editors. However, when you buy something through our retail links, we may earn an affiliate commission.*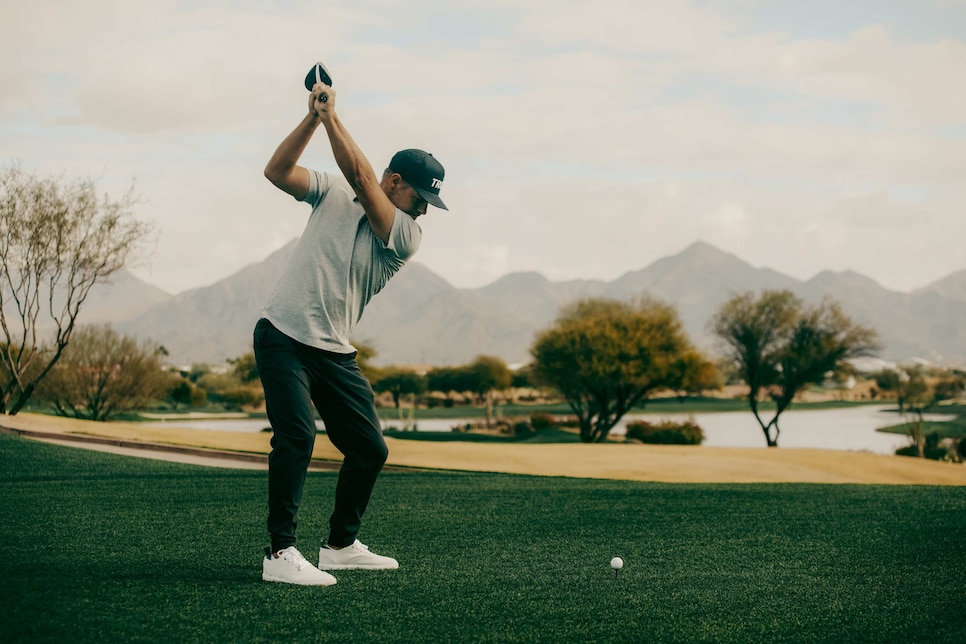 It's a testament to True Linkswear's mission to create a golf shoe as versatile as it is comfortable that on the same day in 2012, two of the company's co-founders wore the sole to compete in vastly different sports. One ran a marathon and the other, Ryan Moore, claimed his second PGA Tour win at the Shriners Children's Open. With the brand increasing in popularity every year since, it was only a matter of time before it expanded into apparel. Last fall, True launched its first collection of pants, a multipurpose chino and a utility 5-pocket option. Now, the company has added another four pant designs, plus a quarter-zip, crew neck, polos, a hat, an "all-day" hoodie and performance socks.
The hallmark of this new collection of minimalist essentials is the design ethos of durability, ease, and dynamism. The collection's colorways hit all the neutrals, offering fir green, light charcoal gray and the always flattering black and a slightly warm off-white dubbed "stone." The fabrics are true to the brand's commitment to sustainability and are spun with Tencel (a biodegradable fiber made from eucalyptus through an eco-friendly, closed-loop process) and Repreve-brand recycled polyester.
As for shirts, the True launch has three options: a classic polo, a T-shirt and an on-trend mock polo. Each is made with a soft woven fabric that offers protection from the sun's UV rays, has four-way stretch and resists wrinkles. The standard cut makes these tops ideal whether you're wearing it alone or as a layering option. Breathable and comfortable, each style can be dressed up with jeans and a blazer, or styled for the course with golf trousers or shorts.
On the aforementioned topic of layering pieces, the collection includes a trio to meet the demands of every kind of golfer. For the more casual player with an eye for street style, the moisture-wicking hoodie is a minimalist's dream. For a slightly more versatile piece that works for every season, the French terry-blend crew neck is a classic option. And for a sportier golf look, the quarter-zip is all performance and no fuss. All of which can be matched with the new jogger or jogger-hybrid pant, or their instant classic chinos. All great options whether you're looking to refresh your wardrobe with high-quality essentials or get ahead of your Father's Day shopping.