News
Tristan Gretzky, son of hockey great Wayne, signs to play college golf at Pepperdine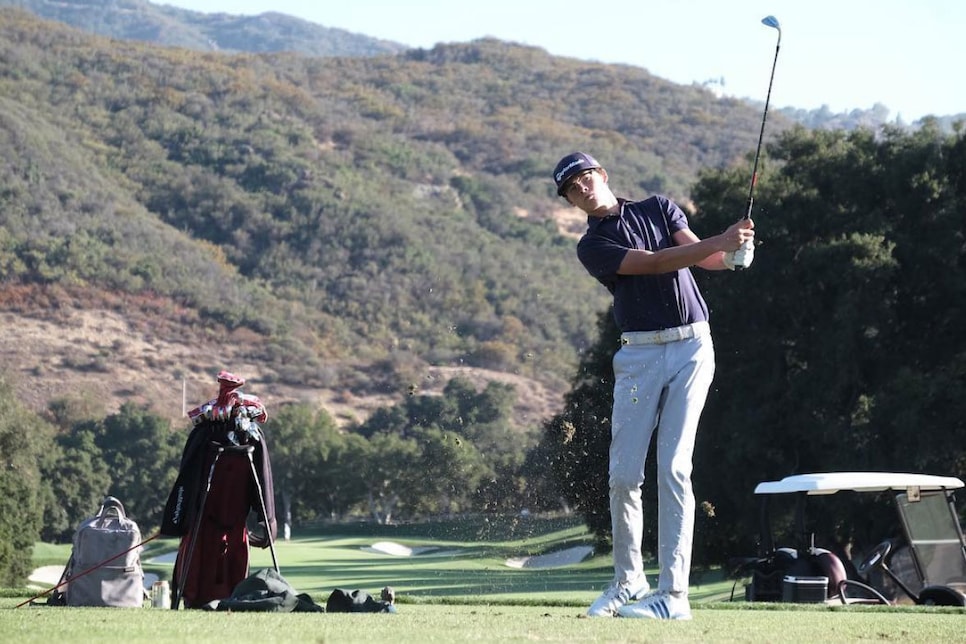 Tristan Gretzky/Instagram
Not all notable college golf recruits are of the blue-chip variety. When Pepperdine men's coach Michael Beard announced over the weekend he had brought in Tristan Gretzky during the early college golf signing period to join the men's team next fall, it made waves (pun intended). The 18-year-old from Westlake Village, Calif., played on his high school team at Oaks Christian and helped the squad to the CIF Southern Section Central Coast Division title the past two years. Beyond that, his resume has but two things that truly stand out:
He's the son of hockey great Wayne Gretzky.
His sister, Paulina, is engaged to PGA Tour star Dustin Johnson.
According to his player profile, Tristan has played in just three AJGA events in his career, two for players age 12-15. His last AJGA start was in 2017. His name does not appear on the Rolex AJGA Ranking or the Golfweek Sagarin Junior Ranking.
Still, within the last year, working with instructor George Gankas (who teaches the top college golfer of the fall, Oklahoma State's Matthew Wolff), Gretzky saw his game improve, enough to where he had become a curiosity for a handful of college programs.
"Tristan has impressed us with his athleticism and attitude," Beard said. "He's a late bloomer with a great upside. He's a great fit for our program and the university."
Indeed, in the face of a minor social-media backlash regarding Gretzky's signing, it's important to note a few things. For starters, Gretzky has local ties, living roughly 25 minutes from Pepperdine's Malibu campus. Secondly, Gretzky has merely signed a letter of intent to play at Pepperdine. He is not automatically the recipient of a full or partial scholarship and given his track record it's unlikely he'll receive much aid. Those howling about Gretzky taking away an opportunity from other aspiring juniors golfers in need of a scholarship dollars (we're guessing Tristan's family can afford Pepperdine's tuition) need a better understanding of the signing process.
"My life goal is to be on the PGA Tour, and Pepperdine is the college that will give me the chance to make it," Gretzky said. "The players and coaching staff are the best in the country, and I'm looking forward to spending the next couple of years grinding with them."
Suffice it to say, Beard is hoping that Gretzky might follow the example of another famous offspring who went to a private California college with plenty of untapped potential. Six years ago, Maverick McNealy, son of tech entrepreneur Scott McNealy, was a high schooler who split time between golf and hockey before deciding to focus on the former in college. His junior golf resume was solid, but not spectacular, but he lived in the shadow of Palo Alto, and grabbed the attention of Conrad Ray, Stanford men's golf coach. Ray took a chance that McNealy might find his way as a Cardinal, and his bet paid off when McNealy became one of the school all-time best players, tying Tiger Woods' Stanford record with 11 individual wins, being named college player of the year in 2015 and eventually becoming the No. 1-ranked amateur in the world.
If Gretzky can achieve a portion of that, then Beard's gamble will be worth it.