Media
Trevor Immelman has big seat to fill in making his debut as CBS' lead golf analyst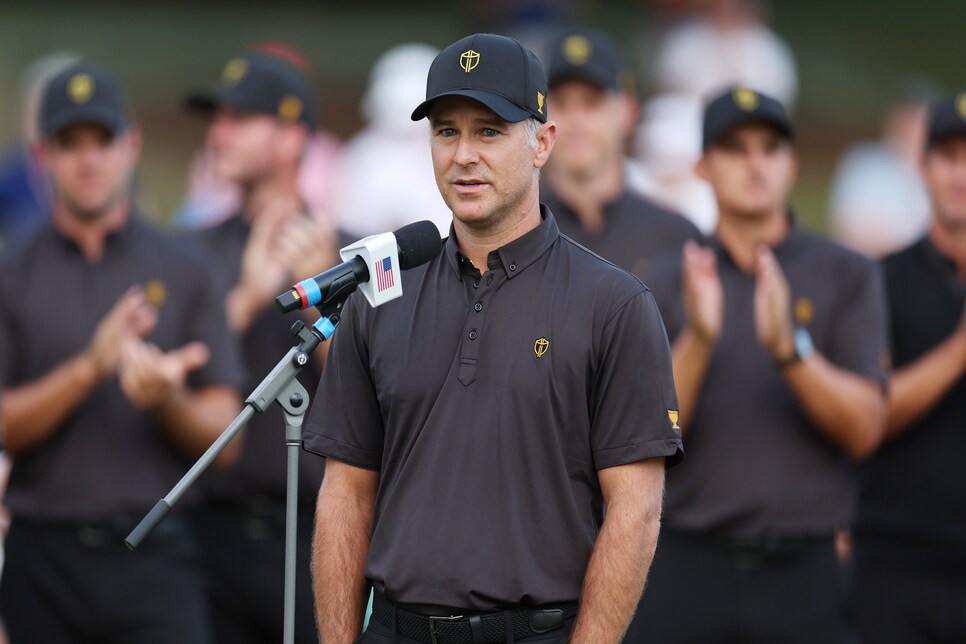 International captain Trevor Immelman speaks during the closing ceremonies of the 2022 Presidents Cup.
Rob Carr
SAN DIEGO — It was a weekend in early December and Trevor Immelman was in a television booth to get a feel for the mechanics and cadence of CBS sports anchor Jim Nantz's work. Call it a homework assignment, since Immelman was scheduled to make his debut as lead analyst on the network's golf telecasts the next month, replacing Nick Faldo in the 18th-hole tower starting at the Farmers Insurance Open.
On this December Sunday, Tony Romo was Nantz's sidekick as they called one of the most anticipated NFL regular-season games of the season, with the Cincinnati Bengals hosting and beating the Kansas City Chiefs in what would be a preview of the upcoming AFC Championship Game. Off-camera, Immelman stood nearby for the entire contest, absorbing all that his nimble mind could handle.
"It was quite amazing," Immelman said on Thursday at Torrey Pines, where he sat on a bench in the sunshine after a morning production meeting. He went out to dinner with Nantz on the night before the game and watched him prepare in the hours before kickoff, as the veteran formulated his thoughts for the broadcast. And then Immelman took in Nantz and Romo doing their thing.
"The thing I love about him, and the thing I think I will be able to tap into and mesh with quite well is he's very natural, and he's just authentic," Immelman said of Nantz. "He's the same guy on the air as when he's not on the air. Nothing is an act.
"I think I'm like that. I want to be authentic and normal and natural. I also think that if you do that you've got more of a chance of your best stuff coming out."
His analysis of Romo, who he cheered as the Dallas quarterback because he's a lifelong Cowboys fan? "He's awesome. He's confident—very confident. And he should be."
Immelman, the 43-year-old champion of the 2008 Masters, takes over the seat that was occupied over the decades by Ken Venturi, Lanny Wadkins and Faldo—the latter announcing his retirement last year after 16 years as CBS' lead analyst. But in a strange circumstance during their opening broadcast this week, the South African and Nantz will be separated by thousands of miles because Nantz is broadcasting the AFC title game in Kansas City. Nantz will still do the golf commentary remotely on Friday and Saturday, with Immelman on-site in CBS' "Super Tower" at Torrey Pines with Frank Nobilo and Ian Baker-Finch.
"I don't know exactly how it's going to be," Immelman said with a smile. "At the end of the day, [Nantz] is one of the greatest sports broadcasters who ever walked on the planet, so he's well-equipped to shepherd us through the situation. Next week we'll be in one of his favorite places at Pebble Beach. I think you can expect that whilst we got some ideas up our sleeve for this week, the goal is to make it really clean."
Immelman admits that he's not sure the lofty nature of his new position has "sunk in," but it figures to next week when he is side-by-side with Nantz. "I'm sure at some point next week, I'll be, like, 'Whoa!'" Immelman said. "That's going to be pretty surreal at some point when I look over there and he turns and asks me a question. Hopefully, I don't choke."
Immelman's love for golf broadcasting can be traced to him being a 6-year-old in South Africa begging his parents to let him stay late to watch his first Masters—which happened to be one of the most memorable in history, the 1986 victory by Jack Nicklaus. That was Nantz's first year on the CBS broadcast as he manned the 16th hole and the voices of all the announcers that day would stick with Immelman. Fittingly, 22 years later, Nantz called Immelman's three-stroke victory over Tiger Woods at Augusta National.
Immelman has an even closer relationship to the man he's replacing. "He's my guy," he said of Faldo, citing that the Englishman first took him under his wing when he arrived as a young player at the Leadbetter Academy in Florida. The six-time major winner would mentor Immelman once he reached the PGA Tour and again when he started his broadcasting career as an analyst for Turner Sports and later Golf Channel. Hampered by numerous injuries, Immelman retired from playing in 2019 and joined the CBS team.
Immelman is careful to not compare himself to Faldo and said, "I think certain things will be different because we're different people."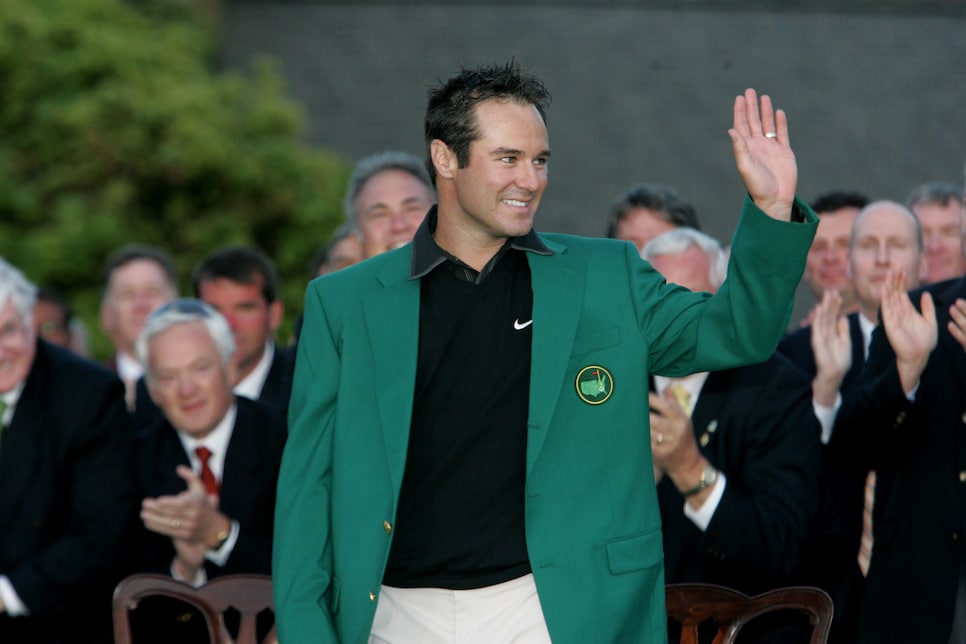 Trevor Immelman won the 2008 Masters, beating Tiger Woods by three shots.
The State
As a younger man with a playing career ending not long ago, Immelman is in a position to relate well to and gather useful information from the younger players. And it certainly helps that he was the International captain for the 2022 Presidents Cup. Friendly and inquisitive, he's likely a welcome sight sidling up to most players.
But Immelman also knows there will be times when he'll have to be critical of those same golfers, and he insists he's ready to do that.
"You've got to be honest," he said. "And the reason I say that is I have respect for the viewer. People who tune into watching golf on the weekend love the sport just like I do, and they know what's going on. If they're seeing something that's obvious and the announcer's not saying it, they're screaming at the TV 'What the heck is wrong with you?'
"I have no problem [being critical], but you've got to be careful. Stick to the facts; don't get personal. One thing I promise is that I'll always be available to any of [the players] if they have an issue with anything I've said.
"Part of this job," Immelman added, "is you have to call the balls and strikes with what happens. It's the same thing with fans. There's probably half the people who will think I do a terrible job, and the other half are thinking I'm OK."
Immelman believes his experience in the game gives him the ability to provide the big picture about what it's like to compete at the highest level of golf. He played 14 full seasons on the PGA Tour and has his green jacket at Augusta National, but he also only notched one other win, in the 2006 Western Open, and struggled with injuries and swing issues for years.
"I wasn't an elite elite player; I was a nice player; I won the Masters," he said. "But I know what it takes to get there. … I have all of those experiences mixing it up at the top level. But I also have the experiences of the other side, when it's not going your way and you're struggling to get your card. It's two different worlds when you're in it, and you don't realize how fine the line is. That's what I bring to the table, the understanding of both sides of the spectrum."