Courses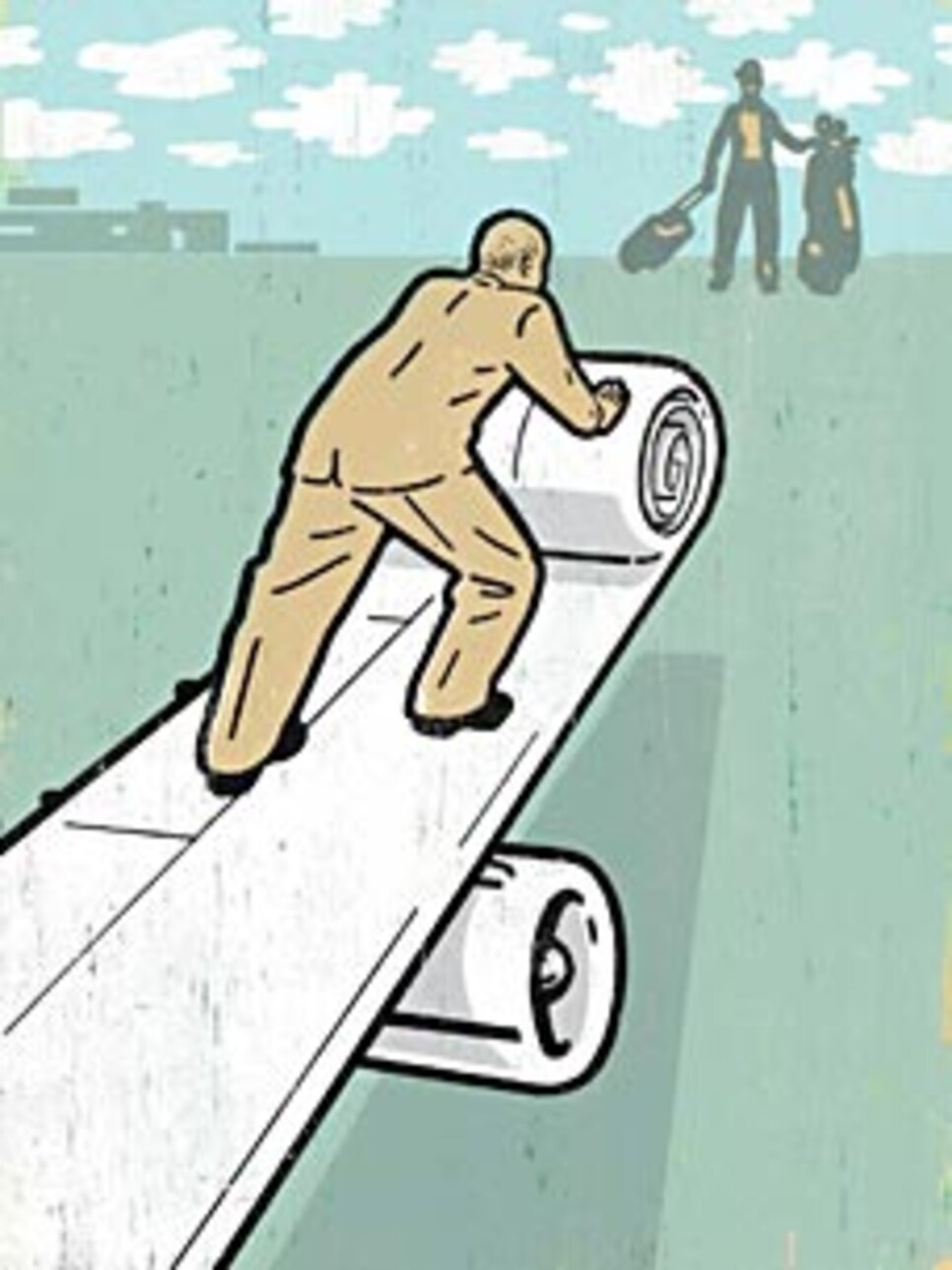 Take your mind off the crummy economy for a minute -- there, that's much better, isn't it? -- and consider this: By just about any measure, right now is an outstanding time to take a golf trip. Resorts are hungrier than ever for your business, which means discounts and other special offers are plentiful. If you choose to go overseas, you get the double bonus of a dollar that has grown far stronger in the past year and airfares that have tumbled to five-year lows. If that doesn't make you want to take your clubs on the road, we're not sure what will.
The least expensive way, in most cases, is to plan a trip on your own. (See "Scotland For Less") But the fact is, that's tough work, and the logistics of a golf getaway can test even the most determined do-it-yourselfer -- especially when you're going overseas. A good tour operator can be a huge help, not just in organizing your journey but in making sure your money is well spent.
The trick is, you've got to pick the right tour operator. Dick Matullo learned this lesson several years ago when he and three friends enlisted a company to arrange a trip to Ireland. They were scheduled to fly on Sept. 12, 2001. The terrorist attacks put an end to that plan, of course. But Matullo's tour operator refused to refund his $3,000 deposit. "When [September 11] happened, everyone was getting their money back from tour operators," says Matullo, who runs an advertising business in Atlanta. "But our guy hemmed and hawed. He finally said he could give us credit to go in a couple of weeks. We said, 'We're businessmen. We can't go in a couple of weeks. This was when we planned to go!'" The golfers talked to a lawyer about suing, though they decided it wasn't worth the expense and hassle.
So how do you find tour operators who will make your trip go smoothly -- and won't cause more headaches than they solve? Following is a simple four-step plan to help you find the right company for your trip. It's based on interviews with reputable golf-tour operators, government tourism officials and paying customers, as well as the experiences of Golf Digest writers and editors.
Dozens of golf-tour operators serve the most popular destinations these days, but you needn't knock yourself out trying to contact them all. Having three or four of them work up proposed itineraries should be plenty. This will give you a variety of options and a chance to compare prices -- as well as the people you'll be dealing with at several firms.
Everyone agrees referrals are the best way to select the companies you're going to contact. If you have friends who were happy with tour operators they used, start with those names. But don't stop there. You need to ask some specific questions about their trips, because there's no telling whether their expectations were the same as yours. For example:
• Did the tour operator suggest any courses? Were they good?
• Were you happy with your tee times? (Better, more established tour operators can often get you better times.)
• What were the hotel rooms like?
• Was the itinerary good? How was it getting from Point A to Point B?
• If you used a driver, what was he like? Did he heed all your requests?
• Were you directed to good restaurants and other off-course activities?
• If something went wrong, how did it get fixed?
• Did you feel the trip was a good value for your money?
• And perhaps the most important question of them all: Did everything on the trip live up to your expectations?
If you don't have many friends who've used tour operators, government tourism offices can be good resources. Tourism Ireland has a help desk (800-223-6470) and can offer names of approved tour operators. For the full list, go to discoverireland.com and click on "Plan Your Visit," then "Tour Operators." Scotland keeps its list of affiliated companies at golf.visitscotland.com/operators Says David Brice, president of Golf International, a New York-based tour operator: "No tourist board wants to be mixed in with somebody going belly up."
It's also worth reaching out to two industry groups, the International Association of Golf Tour Operators (iagto.com) and the North American Golf Tour Operators' Alliance (nagtoa.com). Choosing a company that belongs to one of these groups is not a guarantee of, well, anything. Yet they offer a minimal seal of approval, and their websites are a good place to find contact info for their members.
Many in golf travel suggest using only tour operators based in your home country. The argument is that if you have a serious complaint about your trip, you'll have a much easier time addressing it though your home country's legal system. That might be true -- though it seems odd to ignore all international tour operators. They are in a position to know their markets better than anybody. Besides, as Dick Matullo found out with his ill-fated trip in 2001, there might be no such thing as an "easy" resolution to these kinds of problems anyway. Your best bet: picking companies known to be reputable, regardless of where they're based.
Once you've chosen three or four tour operators, call them to see what they can do for you. Listen carefully, and you will learn a ton about these companies in your first interactions with them.
Beyond the obvious stuff -- are they courteous on the phone? Can they get you a proposed itinerary in a couple of days? -- pay special attention to their knowledge of your destination. A good tour operator should "ask for your wish list of courses and then start giving you some input on them," says Brice of Golf International. "It's not like a waitress taking orders. There should be some give and take."
A tour operator should ask what you want from a hotel as well. "Where do you normally stay on a business trip?" says Brice. "That's what I want to know. Then we can match up your expectations. I'll give you a prime example: When you say 'bed and breakfast,' most Americans say that sounds pretty good. My experience is they're not very good at all. You're dreaming of a New England B&B, or one in Napa, with some great restaurants nearby and a lot of charm. They're not often like that in the British Isles."
The ideal tour operator will be full of current, first-hand knowledge about everything: courses, hotels, roads, pubs, green fees. If you get the sense tour operators are just reading from a brochure, try lobbing some questions at them, suggests Gordon Dalgleish, president of PerryGolf in Wilmington, N.C. "Say, 'I don't know my geography of Scotland very well. Can you give me a sense of the travel times between courses?' " Another approach: Try engaging tour operators in a conversation about their favorite courses in the area. That will give you a sense of whether they truly understand golf trips . . . or whether they're just order-takers.
In 2007, Dalgleish played "mystery shopper," anonymously contacting seven rival tour operators by e-mail. "From a competitive business stand-point, it was very encouraging," he says. Two of the seven itineraries he received were rudimentary spreadsheets with a minimum of information. Three proposals suggested the tourists fly from Glasgow to remote Machrihanish, seemingly unaware of the Kintyre Express, a high-speed ferry that makes the trip from Troon in an hour, and at a fraction of the cost.
When the proposals start to come in, there's a good chance you'll be looking at a wide diversity of prices. In Dalgleish's mystery-shopper test, the bids ranged from $5,300 to $7,800 for the same seven-day trip to Scotland, not including airfare. Well, it wasn't the "same" trip at all, of course. Which is why, when comparing your bids, you should turn a magnifying glass on them to see what sets each apart from the rest:
Hotels "The trick with accommo-dations is rooms," says Sam Baker, president of Cincinnati-based Haversham & Baker Golfing Expeditions. "You need to know exactly what you're getting."
An itinerary that says you're staying at Ye Olde Golfers Inn isn't good enough. It should specify a room type, a bed type, whether you have a roommate and whether there is an adjoining shower and/or bathtub. John Wineman, a retired entrepreneur from the Chicago area, recalls arriving at a St. Andrews inn several years ago expecting eight private rooms for his group's two foursomes -- and finding the inn didn't even have eight rooms total. "For what we were paying, sharing rooms was not right," he says.
Another time, the same tour operator (since replaced) booked Wineman's group into the tiniest accommodations he'd ever seen. His roommate went downstairs to ask about getting a private room and found it would be only a small extra charge per night. They all decided to get private rooms.
Because every hotel uses different names -- Gleneagles has Estate and Classic rooms and Whisky suites, among others -- Dalgleish suggests visiting a hotel's website and clicking on "rooms" to see what your firm is really proposing.
Courses As with the hotel portion of your itinerary, you want to make sure the golf courses are the ones you expect. When it says "Ballybunion," does that mean the beloved Ballybunion Old or the Cashen, circa 1982? When it says "Lahinch," will you be playing its Old Course or its Castle Course, built in the 1970s?
There's often a lot of confusion -- and misinformation -- about tee times on the Old Course at St. Andrews. The best, most economical way to book them is to contact the St. Andrews Links Trust (www.standrews.org.uk) in September of the year before you're going. Didn't plan your trip so far in advance? A few tour operators have a limited number of guaranteed times on the Old Course for sale. Others arrange them (at a high price) through a third-party outfit called the Old Course Experience. (See "A Scalping at St. Andrews from July 2005") Another option is to place your group in the daily lottery, or "ballot." Many groups get on the Old Course this way, but it's not a sure thing. You'll only find out whether you have a tee time the day before you play. If tour operators say they can get you on the Old Course "guaranteed," demand to see an actual tee time. Otherwise, you're probably taking your chances on the ballot.
Transportation Just because your tour operator says a van "seats eight" does not mean it seats them comfortably. On one of his early trips to Scotland, John Wineman recalls being met at the Glasgow airport by "a slightly extended bus." Loaded with eight guys, their luggage and their golf bags, it looked like a clown car. The group did not get any happier when they learned one of their drives would take more than five hours.
"I tell Americans, 'Always take the biggest car possible,' " says Brice. Some companies "will try to rent you a 'Category A' car for your foursome." That's "four guys crammed into a car with their clubs on the roof." A simple solution is to look at online pictures of what the tour operators are proposing you rent.
Crisis management Let's say something goes wrong -- a buddy misses a connection on the way, for example, or a golf course has no record of your reservation. Will you have a person dedicated to fixing these problems, or will you get whoever picks up the phone when you call in? It's worth asking.
A year after September 11, Dick Matullo made plans to try Ireland again. But several days before the trip, he got a call from his new tour operator, Debbie Bussey of Connecticut-based Absolutely Golf & Travel, who asked, "Are you sitting down?" She'd heard workers at Aer Lingus, the air-line they were flying, might strike later that week. Scrambling to find any available seats, Bussey re-booked Matullo and friends a day earlier on different airlines. Sure enough, the strike hit, and Matullo's original flights were canceled. "I ended up going through New York to Madrid and from there to Dublin, which wasn't on our original itinerary, but the whole thing went flawlessly," Matullo says. "Debbie coordinated guys coming in from Charlotte and New York, too, so we all got there at the same time. She got us a hotel in Dublin and booked a reservation at Bono's restaurant. She even sent our table a bottle of champagne at dinner that first night. It was amazing."
Financial stability The recession is hurting them all, but at a minimum you ought to pick a tour operator that has some history of weathering economic downturns.
It's all there in front of you at last: The itinerary of your dreams. But before you sign that contract, consider these key items:
Price changes Between the time you book your trip and actually hit the road, there's a good chance prices will have changed. Take a look at your tour operator's Terms & Conditions. Can it jack up the price on you before you make your final payment, or is the price locked in with your deposit? If it's not locked in, the price you've been quoted "is really just an estimate," says Sam Baker.
Along the same lines, some tour operators will charge a fee for even the smallest change in your plans. "I think that's just part of customer service," says Debbie Bussey, who does not charge extra for changes.
Cancellation policy What happens if you can't make the trip for some reason? With most tour operators, it depends on when you pull the plug. PerryGolf is fairly typical: It will keep your deposit, but you get a 100 percent refund on your final payment if you cancel more than 60 days before the arrival at your destination. That drops to 50 percent within 59 days and 25 percent within 29 days to 14 days. Cancel anytime after that and you get no refund. If you're concerned about having to swallow that kind of expense, consider buying trip-cancellation insurance, which will refund all your money in many situations.
Payment Some tour operators will let you pay your deposit by credit card but expect the balance by check. This saves them from paying the credit-card commission. As Dick Matullo found, this also significantly cuts your leverage in the event of a dispute. Two friends traveling with him on the Sept. 12, 2001, trip had paid their share by credit card. When the tour operator wouldn't refund their $3,000, they appealed to their credit-card company, which recovered the full amount. The lesson: Pay by credit card.
"When we went to Ireland the following year, we took the trip we were going to take in 2001," says Matullo. "So I went to the general managers at the golf courses and hotels and asked how much the [other firm] paid the year before. To a man, they said, 'What?' It turns out he had just kept our money. I heard he went out of business. I've had it with him."
Looking at the bright side, Matullo has found a tour operator he loves. Debbie Bussey at Absolutely Golf has arranged two trips for him and his buddies, and they're planning to go again in 2010. "She takes the time to make things right," Matullo says. "Really, I'm so satisfied it's disgusting."