Traveling With Sticks Is More Costly Than Ever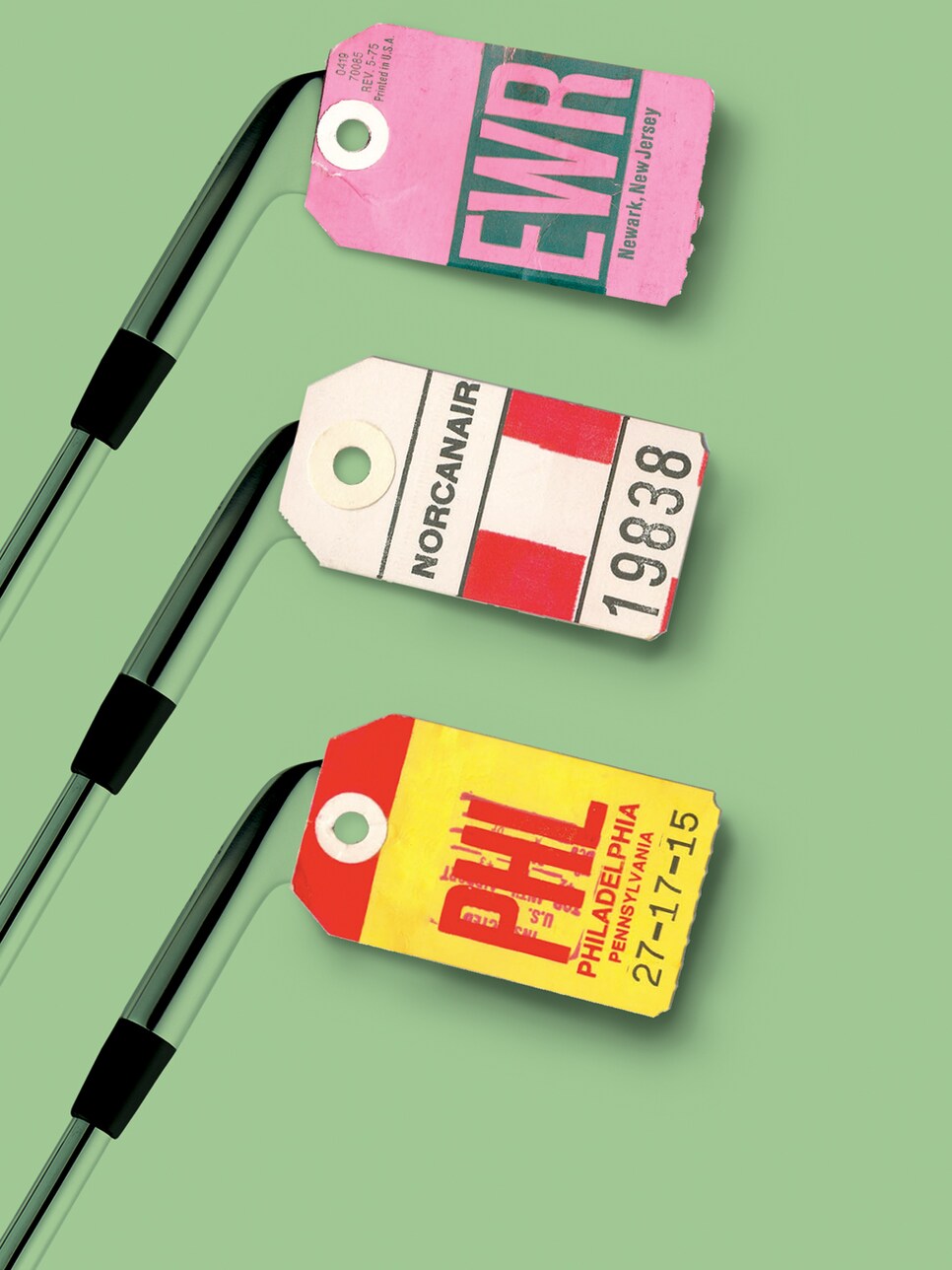 Illustration by Oliver Munday
Planning a road trip this summer? If your travels involve an airline, you might be in for a surprise at check-in. Nearly across the board, airlines have been jacking up fees for luggage. Some have also fiddled with weight requirements, which can result in even bigger fees for golf travelers.
Airlines often waive these irritating add-on charges for people who use airline-branded credit cards, or who have elite frequent-flyer status. But for everybody else, it's worth paying careful attention when shopping for a ticket these days. That low fare you found might actually be a higher fare in disguise.
Weight restrictions are a particular trouble spot. Most airlines set the maximum allowable weight for checked bags at 50 pounds. An ounce more and suddenly your $25 to $40 fee (each way) on American or Delta becomes $100. On United it can cost up to $200 for "overweight" bags, depending on your destination.
Even if your clubs and bag weigh less than 50 pounds, you still might not be in the clear. A few years ago, budget airlines Allegiant and Spirit quietly added a surcharge for any bag weighing more than 40 pounds. Exceed 40 and you're looking at an extra $25 to $100 on top of their standard baggage fees. Allegiant's regular fees range from $18 to $50 depending on where you go and when you pay. Spirit has a similar sliding scale, and collects $30 to $100 each way.
Even if you travel light, you're not exempt from worrying about these restrictions. My carry bag with 14 clubs and a dozen balls, stuffed in a soft-sided travel bag with a pair of golf shoes, weighs 35 pounds. Add an umbrella, a rainsuit and an extra dozen balls, and it just creeps past 40 pounds. Squeeze in another pair of shoes and a change of clothes, as many golfers are known to do, and you're pretty quickly pushing 50.
The last few times I've traveled by air for golf, I didn't even bring my clubs to the airport. I used Ship Sticks and Luggage Forward, competing services that will pick up your clubs and drop them off at your destination before you arrive.
This usually costs a bit more than lugging them along with you. Sending a golf bag across country—from New York to Oregon, for example—starts at $84 each way with Luggage Forward and $65 with Ship Sticks.
The convenience is huge, though. Imagine not having to haul your bag in and out of the terminal. Picture not waiting for your clubs at the baggage carousel, where they always seem to be last off the plane. (United even puts this in writing, promising that passengers checking golf equipment "will experience a delay in receiving their bag.")
Ship Sticks and Luggage Forward have super-intuitive websites and knowledgeable customer-service reps. Honestly, using them was a breeze.
You do need to plan ahead if you want their lowest prices. Going from coast to coast, the clubs will get picked up five or six business days before you tee off. Your clubs will head back home when you do, but it might be a week or so before they show up at your door.
If you need your clubs right before you fly or immediately after you return, you can pay extra for speedier delivery. Ship Sticks can cut a cross-country trip down to three business days for $80. It will overnight your clubs for $160.
Airlines' hunger for "ancillary revenue"—money other than ticket sales—has been a boon to delivery services like these. "The more they raise fees and the more stringent they become, the more apt somebody is to look for an alternative like us," says Ship Sticks CEO Nick Coleman. His company's revenue growth rate has been in the "triple digits" for the past couple of years, he says. Luggage Forward made Inc. magazine's list of fastest-growing private companies four years in a row.
Will things change? "Airlines are in a race to the bottom," says Chris Lopinto, president of ExpertFlyer.com, a research tool for travelers. Some no-frills airlines already are charging extra for carry-ons, selecting specific seat assignments and even buying your ticket with a credit card.
If only we could just ship ourselves.
WHAT AIRLINES CHARGE FOR GOLF BAGS
$0 ▶ Aer Lingus, British Airways, Southwest
$25 ▶ Alaska Airlines, Virgin America
Sliding scale ▶ Allegiant ($18-$50), American ($25-$40), Delta ($25-$40), Frontier ($30-$60), JetBlue ($20-$35), Spirit ($30-$100), United ($25-$35)
Maximum weight: 50 pounds unless noted with an asterisk (40 pounds)