News
Travelers Championship returns sanity post-U.S. Open by providing a test and, hopefully, fun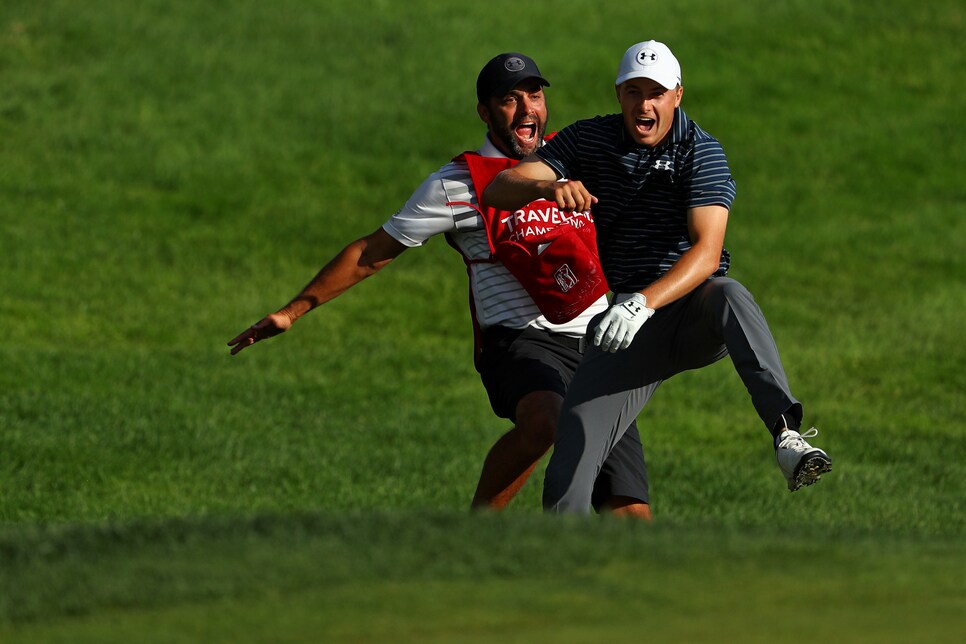 CROMWELL, Conn. — Coming off a U.S. Open where the challenge of the golf course was pushed to the extremes, this week's PGA Tour stop at TPC River Highlands represents a fundamental shift in how to approach those extremes, a fundamental shift in attitude.
The Travelers Championship seems to be using a word that the USGA has forgotten, at least when it comes to staging a golf tournament: Fun.
What may be even more remarkable is the approach at the Travelers may just as easily identify the best player as the hall of horrors that Shinnecock Hills became over the weekend. Either way, the approach at TPC River Highlands seems a better business proposition, for the course, for the members and for the tournament.
"There's different methods that get to the same result," said Jeff Reich, director of golf course maintenance operations at TPC River Highlands. "And ultimately you have to ask, 'What's your goal?' We want to provide a challenge, but we want our players to have fun. We want our players to come back. We're not here really to give them the ultimate-upon-ultimate test. We're here to test them, not to challenge them, but we don't want it to be boring. It's a different mindset."
In terms of course setup and maintenance, Reich carries out the commands of the PGA Tour rules staff. This week that means four-inch rough and greens that might reach 12 on the Stimpmeter. That differs from regular member play when the rough is just shy of three inches and the greens are 10-10.5. But Reich says he'll use some of the same hole locations for the member-guest that are used during the Travelers Championship.
The golf course at TPC River Highlands is among the reasons that the Travelers Championship was named the players choice for Tournament of the Year on the PGA Tour in 2017, and Reich knows that his stewardship of the course goes beyond the challenge he puts in front of the world's best players.
"We want ours to be a challenging, fun event, and we want our players to come back and say, 'Wow, that was a good test and I want to come back,' " Reich said.
"The golf course is your biggest salesperson [in terms of attracting players.] We want the best field possible. It benefits our community, it drives our dollars for charity, it's our main objective here."
Defending champion Jordan Spieth hinted at the differences between last week and this week simply by outlining how the TPC River Highlands plays straightforward.
"When you hit a good shot, it will end up good," he said. "When you hit a poor shot, you're going to be out of position. But you can still walk up and most of the time be able to make do if you miss it in the right spot."
The question remains whether the best player likely will more often win in either the U.S. Open setup or that of a PGA Tour event like the Travelers Championship. Reich believes the best player wins in his event, and he also believes the field has fun and the tournament benefits and, he said, "we want a course that's viable for the membership, we've got to look at the long term as well as the short term."
He also recognizes the U.S. Open is a different animal. As he quickly reminds you, the USGA and the U.S. Open doesn't have to worry about whether players will choose to play their event next year. He does. He believes Shinnecock Hills superintendent Jon Jennings and his staff did a terrific job in trying circumstances. The fact that the course slipped very close to the edge was simply "an anomaly" and "not their fault."
But Frank Rossi, a Ph.D. and award-winning turfgrass agronomist from Cornell, saw the U.S. Open in a different light. Embedded with Jennings and the Shinnecock Hills maintenance team last week, Rossi said the health of the turf was never in question. He's been on the inside at multiple elite events, including opens at Bethpage and Shinnecock Hills, and he called last week's U.S. Open, from a turf perspective, "the most data driven operation ever at the many, many setups that I've seen."
Still, that knowledge is the baseline that can set the stage for living on the edge. That's what happened on Saturday with a few hole locations at the U.S. Open.
"I think really we're talking about six inches here or there, and we're not having this conversation," Rossi said. Rather, he believes the challenge in the modern game of course setup is that the skill and technology of turfgrass science and maintenance is nearly limitless, which is a dangerous place to live. "As someone who studies golf as a landscape, you're looking at the conflict between these classic designs and the conditioning that the original architect could have never imagined we'd be able to do. He thinks the lesson of the U.S. Open at Shinnecock Hills might be to show average golfers that crazy fast green speeds aren't an ideal to shoot for.
But, he also concedes, it is a plausible enough option to pursue when you're talking about four days of a major championship with perfect weather of sunny days and cool nights.
"When we get weather on our side, we've engineered these soils and engineered these management tools and engineered these mowers to allow us to move the dial anywhere the set-up people want," he said. "So when the character of your tournament is the defense of par, you do what the USGA does, and when the character of your tournament is to showcase the offensive side of golf and letting the golfers get to 20-under like they might this weekend, we can do that."
River Highlands' Reich isn't necessarily hoping for a rash of 62s this weekend, but he also says the edge is not where he wants this week's tournament to live.
"We might have a different baseline [than the U.S. Open]," he said. "I would say there's definitely measures we've taken to safeguard us if something were to go south on us.
"It's a different mindset, different goals. I don't know what theirs is, I know what ours is. We're not a major tournament. We're providing a test that's fun and fair."
You are using an unsupported version of Internet Explorer. Please upgrade to Internet Explorer 11 or use a different web browser.