The Loop
Before we get started, I have a few unanswered questions: Why does one airline or one flight attendant insist that you turn off your iPod before takeoff and landing, and some say it's OK to keep listening? Why does security take your nail-clippers and bottled water from your bag but business class on American Airlines gives you metal knives and forks? Why do we have floating devices under our seat on the plane instead of parachutes?
Want to know where to go, or a trip-tip before you get there? Submit through the Travel Trouble section of our website. If I don't know the answer, I'll go to someone who does.
Paulo Costa Jr. of Sao Paulo, Brazil: I'm 57 years old and I'm planning a two-week vacation (last half of September) in New York City to visit my daughter. One of the weeks I would like to travel within the state and play three or four courses. I'm a 27 handicap and being a single, I think I'll have some trouble. When I've tried to schedule some tee times it seems to me that all the sites start with at least two to four players. What should I do? And could you give me some guidelines to which three or four courses would fit my limited skill level?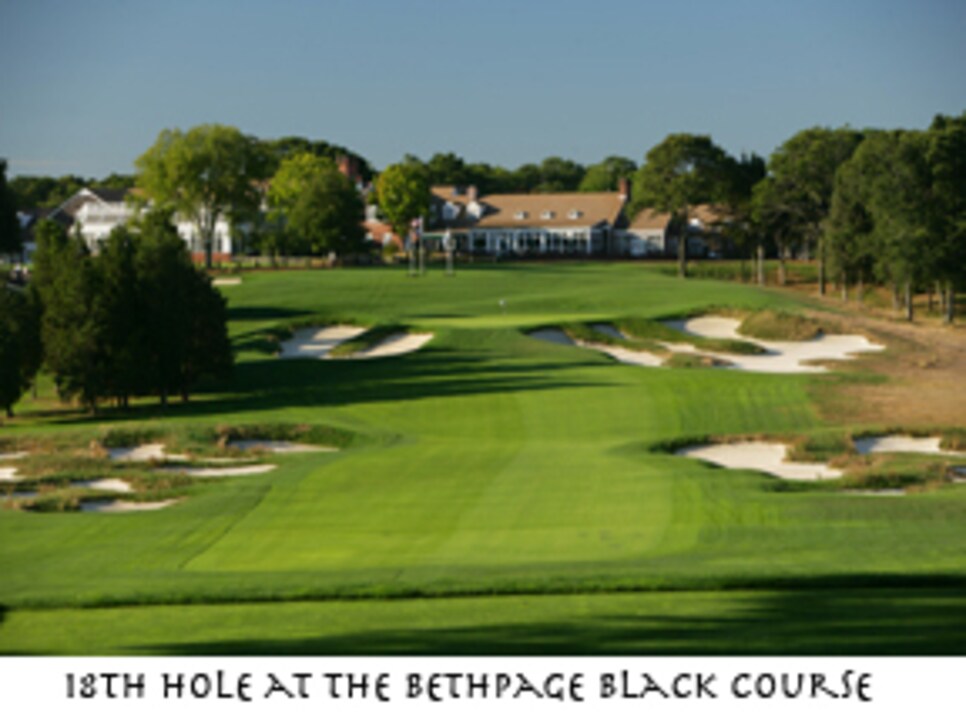 I've lived in New York City since 1995. September and October are two of my favorite months of the year. My friends and I have had various levels of success playing public golf on the outskirts of Manhattan. Here are some thoughts:
Bethpage State Park has five courses and is 32 minutes from Manhattan. The Black will host the U.S. Open next year. They won't let you play it, and you shouldn't play it if you're a 27 handicap. I'm a 7 handicap and I shouldn't play it, but I do. It always delivers me my lunch--a humble sandwich. The Red and the Green courses both get 4.5 stars in Golf Digest's Places to Play, but with your skill level I'd suggest sticking to the Blue and the Yellow--both 4 stars. Since you will be coming from out of state, they tell you to dial 516-249-0700, then press "0" and say you need to register. After you've registered, then you can book a single tee time two days in advance. (Green fee is $36. Phone: 516-249-4040.)
Spilt Rock, three stars, is 19 minutes from the city. There's also the Pelham Bay Course on property, but most agree it's not as good as Split Rock. A single can only make a reservation the day before. (Green fee is $39. Phone: 718-885-1258.)
Garrison Golf Club, four stars, offers great views of the Hudson River. It can be tight so throw in an extra sleeve of balls in your bag (or a small bucket), but it's worth the drive and the time. A single can call one week in advance to book a tee time. (Green fee is $90. Phone: 845.424.4747.)
Charles Cantin of Montreal: What courses would you suggest in the Southern Pines area (excluding the Pinehurst resort)? I'm planning a trip with my buddies from Canada for October.
Charles, I was just there and Ambushed a few guys at Pinehurst. If you're excluding the Pinehurst resort, top of my list is Pine Needles. But I asked a few colleagues who know more about the area than I do.
Senior Writer of Golf Digest, Jaime Diaz, suggests: "If they're good players with some length, they could go for more challenging courses like National Golf Club, Mid-South and Talamore, but wouldn't recommend them otherwise. The best non-Pinehurst course is probably Pine Needles. The friendliest and also very authentic Sandhills style are Whispering Pines, Mid Pines, Southern Pines CC. Tobacco Road is completely different and a course that should be experienced, as is The Pit. Little River is a resort on the upswing with very nice accommodations. There are some sleepers that lack first-rate amenities but provide some very good golf, like Hyland Hills, Foxfire, Woodlake (Maples course). If I had to pick five for variety and experience, they would be Pine Needles, Mid Pines, Tobacco Road, Southern Pines CC and National Golf Club."
Senior Editor of Golf World, Bill Fields, suggests: "Mid Pines, Pine Needles, Southern Pines Golf Club and Whispering Pines."
Whit Matthews of Philadelphia, Pa.: We're considering a trip to Birmingham, Ala. in November. We have three full days on the ground and were considering playing 36 holes each day at the following three courses, all on the Robert Trent Jones Golf Trail:  Oxmoor Valley, Oxmoor Ridge and Ross Bridge. What do you think? I think it would be tough to play our two rounds each day at different courses as the sun sets at around 5 p.m. that time of year. Any thoughts on where we should stay or dine out while we're in the area? Or another course we should throw in the mix?
My first official trip to the "Trail" is in the near future so I asked Senior Editor of Golf Digest, Mike Stachura:
"With only a few exceptions, the best public golf in Alabama is on the Trail, especially in the Birmingham area. (There's some very good private stuff, of course, and the best non-Trail public is in the Mobile area.)
Eats (Low Brow): Jim N Nick's BarBQ in Homewood, very near Oxmoor, if I
recall. The legendary Barbecue place is the grittier Dreamland, although it's been dressed up I believe. Hamburger Heaven is good, as is Davenport's Pizza Palace.
Eats (Higher Brow): Highlands Bar & Grill, Ocean, Surin West. One good online spot to check is bhamdining.com."
Steve Goeliner of Cincinnati, Ohio: I would like to plan a trip to the 2009 Presidents Cup (Harding Park Golf Club in San Francisco), but cannot find a company that offers packages.
Steve, I did a quick Google search typing in "Presidents Cup Golf Packages" and there are several points of entry. (Try this link.) I also asked a colleague, Blair Leburn, who worked with some booking agents in the past. He said to call Premier Travel. "They handle Ryder Cup and some other U.S. based golf events. Ask for Ann Mabry."
Chris Schutz of Tuxedo Park, NY: I'm looking to do a Northern England/Scotland trip next year to play Open Championship rota courses. Definitely would like to play Hoylake, Lytham and Birkdale, but would like some advice on the next leg of the trip. Not looking for more than five nights/six days, so is it best to head north into Scotland (Muirfield, St. Andrew's, Kingsbarns, Carnoustie) or should I go across the Irish Sea into Ireland (European Club, K-Club, Portmarnock, County Down)? Any thoughts or better ideas are welcome.
Chris, I like your style. There's no mess-around in your focus for good golf. Choosing between the courses you list in Scotland and the courses you list in Ireland is like trying to choose between one million dollars and 500,000 pounds. Not sure there is a wrong answer. I've played Birkdale, St. Andrews, Carnoustie, European Club, K-Club, Portmarnock and County Down. I've walked Hoylake, Lytham and Muirfield and I've heard great things about Kingsbarns. I've been on two golf specific travel trips to both Ireland and Scotland. If pressed, I'll say I find the hospitality, the food, the roads, the late night fun and the female "scenery" to be better in Ireland than Scotland but I think the courses you list in Scotland are better than the ones you've listed in Ireland. (I hope that helps.)