The Loop
When you send in a Travel Trouble, it hits my e-mail inbox. I try to answer as many as I can. Here's a selection of recent exchanges:
From Nick Layman, Republic, Mo.: How do you become a Golf Digest course rater? I play a lot of golf during the year, at a lot of different courses, and I've always wondered who the lucky people are who get to rate courses. How can I get started rating golf courses?
Nick: Although I've played a lot of the top 100 this year, Golf Digest editors are not part of the Course Rating Panel that evaluates courses for our rankings. I asked Topsy Siderowf, our rankings editor who manages the 800 or so golfers who make up our panel, how we find our panelists. Here's what she says:
Golf course raters are low-handicap golfers, single-digit required, but five or less is ideal. They have to be interested in golf course design and willing to travel at their own expense to evaluate courses--a minimum of five per year. Panelists must be computer savvy, we communicate by e-mail. They must also be willing to attend an educational summit to make sure they are knowledgeable about our survey process. They evaluate courses for our rankings of Best New Courses, Best in State and America's 100 Greatest Courses.
We have a sufficient number of panelists in Florida and California, but we're always looking for them in states such as North and South Dakota, Maine, Wyoming, West Virginia, Alaska and Delaware. We also have panelists from Canada and are in the process of building an international panel.
Prospective candidates can e-mail (through Travel Trouble), and we'll take them into consideration.
__ From Jeff Brune, Cape Girardeau, Mo.:__ Like most sons, my lifelong dream has been to surprise my dad with a golf trip to one of THE top golf courses in the world. I'm sure it's no surprise, but like most dads he introduced me to the game, taught me to respect every aspect of it and to think of the swing as a spiritual experience. I've been wanting to do a trip like this as long as I can remember, and I always thought we'd go to The Old Course at St. Andrews, but I just read the excerpt of the Jim Nantz book in Golf Digest, and I've decided that I want to take Dad to Pebble. I just want to call my dad a week before the trip and say, "I need you to go to the range for a few days, then clean and pack your clubs, oh, and a suitcase, and I'll pick you up on Saturday." I don't know what he'll think, but it sure won't be, My son has paid for us to go play Pebble Beach. I just want to know if there's a way to do a Pebble trip without totally blowing a ton of money. Sure, it's a once-in-a-lifetime trip, but I don't want to break the bank. Should we stay off-site? Is there a preferred place to fly into? What time of year is best?
*Jeff: Thank you for writing. Unfortunately, I don't have much good news when it comes to cost. Read what my colleague John Hawkins wrote about Pebble earlier this year.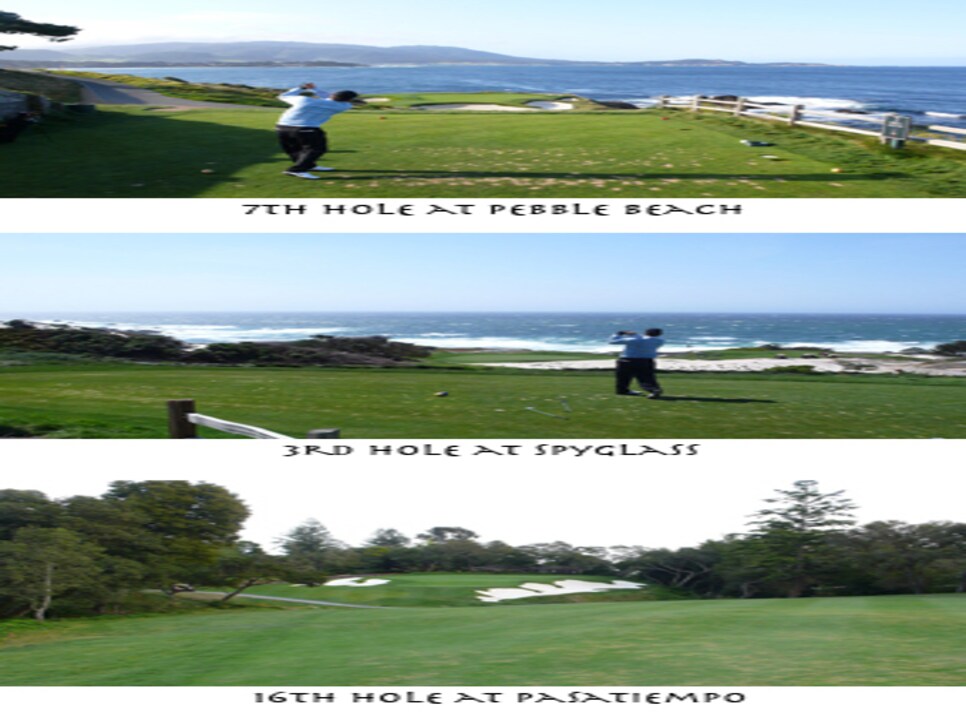 I'm just back from Pebble Beach. Believe me, I get it. The course is on a spectacular piece of property. Holes 6-10, 17 and 18 are some of the best in the world. The day I went, I didn't have the perfect golf experience, even though I had perfect weather. The greens had been punched (no break on the green fee--still $495, and no mention of it before I arrived). My caddie double-bagged and he could barely carry one. You have to stay at the Lodge, Casa Palmero or the Inn at Spanish Bay to get a tee time, (minimum $580 a night), but they're top-shelf resorts. If you stay off-site (there are plenty of good hotels in the area), you can try to get on as a single, but it's difficult to guarantee that you and your dad will be able to play together. Your best bet is to arrive at the crack of dawn.
*The only way to do what you want to do with your dad is to plan well in advance and pay large sums of money. Pebble is the No. 1-ranked public course in the country and neighboring Spyglass Hill is No. 11. They get a lot of money from us because they can.
Spyglass isn't a horrible deal at $330. I'm still debating which is the better golf course from start to finish--Pebble or Spy. If you do the hole-by-hole match-play game, I keep coming up with an even score. I give Spyglass holes 1, 3, 4, 11, 12, 13, 15 and 16. I give Pebble Nos. 2, 6-10, 17 and 18. Holes 5 and 14 are a tie. It's a fun discussion.
Just about an hour north, in Santa Cruz, is Pasatiempo, No. 30 on our list of best public golf. Green fees are $200 for the first 18 and a $100 replay rate. It's a 1929 Alister Mackenzie design (he also designed a couple of others you might've heard of: Cypress Point and Augusta National). All things considered, Pasatiempo is my favorite public course I've played as the travel editor.
If you go--go big. Cash in your 401K and play Pebble, Spyglass and Pasatiempo and call it the trip of a lifetime. My Away Game about my trip will appear in the September issue of Golf Digest, which hits newsstands in early August.*
From Steve Pitrowski, Boston: Me and five of my buddies are heading to Long Island, N.Y., to play golf. Problem is, only three of the six have an invite to play at Shinnecock Hills. I assume you have enough clout to get out at Shinnecock. Any chance you'd be around and willing to play with three single-digit handicappers? We'd be very appreciative. I'm sure you'd enjoy our company and we could have a fun match with the other four-ball. If you aren't able to help us, but have suggestions for us to try, that would also be appreciated. I enjoy reading Golf Digest and your articles and thought it couldn't hurt to ask.
*Steve: T**hanks for your support, but you grossly overestimate me.
Not only have I never played Shinnecock, I'm not sure I will. Shinnecock and Augusta is my 7-10 split. Every time I try to pick them up, my bowling ball goes down the middle of the lane. I've been to 11 Masters and an Open at Shinnecock. That may be as close as I get. Sorry I can't help. I hope you guys have a great trip. The threesome that can't get on should consider a drive to the end of the island and play a great public course--Montauk Downs. It's about 45 minutes from the entrance to Shinnecock, off the Montauk Highway. I played it for the first time a few weeks ago. Be prepared for a slow round, but like Bethpage Black, it's owned by the N.Y. State Parks Department and for N.Y. state residents on weekends it's $41 ($82 for out-of-state residents). The "Downs" is a bargain.