Away from the drinking and the noise, sitting quietly off camera at TPC Scottsdale, are numerous other holes that are thoughtful and no less engaging, among them the first, one of the most beguiling opening holes on tour. Of course, you're most familiar with the scenes like Tiger Woods' hole-in-one at 16 in 1997 or even the drivable par-4 17th that highlights a superb finish. But No. 1 is worth your attention.
One of the noblest challenges in golf architecture is creating a thoughtful, complex hole but using a minimum of bunkers or hazards to do so. Tom Weiskopf, who designed the original TPC Scottsdale in 1986 with the late Jay Morrish, did that here when he revamped the course in 2014 by eliminating and repositioning bunkers and adding significant areas of turf.
At just more than 400 yards, the first hole is not long and seems benign, but a lone bunker left of the fairway commands the players' respect. Most choose to hit something less than driver, which still leaves just a short iron or wedge into a convex green surrounded by little more than short grass.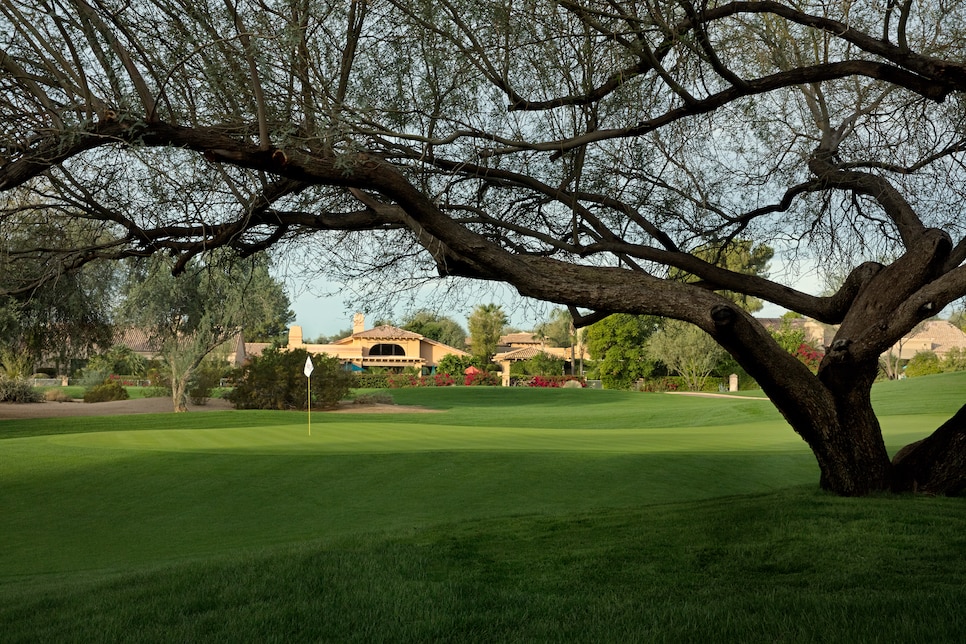 Courtesy of the TPC Network
The first at TPC Scottsdale is all about hole location—where the pin is placed changes the way it plays each day. There are several areas on the green where it's either difficult to get the ball close—even with a scoring club. The elevated putting surface is banked right to left with some minor back-to-front movements, and rear-left flags, with room to work with and a helping slope, are green-light specials. But hole locations cut on the high right side of the green demand caution since the steep, repelling shoulder pushes miscues into short-sided chipping areas, resulting in relatively lengthy up-and-down recovery shots.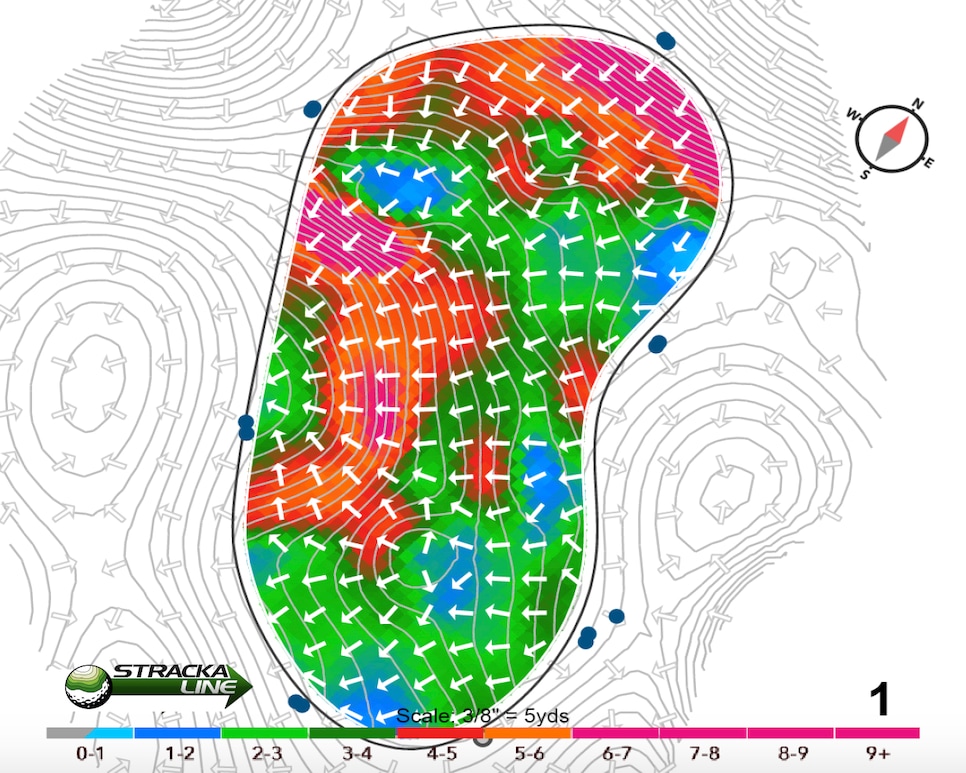 Shots that miss the green on the right drift well away from the putting surface and leave pitches that run away from the player. To protect against this, approach shots generally favor the center or right part of the green, leaving longer birdie putts. Pin positions on the front-left, meanwhile, look naked and inviting, but the crowned nature of the putting surface there, as shown on the Strackaline heat map (above), means that shots hit with short irons and wedges often spin off the front of the green.
Though considered a shortish hole by tour standards, the first at TPC Scottsdale holds its own, effectively playing to par over the past six tournaments (3.98). Players who miss the green playing to right-side hole locations have only recovered for par or better 59 percent of attempts since 2015. And that naked-looking front pin position? That's a sucker pin—only 56 percent of the field hits the green when the hole is placed there.
(Green mapping courtesy of StrackaLine)