Courses
What other golf holes warrant the TPC Scottsdale 'stadium' experience?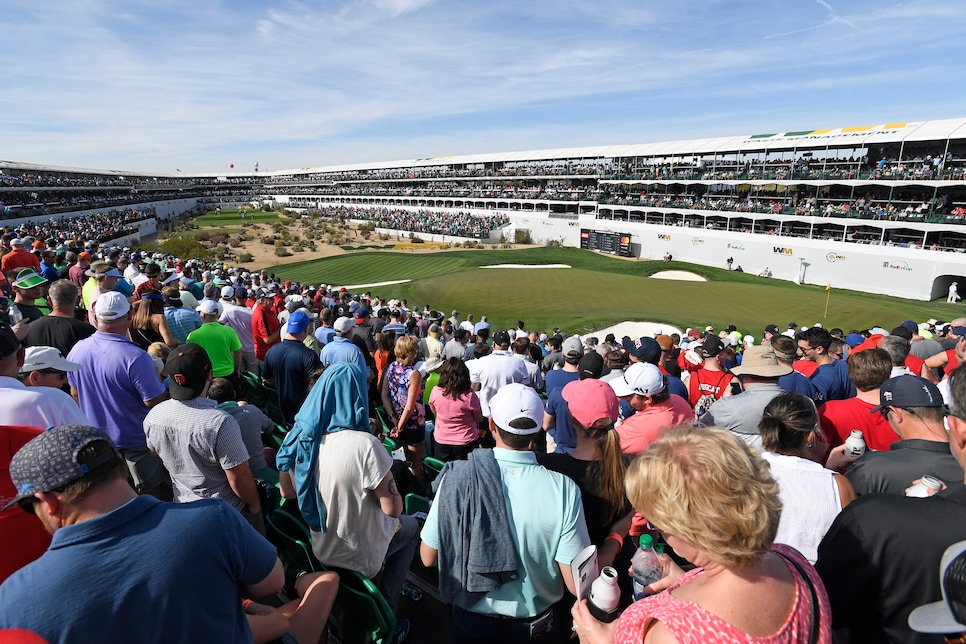 In all due respect to TPC Sawgrass, a lone hole—Scottsdale's 16th hole—executes the ideal "stadium" atmosphere in a way that resonates with all types of fans. The vista at the par-3 16th during the Waste Management Phoenix Open is one of the more unique panoramas in golf, replacing the sport's normally reserved galleries with a crowd straight from an SEC football game. That scene won't quite be the same this week, the event restricted to a limited number of fans due to COVID-19 safety protocols. Yet a modified coliseum remains at the 16th, keeping the spirit—and aesthetic—of the Stadium hole intact.
Which got us thinking … what if golf tried to replicate TPC Scottsdale's (usual) stadium scene? We polled our editors for their thoughts on other holes warranting the amphitheater treatment. Here are the nominations.
Concession Golf Club — 17th hole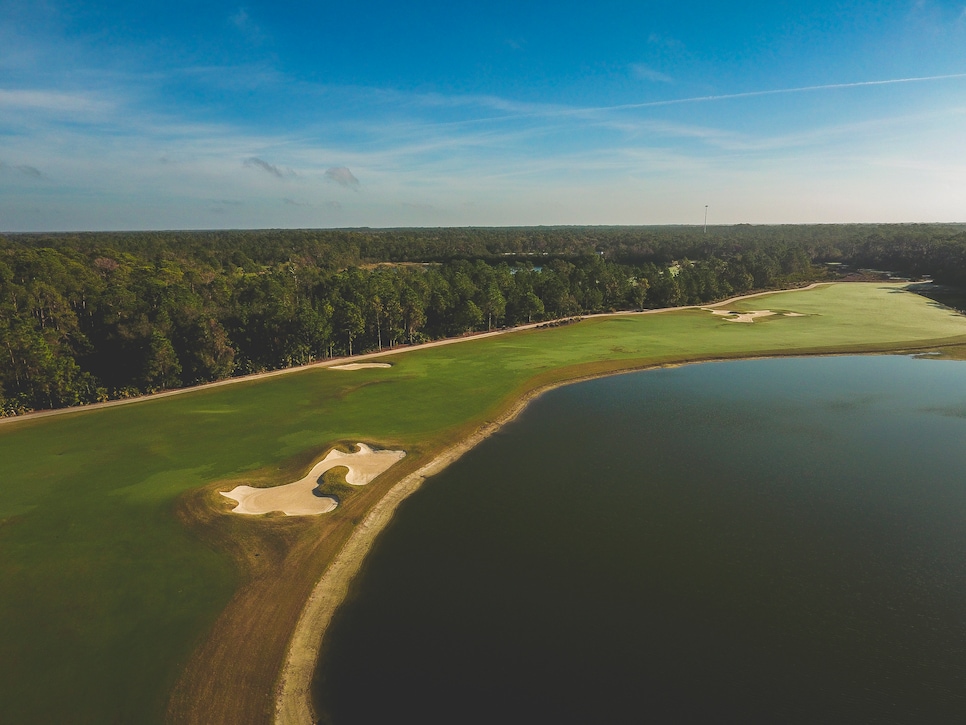 Setting aside the inconvenient concern of how possible—or impossible—it might be to enclose a nearly 600-yard par 5, there's no doubt the 17th at Concession has the potential to produce the World Golf Championship's most dramatic moments—and a lot of noise. As a last-minute replacement for Club de Golf Chapultepec in Mexico City, the WGC-Mexico's field will have little familiarity with the design. But the penultimate hole of the tournament dangles the opportunity for sensational swings of fate—eagles for players who can make the dead-aim, all-carry second shot over a lake to an angled, protected green, and deflating bogeys for those who can't. Playing into a towering maw of fans screaming as they track incoming shots from 230 yards away, the hole quickly becomes more rock concert than polite golf spectacle. —Derek Duncan
Riviera Country Club — 10th hole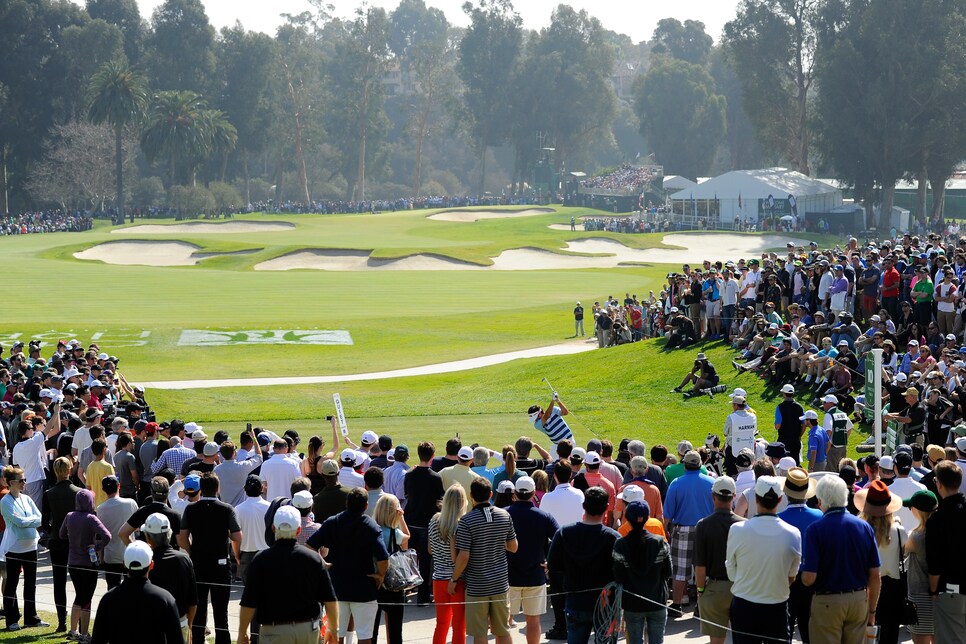 When it comes to short par 4s on the PGA Tour, none test the mind quite like the 10th at Riviera, a hole where going for the green or laying up can yield equally disastrous results. Just ask Ryan Moore, who nearly made an ace on the 315-yard risk-reward par 4 in 2015 and ended up walking away with par after his ball took the green's nasty slope and rolled some 50 feet away in the collection area. Or Scott Piercy, who probably still has nightmares from his adventure at the 10th a few years ago. Imagine either of these situations going down with a stadium-like atmosphere around the green. The heckling could get out of control, but the potential eagle and hole-in-one scare roars would be well worth it. If the fans brought half the energy to the 10th that this rolling fan brought to the 18th at Riviera in 2012, then we've got something. —Christopher Powers
Memorial Park Golf Course — 15th hole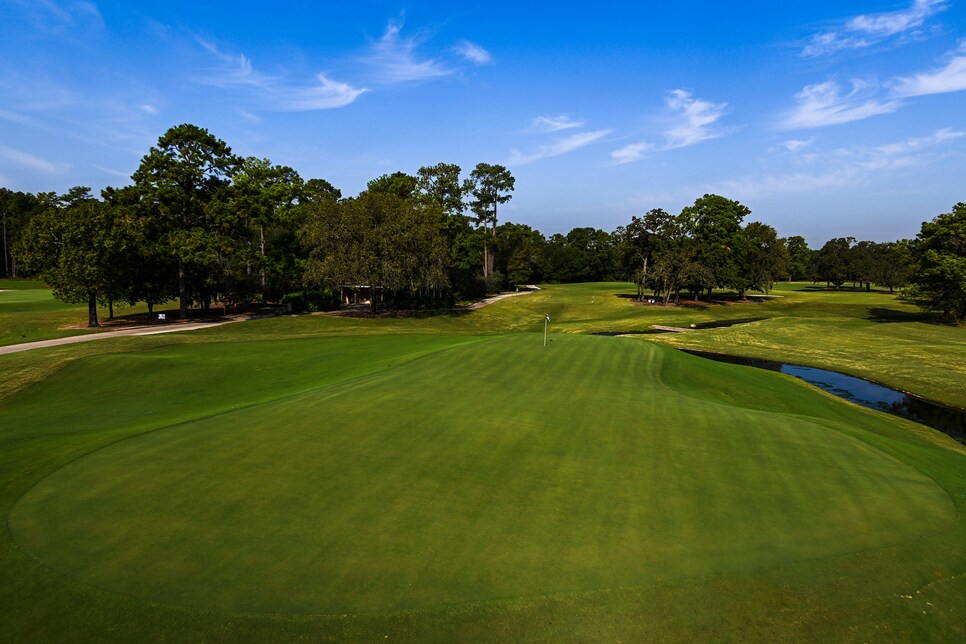 Tour pros found the short par-3 15th hole difficult at the newly renovated Memorial Park Golf Course in Houston this year during the Vivint Houston Open. Amplify that tenfold with tens of thousands of fans booing you after flubbing a chip from the tightly mown area. Though it played as short as 110 yards one day, players made 46 bogeys, 16 doubles and six "others," over four days with this treacherous Tom Doak-designed, elevated putting surface with water in front, requiring ultimate precision. Plus, the Stadium concept just seems to work better with public courses, so this re-energized muny would be perfect. —Stephen Hennessey
Liberty National — 16th hole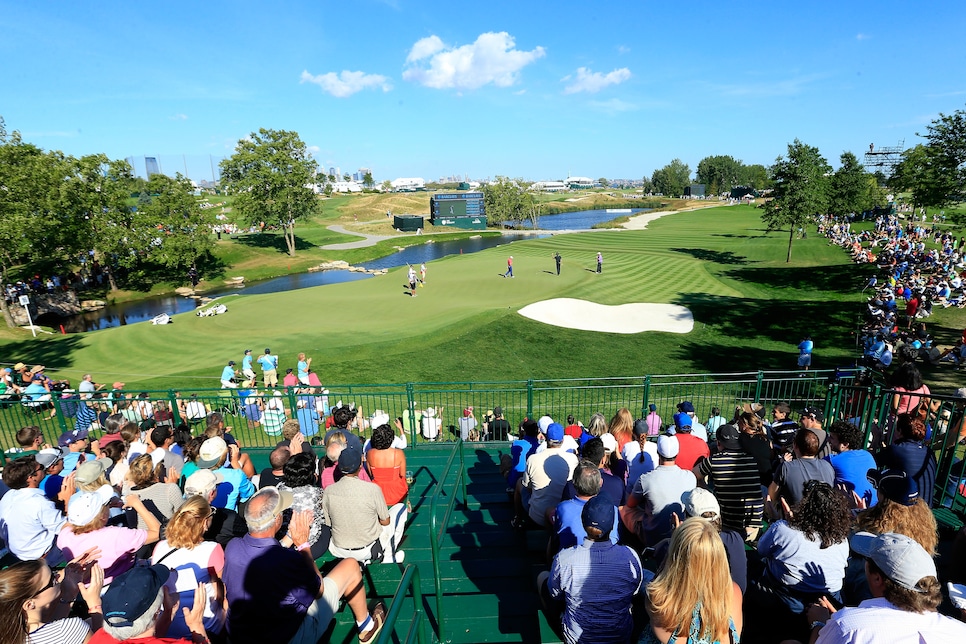 A little known fact about Liberty National is that it sits in the shadow of the Statue of Liberty with views of the Manhattan skyline. For whatever reason broadcasts haven't leaned into that backdrop … but to really harness the local vibe, we need to unleash the color of the New York/Jersey crowd, and what better spot than a drivable par 4 surrounded by trouble. Might have to take a tree or two down, and the water makes the grandstands impossible to enclose, making it more of a candy-cane structure. Nevertheless, the pressure to go for it—and the boos that would undoubtedly rain down who play conservatively—would make the 16th must-see theater. —Joel Beall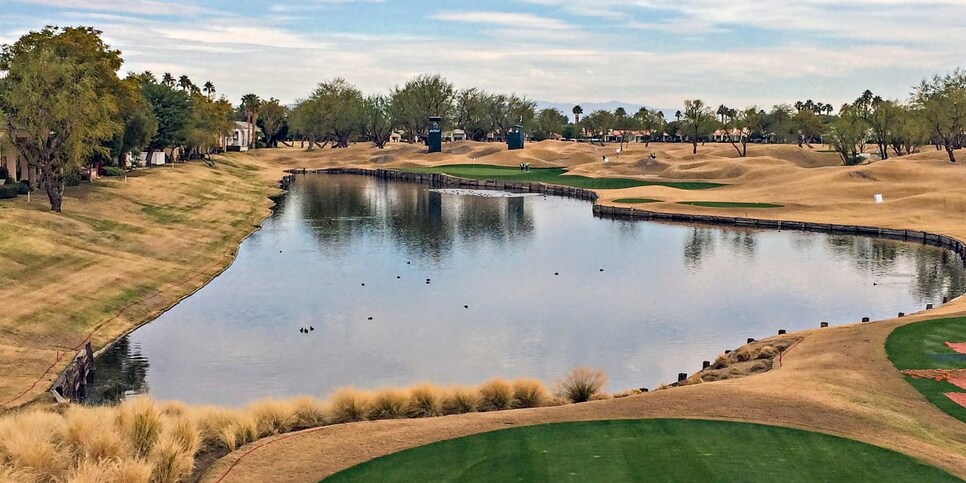 It's only worth surrounding a tournament hole with bleachers full of boisterous, possibly inebriated gallery-folk if you give them something to yell about. The 13th at PGA West's Stadium Course, with a long diagonal green banked directly over a bulkhead-lined lake, is routinely not just one of the most difficult holes on the course (with a stroke average of 3.25 since 2016) but one of the most difficult par 3s on tour. That means groans galore for balls that either splash or bounce through the green into deep chipping hollows, and roars for expertly played irons that filter toward various hole locations. And in spite of the hole's treachery and humiliation potential, it's one the players respect because it demands they commit to a club and hit a great shot. —DD
TPC River Highlands — 15th hole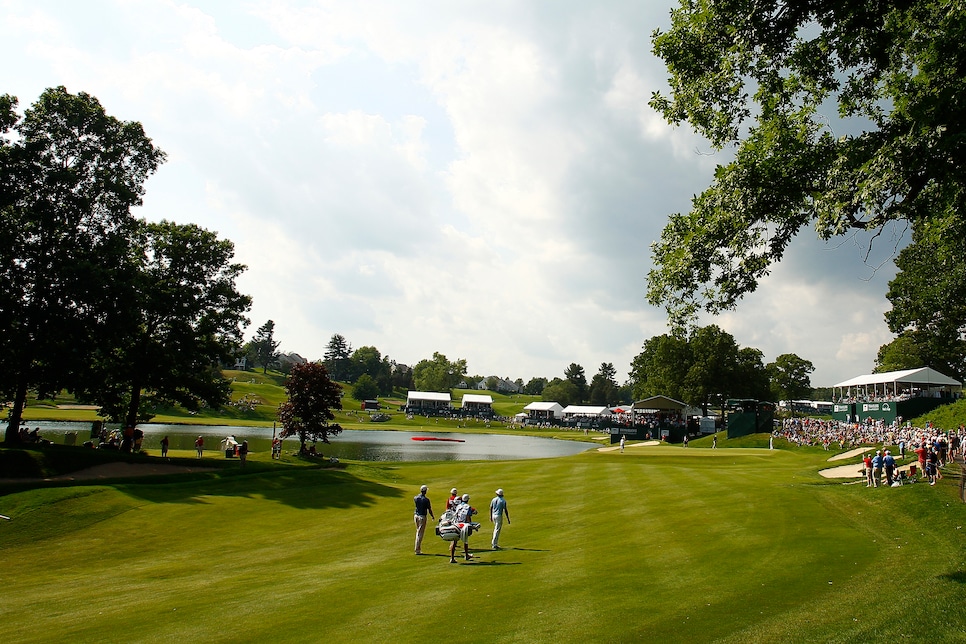 It's supposed to be a risk/reward hole, but the stats from the Travelers Championship the last few years (3.899 scoring average in 2020, 3.875 in '19) show the 15th's bark hasn't matched its bite. Two suggestions: 1) Shave the rough on the left side of the hole, bringing the lake into play and 2) Bring the tees up just slightly to make going for the green a bit more tempting . —JB
Harbour Town Golf Links — 17th hole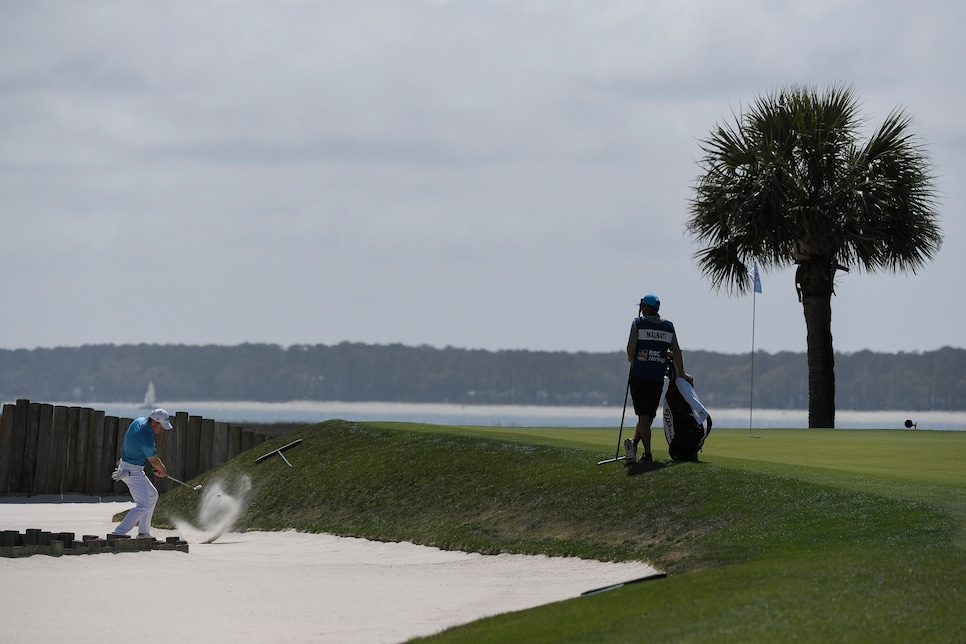 (Photo by Ryan Young/PGA TOUR)
The 13th hole, with its unique green design edged by a menacing bunker, gets the most attention among par 3s at this Pete Dye and Jack Nicklaus strategic masterpiece. And the lighthouse and the 18th hole is best known among PGA Tour fans. But the par-3 17th features one of the more impressive greenside bunkers on tour: A 90-yard wide hazard that separates players from the low-country marsh and another uniquely designed green. Logistically, this would only work with a stadium atmosphere around the tee box. We could see this as a way to add a little added vibe to one of the most low-profile but cool tournaments of the year. —SH
Quail Hollow Golf Club — 14th hole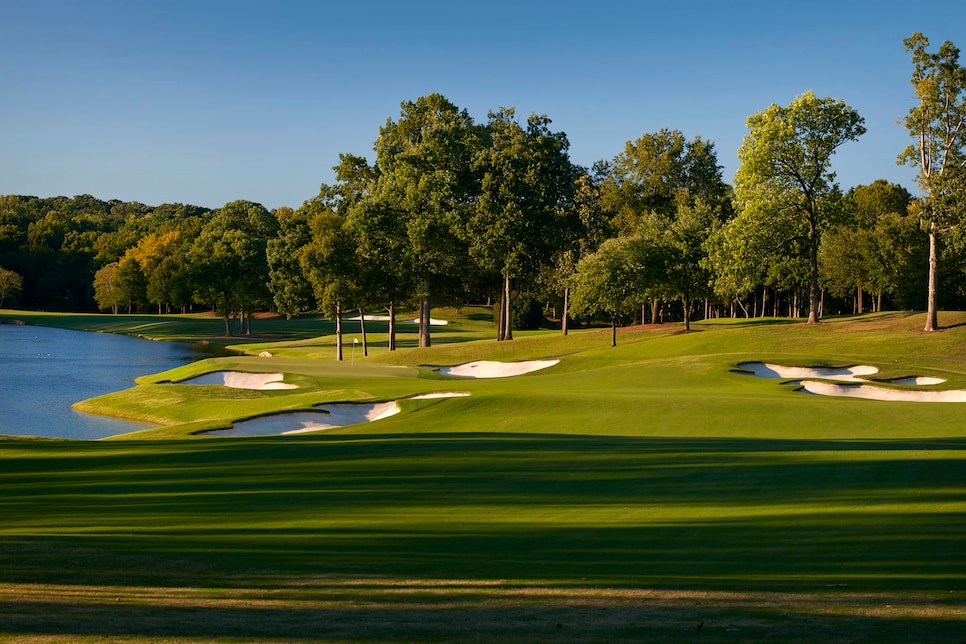 At the risk of oversaturating this list with short par 4s, let's face it: Watching tour pros try to drive a green that's almost 350 yards away is one of the coolest things for casual fans. And one of the best of this variety on tour is the 14th hole at Quail Hollow, coming late enough in the round where players must be decisive with trouble lurking long and left. Can you imagine a Scottsdale-like atmosphere here, booing players for laying up on this hole (40 percent of players usually do, according to our Derek Duncan)? I'd like to think the golf-crazed fans of Charlotte would make this hole a ton of fun with a Stadium-like arena. —SH
Muirfield Village Golf Club — 14th hole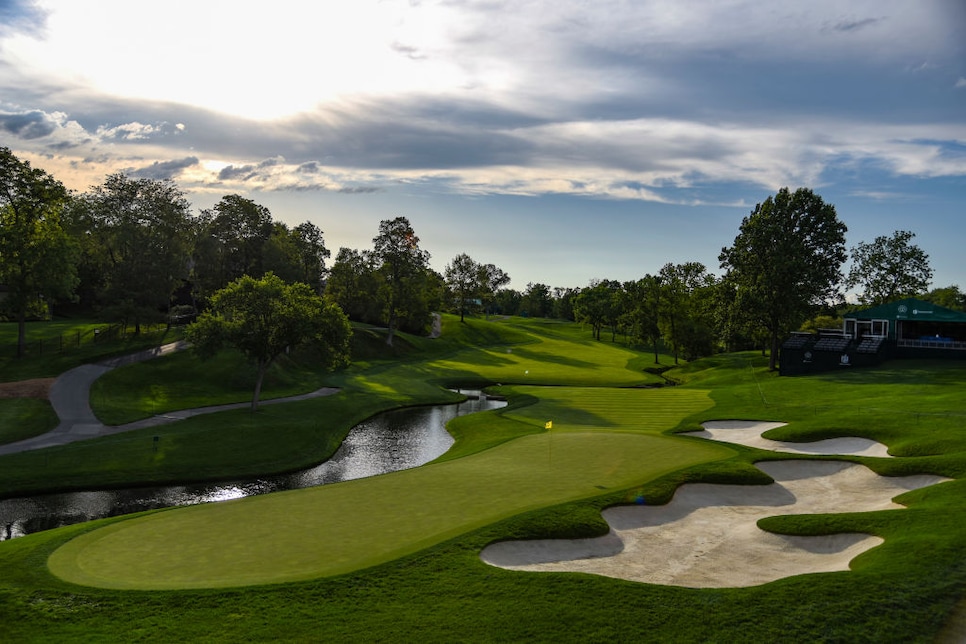 Far be it from me to tell Jack Nicklaus how to set up a tournament. BUT, if I was the Golden Bear, I would move up the tee box on No. 14, which usually hovers around 340 yards, to entice more players to give it a go. The hole's configuration—guarded by a creek on the right, adjoined with bunkers on the left and deep rough—would still give many guys pause, yet the green is deep enough to receive its share of missiles. Besides, as evidenced on fall afternoons at Ohio State's Horseshoe, Columbus can get rocking. —JB
Austin Country Club — 17th hole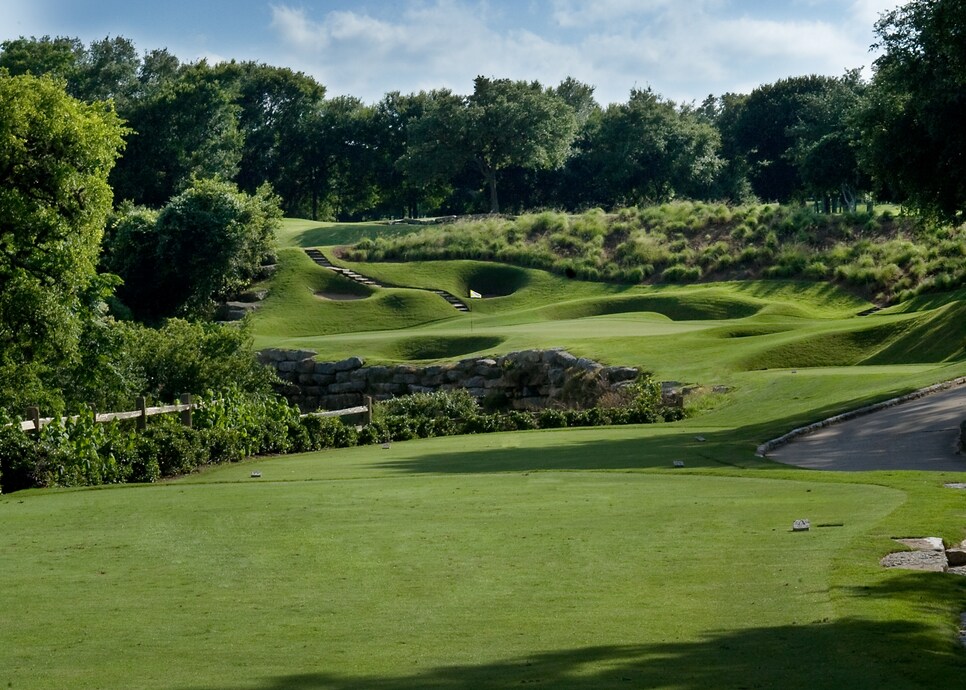 Carrell Grigsby/Courtesy of the club
In a match-play event, having a Stadium-like amphitheater on the 17th hole risks matches finishing before getting here, so we'll ignore that flaw for a second (and one way to solve that would be to play this as the eighth hole, which the club does for member play). But just like Memorial Park's 15th, this is a tiny putting surface on a tiny hole (125-150 yards) that requires precision—and it will penalize shots just slightly off. A wooded ravine in front catches a surprising amount of tee shots, mostly due to winds that can swirl off Lake Austin. The hole has played to a 2.93 stroke average since the WGC-Match Play has moved here in 2016, proving that there are a variety of ways to test tour pros. —SH