Equipment
TP Red collection of putters extends TaylorMade's trend toward Jason Day's power color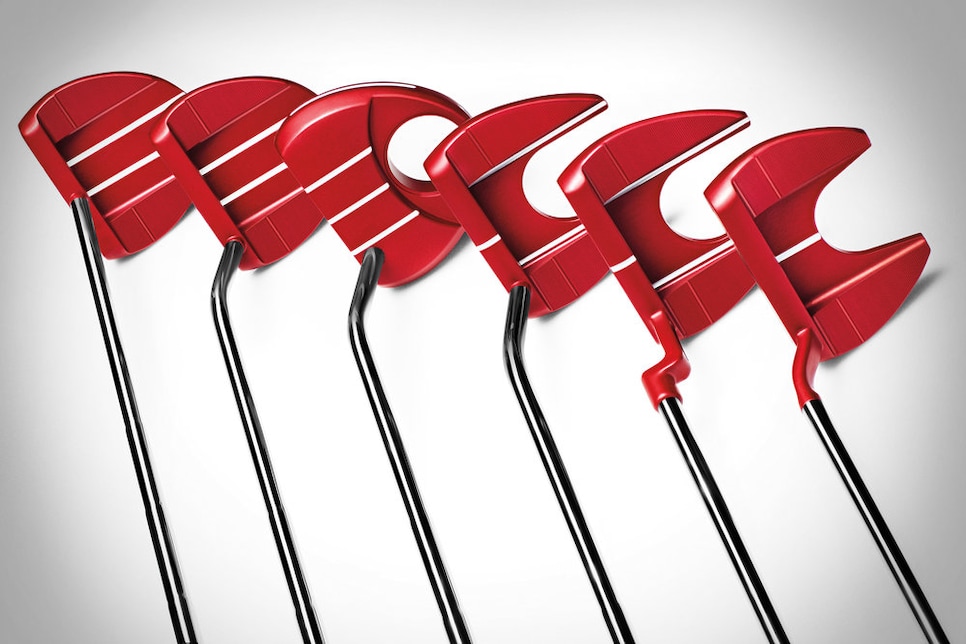 TaylorMade's new TP Red putter line is hoping it gets the same boost to success when its top staff players first began putting with a distinctive red model back in May of 2016.
Led by Jason Day's rise to No. 1 while using a Spider Tour mallet modeled after the coloring on the redback spider from his native Australia, TaylorMade's putter business saw dramatic momentum and allowed the Spider Tour to become the top-selling model in the category, according to Golf Datatech research. That after originally only being launched as a limited run. The red shade got further momentum when Sergio Garcia used the Spider Tour mallet to win the Masters in April.
"It's been kind of an overnight success ten years in the making," said Bret Wahl, TaylorMade's senior director of product development for irons and putters, referencing the company's history with insert putters like the original Spider designs, which first appeared on the Golf Digest Hot List in 2008. "Because we've had this success through hard work and a lot of things coming together, this has driven where we are and what you're going to see product-wise is to continue this momentum. We know in putters it's not one size fits all."
TaylorMade's TP Collection was launched last year with a classic collection of blades and mallets in a traditional satin finish. The new group of TP Red putters are all more conventionally sized mallets compared to the extreme, high stability shape of the Spider Tour. But each features the same shade that Day and many other players made popular over the last two years. Red putters have resonated recently, including Odyssey expanding its O-Works line to include red models and the Evnroll family of blades and mallets that were launched with a red finish from the start in early 2016.
Day recently switched to a TP Red Ardmore 2 L-Neck model during the FedEx Cup playoff and fellow staffer Justin Rose put the TP Red's Chaska model in play, as well, on his way to T-2 finish at the BMW.
The TP Red collection includes five Ardmore versions, as well as the Chaska. Those Ardmore models include the standard face-balanced mallet with double sightlines, the Ardmore CTR with a center shaft, the face-balanced Ardmore 2 with a double-bend shaft, Day's Ardmore 2 L-Neck for a slight toe hang (27 degrees) and the Ardmore 3 with a flow-neck hosel for slightly more toe hang (40 degrees). The Chaska mallet features three sightlines and a ball-shaped opening toward the back similar to the company's Ghost model from some years back.
Each of the TP Red putters features an 6061 aluminum version of TaylorMade's grooved face insert. The combination of the grooves' 45- degree angle and polymer filling work to improve roll and feel. All the models feature 355-gram heads and 3.5 degrees of loft. They are available in 35- and 34-inch lofts with Superstroke Pistol GTR 1.0 grips.
Available in stores Sept. 29, all six TP Red putters will retail for $220.