painfully close
Tour winner gets emotional after failing to qualify for BMW Championship near his hometown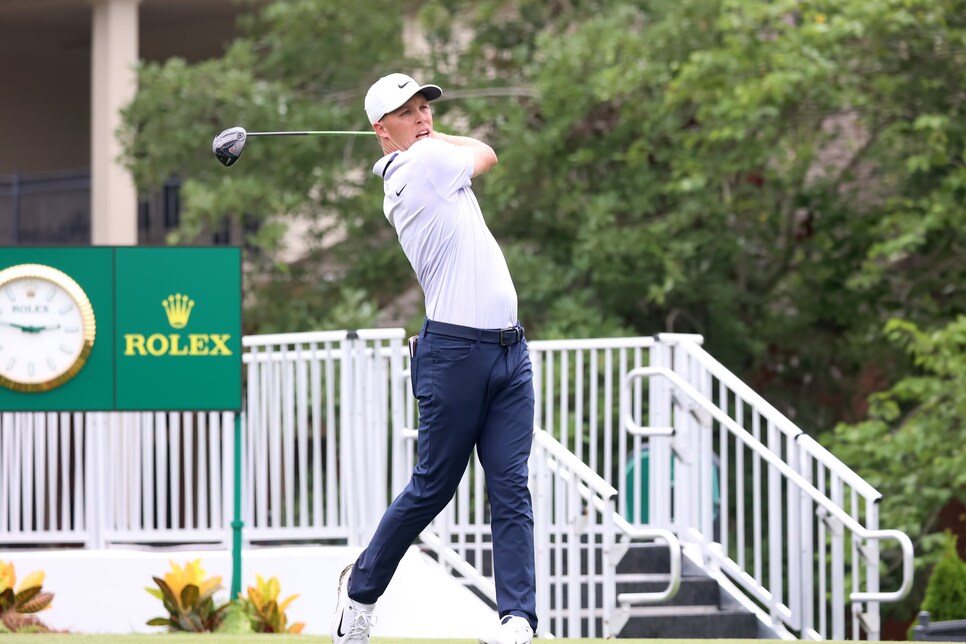 While most of the focus Sunday at the FedEx St. Jude Championship was on the top of the leaderboard, with the joy and jubilation of Lucas Glover winning for the second time in two weeks, there was heartache and emotion toward the bottom.
Nick Hardy, winner of the Zurich Classic of New Orleans with partner Davis Riley back in April, entered TPC Southwind right on the 50th spot in the FedEx Cup standings with the top 50 advancing to the BMW Championship later this week at Olympia Fields outside Chicago.
Hardy is a native of Northbrook, Ill., which is 50 miles north or Olympia Fields and the 27-year-old so desperately wanted to qualify for the second leg of the FedEx Cup Playoffs. He got off to a hot start during the final round with birdies on his first three holes and was in prime position to advance. But he bogeyed Nos. 7, 8 and 9, then double bogeyed the par-3 11th to fall back. More birdies came at 13, 14 and 17 but Hardy drove it in the water left of the 18th fairways and his season was over. He shot a final-round 70 to tie for 49th and drop to 52nd in the FedEx Cup standings, two positions shy of Olympia Fields.
"Super tough," an emotional Hardy told the PGA Tour afterward. "I really wanted to play Chicago. Just sucks. It really sucks. It stings right now."
The emotion then started to hit more, in an interview that lasted two minutes.
"I'm definitely just proud of my career so far," Hardy continued. "I'm proud of how I know I'm getting better. Sometimes it's hard to see growth in this game, but I know I'm seeing it. I hope to be out here for a long time and I know I'll have many more opportunities. But it stings right now."
Mackenzie Hughes was the other man to drop from the top 50 after Memphis. The two-time tour winner started the week at No. 47 and fell to No. 51, a third-round 75 the culprit. He ended the FedEx St. Jude Championship in a tie for 58th place.
With two falling out, inevitably, two had to move into the top 50. Hideki Matsuyama moved from 57 to 47 in points, thanks to a final-round 65 at TPC Southwind where he played the last four holes in four under par to tie for 16th place. Cam Davis made the biggest jump, rising from 62nd to 45th in points with a sixth-place tie.
"I would say the last three Sundays in a row have all been about the same level of stress and the same level of achievement for me," Davis said. "I've managed to put really good clean rounds together when the pressure has been on to keep moving forward, and yeah, it's really satisfying to be able to know that I've got a tee time next week, so I can start looking forward to that."