GLOVER WINS AGAIN
A missed 18-inch putt didn't deter Lucas Glover. Neither did years of putting woes. Now he's playing the best golf of his life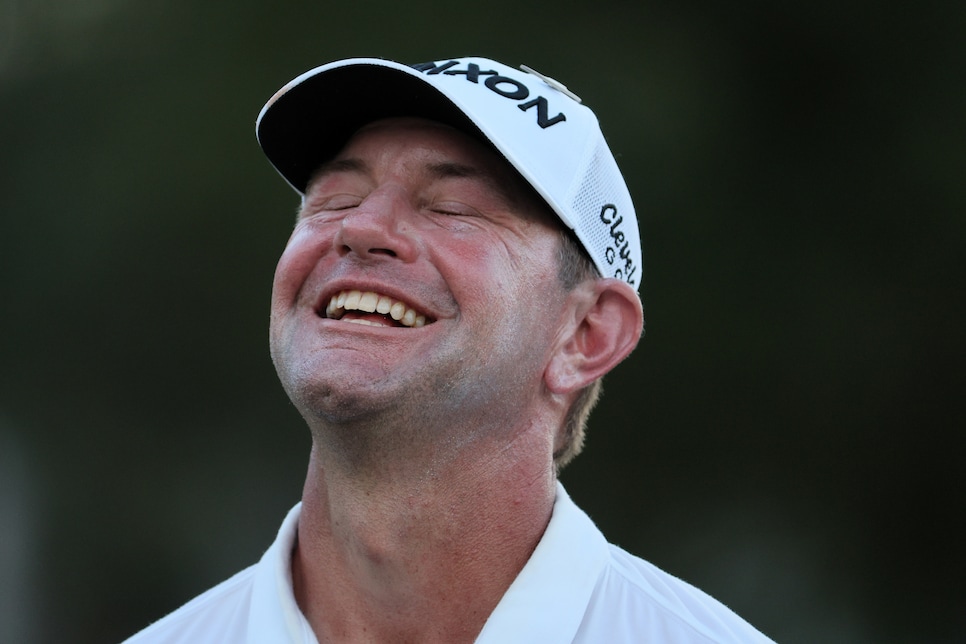 MEMPHIS — The 18-inch putt he missed to lose in a playoff for a U.S. Open berth might have crushed another player, but Lucas Glover wouldn't let it beat him. He departed that U.S. Open qualifier in Columbus, Ohio, in early June frustrated but still certain he was on the right path to curing his putting woes by switching to a long putter.
"Walking back to the car after missing that putt," Glover recalled, "my dad [Jimmy] was there, and Tommy [Lamb, his caddie] was with me, obviously, and Tom just looked at me and goes, 'I don't really care that you missed that putt. This is a process with this new putter, and there's going to be some bumps, but I can't tell you how much better you look and how much more confident you look.' I needed to hear that at that moment, even though I was kind of dejected."
Glover ventured north the next morning to the RBC Canadian Open and started to see results he was looking for. He wasn't shaky over short putts. He took a step forward. His stubborn belief in himself was rewarded.
"That was a big week for me," Glover said. "Yeah, that's when I started to feel really good about what I was doing. I finished 20th. Finishing 20th sucks now, but it was nice at the time."
Glover laughed at the thought. He's having the last laugh a lot lately.
On an oppressively warm afternoon in the home of the blues, Glover refused to buckle, even as his swing was deserting him and World No. 4 Patrick Cantlay was stalking him. Thanks to a series of big putts in regulation and one solid hole in a sudden-death playoff, Glover won for the second time in as many weeks Sunday, capturing the FedEx St. Jude Championship at TPC Southwind.
The victory, worth $3.6 million, was the sixth of his career and continued an amazing run for the 43-year-old South Carolina native who in June wasn't even in the running to keep his PGA Tour card.
In the playoff, Cantlay, seeking his fourth win in his last six playoff starts, pulled his tee shot left at the par-4 18th hole and watched it trickle into the water hazard, costing him a penalty stroke. Glover, after safely finding the fairway and the green, two-putted from 22 feet and then watched as Cantlay, putting from almost the same distance and line, burned the right edge on his par save.
Coming on the heels of his win last Sunday at the Wyndham Championship, the victory in the opening FedEx Cup playoff event made the former U.S. Open champion the sixth player over age 40 to win back-to-back tournaments in the last 40 years. Vijay Singh did it three times, most recently in 2008 when he won the FedEx St. Jude Championship and Dell Technologies Championship. Glover also is the first player over 40 to win a playoff event since Tiger Woods at the 2018 Tour Championship.
"I said yesterday that the big guns would be coming and they came. I was just the last man standing," Glover said after converting for the first time in 10 tries with a 36-hole lead thanks to a closing one-under 69. He finished at 15-under 265, while Cantlay stormed into the playoff thanks to a bogey-free 64.
"Yeah, just hooked the ball a little too much off the tee, bad shot, obviously, and paid the price," Cantlay, winless this season but winner of the last two editions of the BMW Championship, said of the playoff hole. "It's been a long year, so I'm looking forward to the next two weeks and the opportunity I have."
Glover arrived last week at the Wyndham 114th in the FedEx Cup standings and moved into the postseason 49th. He now advances to the BMW Championship at Olympia Fields in fourth place and with a realistic chance to win the $18-million bonus for the season-long title.
"I mean, if you would have told me this three months ago, I'd tell you you're crazy. But at the same time, if you asked me legitimately did I think I was capable, I'd say yes, even then," said Glover, who has risen from 119th to 53rd to 30th in the Official World Golf Ranking the last two weeks. "It's just one of those sad ways athletes are wired. We always believe in ourselves no matter how bad it is."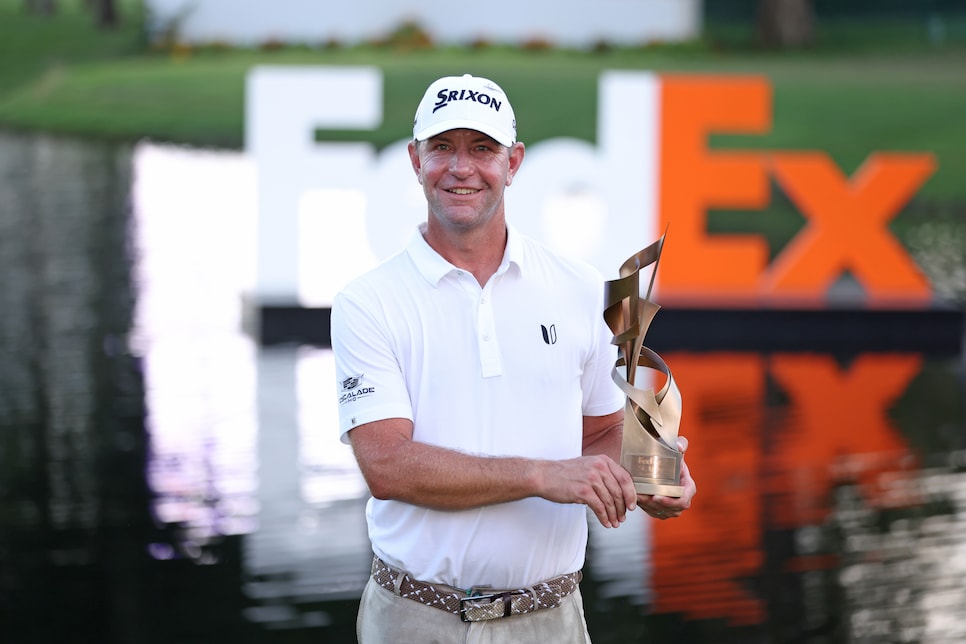 Rejuvenated thanks to switching to a long putter at the Memorial Tournament that was similar to the one Adam Scott had been using, Glover had a chance to win the tournament in regulation but left a 21-foot birdie putt a foot short at 18. He struggled with his full swing for much of the day, but the putter bailed him out time and again. He converted par saves of seven, 20 and 11 feet on his inward nine plus a 29-foot bogey putt after finding the water at the par-3 14th.
"Today it was a fight. It was a physical fight. I was fighting my swing and wasn't hitting it great," Glover said. "My short game was there, and that's the only reason I'm sitting here now is my chipping and putting yesterday and today."
Glover began the day one stroke ahead of Taylor Moore, who proceeded to bogey his first two holes to allow breathing room. Jordan Spieth converted two early birdies to get within one, and Tommy Fleetwood also made a run at Glover, but neither ever caught him.
Cantlay finally did, however. Having begun the day five back, the 2021 FedEx Cup champion slowly worked his way up the board and also got within two when he chipped in from 24 feet at the par-4 10th. He sprang into the lead with birdies at 15 and 16, but he couldn't capitalize on birdie tries of 18 and 20 feet, respectively, on the final two holes. Glover's tap-in birdie at the par-5 16th set up extra holes.
Playing alongside Cantlay, Rory McIlroy birdied the last for a bogey-free 65 to end up tied for third with Fleetwood, who shot 68 but missed birdie tries on his final two holes that could have tied Cantlay.
The top three in the FedEx Cup standings remained the same with Jon Rahm, Scottie Scheffler and McIlroy. Glover and Cantlay round out the top five.
In the race for the top 50 and the second leg of the playoffs at the BMW Championship, two men earned their way in and two fell out. Cam Davis closed with a three-under 67 and finished in a large group at 11-under 269, good for T-5, to move from 62 to 44. Former Masters winner Hideki Matsuyama played his final six holes in five under par for a clutch 65 and 281 to end up T-16, lifting him 10 places to 47th.
Top 50 status also earns exemptions into the eight 2024 signature events in 2024.
The odd men out were Mackenzie Hughes (51) and Nick Hardy (52), who began the week 47th and 50th, respectively.
Glover is now a lock for the Tour Championship at East Lake. He was asked what this unlikely run says about him.
"Maybe I'm really stubborn," Glover replied. "You know, 10 years up until this run, I've underachieved and knew it. It was all because of putting. I won the [John] Deere [Classic, in 2021] because I hit it in the grip a bunch for a week basically and snuck them in somehow.
"Yeah, it was just believing in myself, and hard-headed and stubborn enough to not give up. Never really thought about it, honestly. It was just, I'll figure it out, and it took something drastic to figure it out, but it's worked, obviously."