GUT PUNCH
Topsy-turvy week for Phil Mickelson ends with crash-and-burn quintuple bogey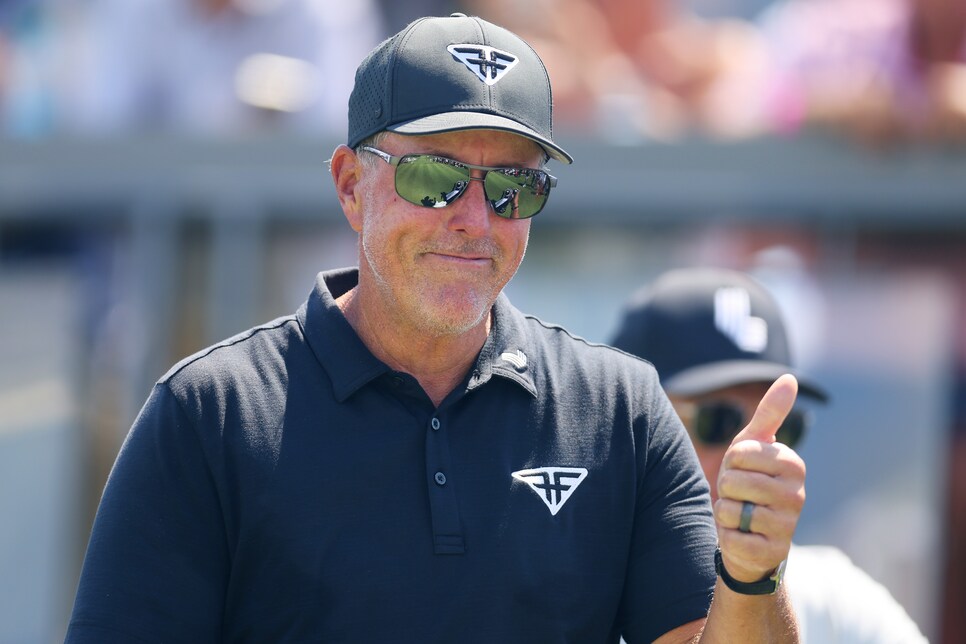 BEDMINSTER, N.J. — It would take a lot for New Jersey golf fans to turn on Phil Mickelson.
How much? Difficult to know. But allegations of attempting to gamble on the Ryder Cup, and a "gut punch" quintuple-bogey 8 on a par 3 during the final round at Bedminster, didn't come close to swaying the Garden State galleries during a rollercoaster week for Lefty.
Mickelson began the week at the LIV Golf event embroiled in controversy. On Thursday, during the pro-am, an excerpt from American sports bettor and former Mickelson associate Billy Walters' upcoming book dropped. It offered detailed allegations about Mickelson's well-publicized gambling habits. Chief among them was Walters' claim that the six-time major winner had asked him to bet $400,000 on the Americans to win the 2012 Ryder Cup at Medinah. Mickelson, whose 12 cup appearances are a record for the U.S. team, was playing in those matches. Walters wrote that he wouldn't make the bet given the potential ramifications it might have, but that he had no idea whether Mickelson placed the bet elsewhere. Mickelson responded, via a statement, by saying he "never bet on the Ryder Cup."
Despite the distractions, the 2021 PGA champion played his way into Sunday's final group at Bedminster, four shots behind leader and eventual winner Cameron Smith. The 53-year-old even managed to reduce the deficit to two early in the round.
That was before disaster struck his scorecard. At the 191-yard par-3 seventh, Mickelson pulled his tee shot into the water. Because the option to drop was in ankle-high rough 100 yards out, Mickelson reloaded from the tee. Another water ball. For his third ball and fifth shot, Mickelson barely reached the green and the ball spun back into greenside rough. He made a tournament-ending, quintuple-bogey 8.
"I had been hitting really good iron shots and I didn't even worry about the water," Mickelson said of the first tee shot on No. 7. "I just pulled both of them; I don't know what happened whether it was setup or something. That was kind of a gut punch because I thought I was playing well and had a chance to make a move and I thought I could get."
Despite birdies at Nos. 9 and 12, Mickelson bogeyed the par-5 15th to sit four over for the day when he arrived at the par-3 16th hole. With former President Donald Trump, the course's owner, standing beside him, and a throng of well-lubricated fans watching from the clubhouse above and around the tee, Mickelson stuck his tee shot to within six feet. The crowd erupted. When he eventually drained a consolation birdie at the green, they erupted again.
Mickelson signed for a 75 to plummet to 10th place but was grateful the Jersey fans never turned on the guy who won the 2005 PGA only 30 minutes away at Baltusrol.
"The people here are great," Mickelson said beside the 18th green Sunday. "I've always loved coming here and they really support professional golf, whether it's majors, playoffs, LIV events. They're incredible fans."
Having tied for second at the Masters in April, Mickelson feels his form is on the rise. He and LIV's 47 other players now have five weeks off before the league heads to Chicago.
"I'm starting to show glimpses of playing a lot better even though today wasn't my best," Mickelson said. "I'm looking forward to taking a few weeks off to regroup and then come back for our last three events and try to finish strong because I've seen a lot of progress.
"It's fun to play well. I've been working hard, and I have not yet been getting the results. So getting in contention was a big step for me and to start scoring is a big step and something I can build on."