First Cut
Tour Edge C722 and E722 irons: What you need to know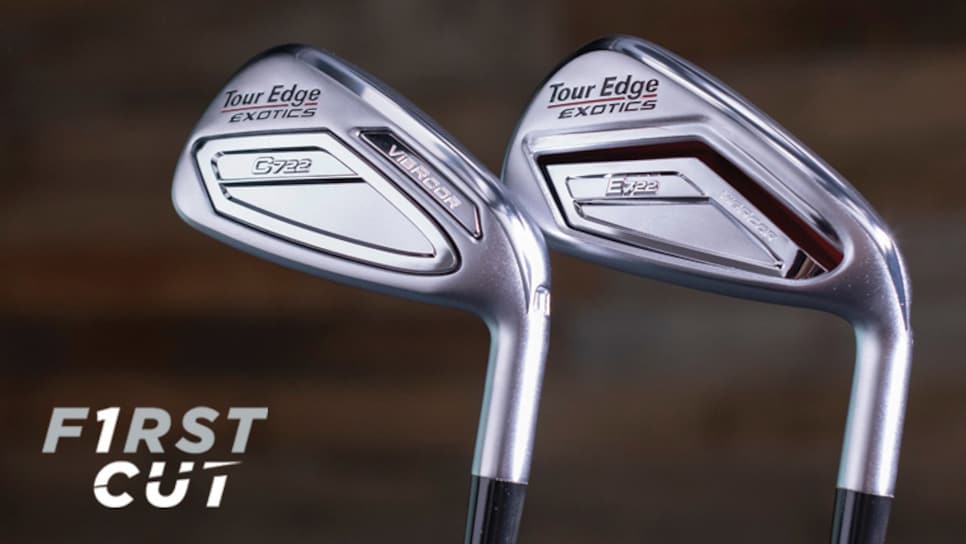 WHAT YOU NEED TO KNOW: Tour Edge's latest iron line appeals to different types of players. The C722 is for a more accomplished player and uses a hollow-body design and L-face to create speed while the E722 offers more help getting the ball in the air for those who need it.
AVAILABILITY/PRICE: Available March 5, the cost for the C722 irons is $141 per iron in steel and $161 per iron in graphite. The E722 is $111 per iron in steel and $126 per iron in graphite. The Ti-utility isvailable in right-hand only in lofts of 17, 19, 22 and 25 degrees and costs $200 per iron
THE DEEP DIVE: Tour Edge is a company that appeals to a wide swath of golfers and that heritage continues with the launch of its Exotics C722 and E722 irons with the former targeted at more of a competitive-minded player while the latter is aimed at the player in need of a little more help with their approach game.
Common to both is a variable-face thickness in which different-sized diamond shapes act as mini-trampolines to foster higher ball speeds across a wider portion of the face, including reduced thickness in the heel and toe areas to mitigate the loss of ball speed on off-center strikes. Both irons also feature a high-grade thermoplastic urethane the company calls VibRCore to help promote rebound while enhancing feel.
The Exotics E722 uses a single-piece high-strength stainless steel body with a 360-degree undercut design. That design helps lower the center of gravity to produce a high launch with increased face flex—something players in need of an assist will welcome. A new toe-weighting pocket moves plenty of weight out to that area to provide more stability and maintain more speed in an area where less-skilled players often strike their irons. Also adding to the distance equation are the stronger lofts with a pitching wedge that checks in at 42 degrees of loft.
The more competitive player will be looking at the Exotics C722, which has a shorter blade length, thinner topline and an overall more compact shape than the E722
The real hero of this iron is a L-face where the bottom of the face wraps around part of the sole to provide extra spring, particularly low on the face where most iron impacts occur. The face is made from a high-strength forged military-grade maraging steel used in aerospace, with applications including landing gear, helicopter undercarriages and rocket motor cases—all of which require a high strength-to-weight material. The face is plasma welded to the 17-4 stainless-steel body creating a hollow-body design where the face has room to flex.
"This type of face produces a very hot ball speed," said Matt Neely, Tour Edge's vice president of product development. "We didn't have to go any thinner on the face as we were already up against the face thickness envelope, but the L-face design produce the kind of flex you need to achieve in a players-distance iron."
A variety of shaft options are available in both steel and graphite. Cost for the C722 irons is $141 per iron in steel and $161 per iron in graphite. The E722 is $111 per iron in steel and $126 per iron in graphite.
For those seeking to replace their long irons with something a little easier to hit, the company also unveiled its C722 Ti-utility iron. The club features a more compact shape with a bit of offset. A titanium L-face is brazed to a 431 stainless-steel body. Doing so allows the face to be joined to the body without having to weld them together, thus saving weight. Th hollow-body design also allows plenty of room for the face to flex to enhance distance. An adjustable weight in the sole allows clubfitters to dial in the preferred weight. Available in right-hand only in lofts of 17, 19, 22 and 25 degrees, the Ti-utility costs $200 per iron.