Monday Superlatives
The Tour de France has become a bloody carnage parade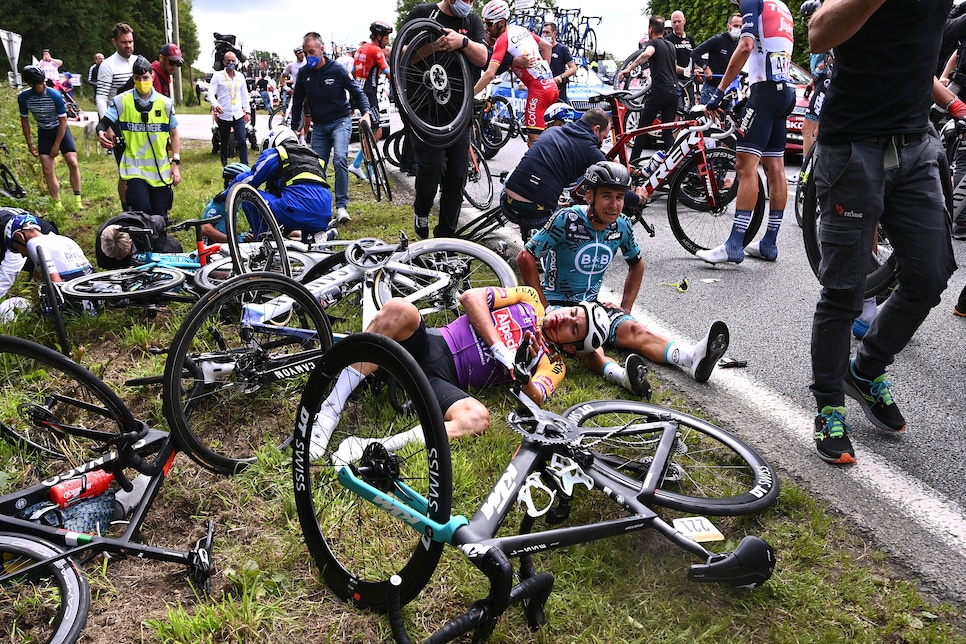 I am an unapologetic Tour de France nut, at least for a few weeks every summer, but I just finished watching stage three, and my God, I'm starting to feel guilty for watching. It's gone from a compelling bike race with gorgeous views of the French countryside to a bootleg Faces of Death video, and after three days the 2021 installment almost looks like some kind of dystopian survival contest.
The nightmare began on day one, when an idiot fan with a stupid sign managed to take out dozens of riders:
Day two was relatively peaceful, and then came the first sprint stage. Folks, it was...bad. Really bad, beginning with top sprinter Arnaud Demare suffering a nasty fall with several others:
Next came Primoz Roglic, a race favorite, who fell for the second time:
And finally, arguably worst of all, a two-rider wipeout at the finish which seems like it will end the race for one of the world's best sprinters, Caleb Ewan, and not be super helpful for Peter Sagan (one of the sport's best riders ever) either:
It feels like it's at the point where they might have to do something about this. I have no idea what that "something" is, but when the best riders in the world are dropping like flies after three days, something is gravely wrong. Ban fans? Widen the roads? Put all the riders in giant padded novelty sumo outfits? I don't know what the answer is, but one of the coolest sporting events in the world is turning into a nightmare.
Worst called shot of the week: Stefanos Tsitsipas
If Novak Djokovic can manage to avoid assaulting any line judges for the next couple months, he looks to have a great shot to complete a calendar slam. Standing in his way, among others? Stefanos Tsistsipas, who on Sunday made no secret of his desire to stop Djokovic...just before getting crushed in his first round match against Francis Tiafoe.
The final score was 6-4, 6-4, 6-3 to the American, and if Tsitsipas wants to stop the calendar slam, he's going to have to do it at the U.S. Open. (Spoiler alert: he won't.)
The spectacular defensive play that would only work against a very slow runner of the week: Ke'Bryan Hayes, Pirates
This is incredible, but very much required the participation of Yadier Molina. Thank you, slow Yadi. The glory is equally yours.
National villain of the day: Unai Simon, Spanish keeper
Welp, this guy won't be welcome in his home country ever again. Take a bow, Unai Simon:
This is why nobody should ever play international soccer. The stakes are too high...you screw up, and your name goes down in history in all the wrong ways, and you have to think about it forever. No thanks!