News
Tour Championship TV ratings up a whopping 206 percent thanks to Tiger Woods, establish several records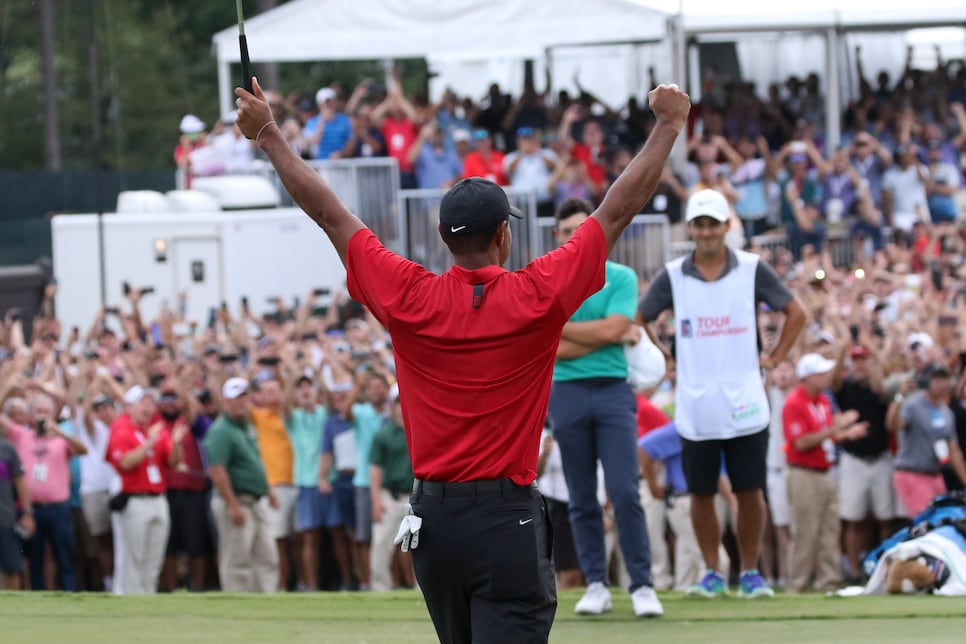 Tiger Woods' Tour Championship win produced a huge bump in TV ratings for NBC. In the words of the network's Dan Hicks, "Expect anything different?!" Of course, we didn't, but the numbers that came in on Monday were still mighty impressive.
NBC announced the PGA Tour's season finale drew a 5.21 overnight rating, the highest of any non-major championship this year. That number is also up a whopping 206(!) percent over last year's event (1.70) in which Xander Schauffele won and Justin Thomas claimed the FedEx Cup's $10 million bonus. This time, Justin Rose took home the biggest check, but Tiger's tournament win had everyone talking — and apparently, a lot more people watching. As in three times as many people.
And the numbers grew as Woods finished off his first win in more than five years and his 80th PGA Tour title overall. The ratings peaked at a 7.19 during the 5:30-6:00 p.m. ET window, which according to NBC, trails only the Masters (11.03) and the PGA Championship (8.28) in 2018. This was also the first Tour Championship appearance for Tiger Woods since 2013.
As for the Tour Championship versus previous PGA Tour season finales, there's no comparison. On record, this year's was the most-watched in the tournament's history, and it's also the most-watched FedEx Cup Playoffs event since the tour's postseason began in 2007.
And keep in mind, the Tour Championship drew these numbers despite going up against an NFL Sunday. Not too shabby.
NBC/Golf Channel will also televise this week's Ryder Cup. Think anyone will be watching?