News
Tour Championship Thursday blog: Tiger Woods opens with 65, shares lead with Rickie Fowler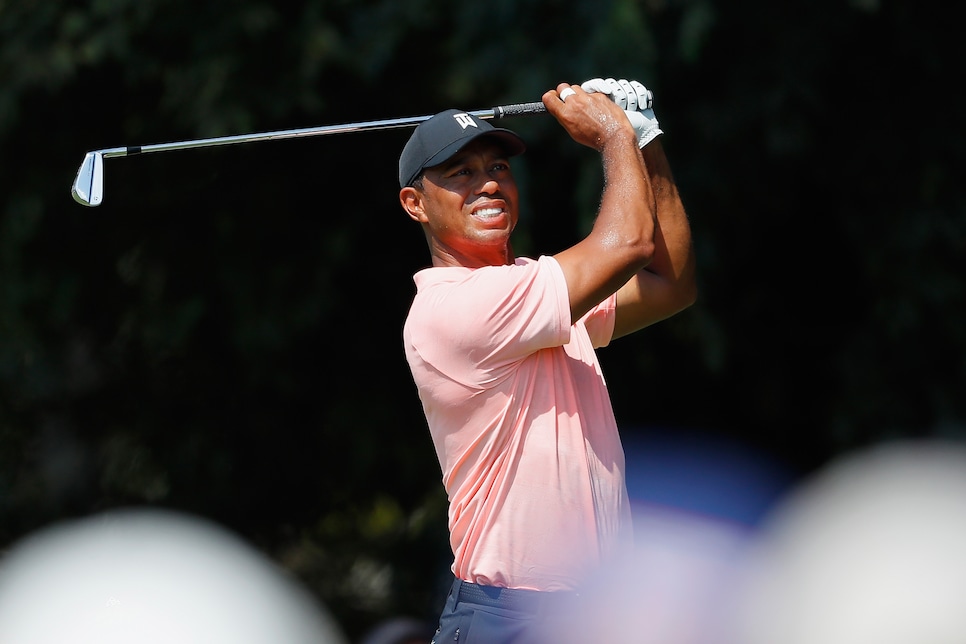 An eventful PGA Tour season will come to a close this week at East Lake Golf Club when the remaining 30 players will compete for both the Tour Championship and that $10 million bonus — Even Tiger Woods has a chance (Sort of) — for winning the FedEx Cup. So cue up the constant projections and Steve Sands' white board on Golf Channel, because this is it. And for the latest scores, news and highlights from Atlanta. (All times ET)
5:52 Even with his length, Finau also settled for par at the 18th. He joins McIlroy and Thomas in a tie for fifth at three under, while Rose gets up and down from a greenside bunker to post a 66 and join Gary Woodland in a tie for third.
5:39 Thomas' 314-yard drive went into the right rough and he chose to lay up, a decision that ultimately lead to a third straight par to close out an opening 67. He's tied with McIlroy, as well as Tony Finau and Justin Rose, who are each making their way up the 18th now.
5:12 Looks like that tweaked wrist is doing just fine for Justin Thomas, who has bounced back from back-to-back bogeys to start his round to get all the way to three under. He's made up most of his ground on the back nine, with four birdies on the first six holes before saving pars at 16 and 17. Now he heads to the 18th with a chance to join Fowler and Woods with an eagle, or tie Gary Woodland for third at four under with a birdie.
4:28 Rory McIlroy didn't quite take advantage of the 18th like Tiger, but he still made birdie, which is OK, we guess. That gives him a three-under 67, which puts him two back of Fowler and Woods
4:19 BANG!!! Tiger Woods drains a 30-foot eagle putt on his finishing hole to join Rickie Fowler in the clubhouse with an opening 65. After beginning with a three-putt bogey, Woods made four birdies and an eagle the rest of the way, making key par saves at 13 and 17. Here's a look at the eagle:
Looks like that Scotty Cameron putter will be back in the bag tomorrow.
4:12 Woods' drive on 18 just hops into the first cut of rough and from there he hits a laser 5-wood to about 30 feet. He'll have an eagle putt coming up to tie for the lead. Meanwhile, McIlroy is unable to get up-and-down from the same spot Woods did minutes ago, so he falls back to two under.
4:02 Tiger Woods misses badly with his approach on the par-4 17th, but makes a terrific up-and-down to stay at three under. Woods is now two back of Rickie Fowler and one behind Gary Woodland, but he's got the par-5 finishing hole left.
4:00 Rickie Fowler makes a two-putt birdie on the par-5 18th to shoot 65 and grab the lead at five under. Fowler needed to return from an oblique injury and play well in the third playoff event just to advance to East Lake and now — at 4:00 ET on Thursday, at least — is projected to win the FedEx Cup if everything stayed the same.
3:48 After his birdie putt slides some four feet by the hole, Tiger Woods converts his par putt to stay at three under with two holes to play. Meanwhile, his buddy and potential Ryder Cup partner Bryson DeChambeau continues to struggle. The FedEx Cup leader makes a second double bogey of the day on No. 8 to fall to three over. Apparently, all that due-simulation practice earlier in the week isn't paying off right now.
3:39 Gary Woodland birdies the par-5 18th to post a four-under 66. He's the leader in the clubhouse, but Rickie Fowler should be at least joining him in a matter of minutes. Woods, meanwhile, finds another fairway and green on the 16th. He'll have a 25-footer for birdie coming up to join the leaders.
3:34 Tiger juuuuust misses another birdie on the par-3 15th. After playing a pretty safe shot about 25 feet right of the front-left hole position, Woods' putt takes a peek at the cup before falling away. The tap-in par keeps him at three under.
3:23 Oh, baby, now we're cooking. After a great drive and a majestic 6-iron to about eight feet, Woods started walking in his birdie putt when it was about half way to the hole. He's now three under and in solo second, one shot behind Rickie Fowler.
3:10 After a poor drive on No. 13, Tiger punches out to a bunker than makes a sensational up and down, rolling in an eight-footer to remain at two under and in a tie for second. After a rough start, it looked like that Scotty Cameron might get benched again, but now he's got it working. The difficult 14th lurks, though. . .
3:07 Rory McIlroy was cruising along until the 12th hole. After missing the green short in a bunker, McIlroy hacked out of a tough lie to 40 feet, but lipped out his par and bogey putts to drop two shots. Up ahead, Rickie Fowler makes a rare birdie at the difficult 14th to move to four under and open up a two-shot lead.
2:57 After stuffing his approach to five feet on the par-4 12th, Woods walks in the birdie putt to move to two under and into a share of third for now. In eight previous starts at East Lake (the last coming in 2013), Woods has a win (2007) and three runner-ups.
2:52 After opening with three pars, FedEx Cup Playoffs leader Bryson DeChambeau double bogeys the par-4 fourth. This is DeChambeau's first Tour Championship start, and he's one of five players (Justin Rose, Tony Finau, Dustin Johnson and Justin Thomas) who would automatically win the FedEx Cup with a win at East Lake. So far, only Rose (-1) is under par.
2:45 Woods' birdie putt wasn't as great as it initially looked. From 11 feet, he had to be very careful with the downhill roll that broke sharply left and he winds up two-putting for par. Meanwhile, Rory McIlroy spins his approach to within two feet on No. 10 to set up a birdie that moves him back to four under and into sole possession of the lead.
2:42 Brooks Koepka birdies the par-5 sixth to quickly move to three under and in a share of the lead. Koepka wasn't asked to do a pre-tournament interview and had this to say on Wednesday: "Come Sunday, I won't forget it when everyone wants to talk to me because I just won. I don't forget things." Sounds like someone with a bit of extra motivation. . .
2:39 Tiger misses the fairway on No. 10 and comes up just short of the green with his approach, but he two-putts for par to stay on one under. He heads to the par-3 11th and hits a laser to about 10 feet. So far that hasn't been his best range so far today, but he has a good birdie look upcoming.
2:28 Rickie Fowler rolls in a 10-footer on the par-3 11th to join Rory McIlroy at three under. After contending at the PGA Championship, Fowler sat out the first two playoff events with a strained oblique, but returned to finish T-8 at the BMW Championship. Fowler hasn't finished worse than T-28 since missing the cut at the Players, but surprisingly, he's still looking for a first win of the season (He won the Hero World Challenge in December, but that doesn't count as an official PGA Tour event).
2:24 Tiger misses his first green in regulation on the par-3 ninth, but splashes a bunker shot to about a couple feet and saves par. That's one opening three-putt bogey to go with two birdies as Tiger makes the turn with a one-under 34. A hole behind, Rory McIlroy misses his first green on No. 8, but fails to get up and down to drop back to three under. Here's a current look at the top of the leader board:
2:15 Tiger hits a great drive and approach to set up a 10-footer for birdie on No. 8 and. . . misses. Maybe he needs to carry two putters like Adam Scott and use one from shorter range? In any matter, it's a good par on the hole that used to be 17 (Remember the Bill Haas water hazard shot in 2011?) until they flipped the nines a few years back. Now onto the long par-3 ninth, which used to be the most complained about finishing hole in golf.
2:00 No. 1 in the world Justin Rose and No. 1 in the FedEx Cup Bryson DeChambeau begin their rounds with solid tee shots. Meanwhile, Woods makes par on No. 7 after missing a fairway (and badly) for the first time all day. From a pine straw lie near a tree, Woods punched his second shot from 171 yards to 40 feet and two-putted to remain at one under.
1:47 Boom! Another hole, another long birdie putt rolled in by Tiger. This time, a disappointing second shot and chip left Woods with about 20 feet for birdie on the par-5 sixth, but he made it to move to red numbers for the first time this week.
He's currently two shots behind Rory McIlroy, who is currently on a three-hole birdie streak. At the last tournament, Woods and McIlroy shot matching opening 62s at Aronimink. That probably won't happen at East Lake today, but having those two names anywhere near the top of the leader board certainly won't hurt TV ratings. . .
1:29 After a solid two-putt par on the difficult par-4 fourth, Tiger makes his first birdie of the day on No. 5. And it comes on his longest putt. After a great drive, Woods hit a disappointing wedge to about 30 feet, but he rolled it in to get back to even par.
Scotty! Back! For now. . .
1:07 Tiger misses a glorious opportunity to get back to even par on the third hole after hitting a sand wedge to about nine feet. With about half the field having started, here's a look at the early, early leader board:
12:58 Woods gets a little frisky with another 20-foot-ish birdie putt on the par-3 2nd (East Lake's greens are really slick), but this time, he makes the comebacker for par. Meanwhile, Xander Schauffele, the defending champ, had quite the opening hole. His tee shot ricocheted off a fence to stay in bounds, then he got a fortunate drop off a sprinkler head to avoid having to hit a shot left-handed, but still makes an opening bogey. Could have been worse, though.
12:46 Oh, boy. After that perfect tee shot and a decent approach to 24 feet, Tiger's birdie putt runs some five feet past and. . . he lips out the par putt coming back. That's an opening bogey and a first three-putt of the week with his (formerly) trusty Scotty Cameron. Not a great start. . .
12:31 After Tommy Fleetwood blocks his opening tee shot well right, Tiger Woods pipes one right down the middle of the fairway to begin his tournament. Woods ranks just 108th in strokes gained: off-the-tee for the season, but he has steadily improved in that stat during the first three legs of the FedEx Cup Playoffs. And when he puts it in play, look out. Woods now ranks No. 1 in strokes gained approach. Anyway, he's off at East Lake. And just a few people will be watching. . .
12:14 Like Tiger Woods, Rickie Fowler is winless this season, but his drought is obviously a lot more surprising. Of course, a victory this week would be quite the high note to end on, but Fowler starts with a hooked drive. Flirting with out-of-bounds on the left, Fowler hits a provisional and predictably, goes way right. However, moments later he finds his first ball, has a decent lie, and finds the green with his approach. Disaster avoided.
11:53 Great start for Patton Kizzire, who rolls in a 20-footer for birdie on the 469-yard, par-4 1st. The score is particularly noteworthy considering the hole yielded only eight birdies for the entire 2017 Tour Championship. Anyway, Patton Kizzire, the last man in the field, is the leader (after one hole). Do you believe in miracles?!
11:42 Marc Leishman gets things started with a pulled drive into the left rough, while Patton Kizzire finds the fairway. Kizzire, after winning two early events in the season, barely snuck into the field, but just getting here provides a huge payout. First, there's the guaranteed money of at least $319,000 ($144,000 for last place in tournament and $175,000 for 30th place in the FedEx Cup), and then there's the fact that you're automatically in next season's Masters, U.S. Open, British Open, and a couple World Golf Championships. So yeah, this is kind of a free roll for these early starters on Thursday.
11:30 We are now just 10 minutes away from the 2018 Tour Championship getting underway and an hour from Tiger Woods teeing off. Here's a look at a rather serious-looking Woods arriving to the course:
And rolling some putts on the practice green:
After playing musical chairs with his putters the past few weeks, it appears Tiger has settled back on the Scotty Cameron that he won 13 of his 14 majors with. Seems like a solid choice.
11:20: We are 20 minutes from the first tee time of the day, which is the pairing of Marc Leishman (No. 29 in the FedEx Cup standings) and Patton Kizzire (No. 30). Thursday's tee times will count down to FedEx Cup leader Bryson DeChambeau, who will tee off at East Lake with Justin Rose at 2:00. It's been a busy week already for DeChambeau, who drew attention for simulating morning dew in practice on Tuesday and by saying he bought a new ping-pong paddle for next week's Ryder Cup on Wednesday. Never a dull moment with this guy.