The Loop
I usually play golf in a figurative fog. But last week in San Diego, as I teed off on the South Course at Torrey Pines, the situation in front of us was a bank of fog so thick you had to wait for the group in front to yell, "All clear on the first fairway!" before you could hit your shot.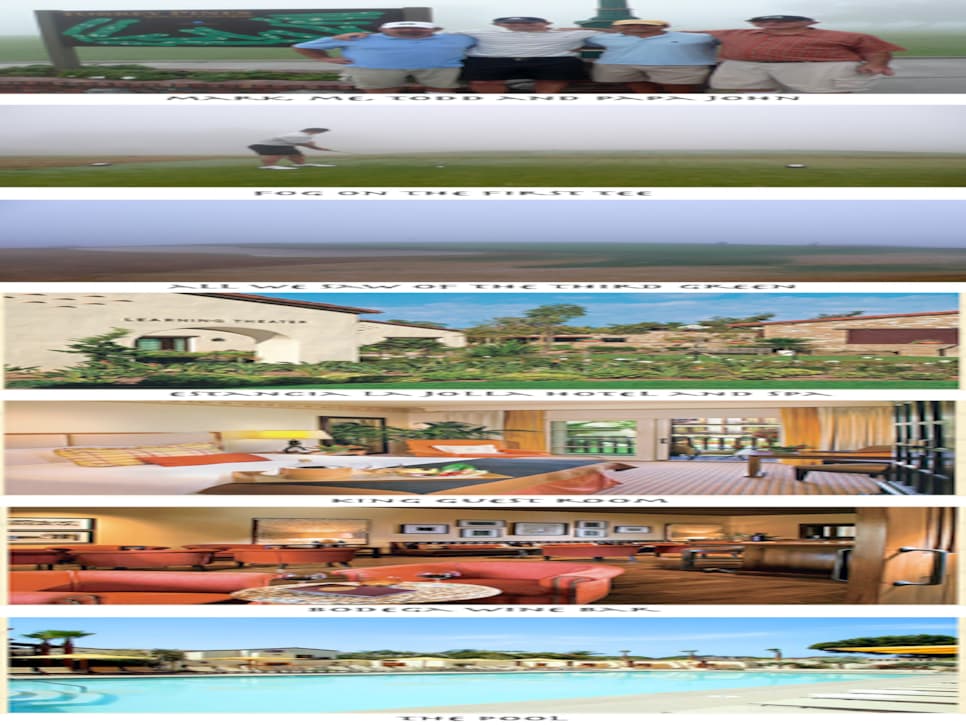 I was in town because my parents just moved to San Diego and I wanted to see their new living situation. A good excuse to play my first round at the site of this year's U.S. Open. My dad, who turns 75 in November, my brother Mark and a best friend from high school, Todd Curran, joined me. They also live in San Diego.
Thankfully Todd had played Torrey enough to know where to aim us before every shot longer than 30 yards--the fog was that bad. It was my dad and I against Mark and Todd for a modest best ball of the twosome, so I never really trusted Todd's tips on Torrey, but he gave his partner enough bad navigation to feel as though he was at least trying to be fair.
The lack of vision (you could hear the ocean but never did see it) was unfortunate because I still can't really say I've played the course ranked No. 90 on our list of America's 100 Greatest Public Courses. We weren't able to see the flagsticks from the fairways until the tenth hole. Oddly enough, without being able to see the trouble, we all probably made better swings on the front nine than the back nine. There's probably an instruction tip in there somewhere: "How to swing like you're playing in a fog." John Daly might be a good author of that story.
I was warned by the golf shop before we played that we weren't catching the course in great condition. The rough had been cut since the pros played it, the greens had been punched two weeks before we were there and the fairways were dry and brown in some spots.
It was a Saturday, so San Diego City residents pay $49 and nonresidents pay $200 to play the South Course. Todd booked the 8:20 a.m. tee time the night before by calling the automated service (858-581-7171). We were pleasantly surprised to get such an ideal spot in the weekend rotation. Then we showed up and ran into what locals referred to as the "marine layer" and figured that's why we got the time we did on such short notice. You should also know, if you're coming with a group of 20 or more players, you can book tee times 90 days in advance. If you stay at the Lodge, you can book times in advance for 16 players or more, and you get a golf concierge to help coordinate food, drinks and keep score, etc. for what management considers a tournament.
I stayed at the Estancia La Jolla Hotel & Spa, a high-end resort that opened in 2004 and is only a mile from Torrey Pines. This is where the USGA stayed when the Open was in town. There are 210 rooms (standard room rates are $299 to $349 from May through Sept.), three restaurants, a wine bar, gym, pool and spa with "manly" themed treatments for the "tired golfer." The property, 9.5 acres, used to be a horse ranch, and some of the doors still slide open. The resort is called a "sensory retreat" because there are 300 forms of vegetation strategically located so the smells stimulate your senses as you walk down the paved footpaths. (Roses surround the spa.) Estancia doesn't have an affiliation with the golf course, but the people there can help you get tee times.
My dad goes by Papa John. He's a lifetime 22-handicapper. His lack of flexibility is shortening and slowing his swing. It's a little sad to see, actually. Getting old is not easy on your golf game. But my dad's still a great putter. He's so good we also call him Johnny Jade because he's money with a jade-headed putter he got when he was on a trip to New Zealand a few years ago. My brother's a 16-handicapper, and Todd's a few shots better than that. I'm playing as an 8 right now. My dad and I took $35 from brother and best friend. My dad had an all-galaxy up-and-down for par on the 16th hole. He got a shot, so it was a 3 for 2, and it was a big momentum swing in our favor.
The real highlight for me wasn't necessarily the group, the golf or the occasional good shot at an Open venue. It had to be the yelling back to the group behind us. My dad has always loved to make noise on the golf course. He's a cart screecher, club slammer, change shaker, and he yelps if he misses a short putt. After all these years on the links with him, it can still catch me off guard.
Last week at Torrey, playing in the fog on the front nine, Papa John was a pig in a pile of dirt. He had a hall pass to holler on the golf course. "CLEAR ON THE SECOND GREEN!" Or he'd yell from the fairway to the green in front of us, "ARE YOU GUYS STILL UP THERE?" It was pretty funny. My brother would remind him he didn't need to yell so loud, that they were only 100 yards away. (We were sure they were hearing him all the way to Arizona.) As we'd walk off the green, Todd would remind him, "Papa John, let it rip." Sure enough, at the top of his lungs: "CLEAR HERE! COME ON UP!" He loved his role as course communicator almost as much as he loved our little victory.
We'll back to Torrey Pines in the coming months. I can't wait to see the front nine.