Saw It Coming
A top teacher's prediction for Phil Mickelson from two years ago proves spot on
The last time Phil Mickelson appeared on the cover of Golf Digest was July 2019, and the title of the story was "Built to Last: It's time to recognize the genius of Phil's swing." The surprise win at the AT&T Pebble Beach Pro-Am spurred us to take another crack at investigating what exactly made Mickelson so good, so Senior Writer Guy Yocom interviewed Butch Harmon, Rick Smith, Dean Reinmuth—who each coached Phil—as well as other top instructors like Bob Toski and Sean Foley.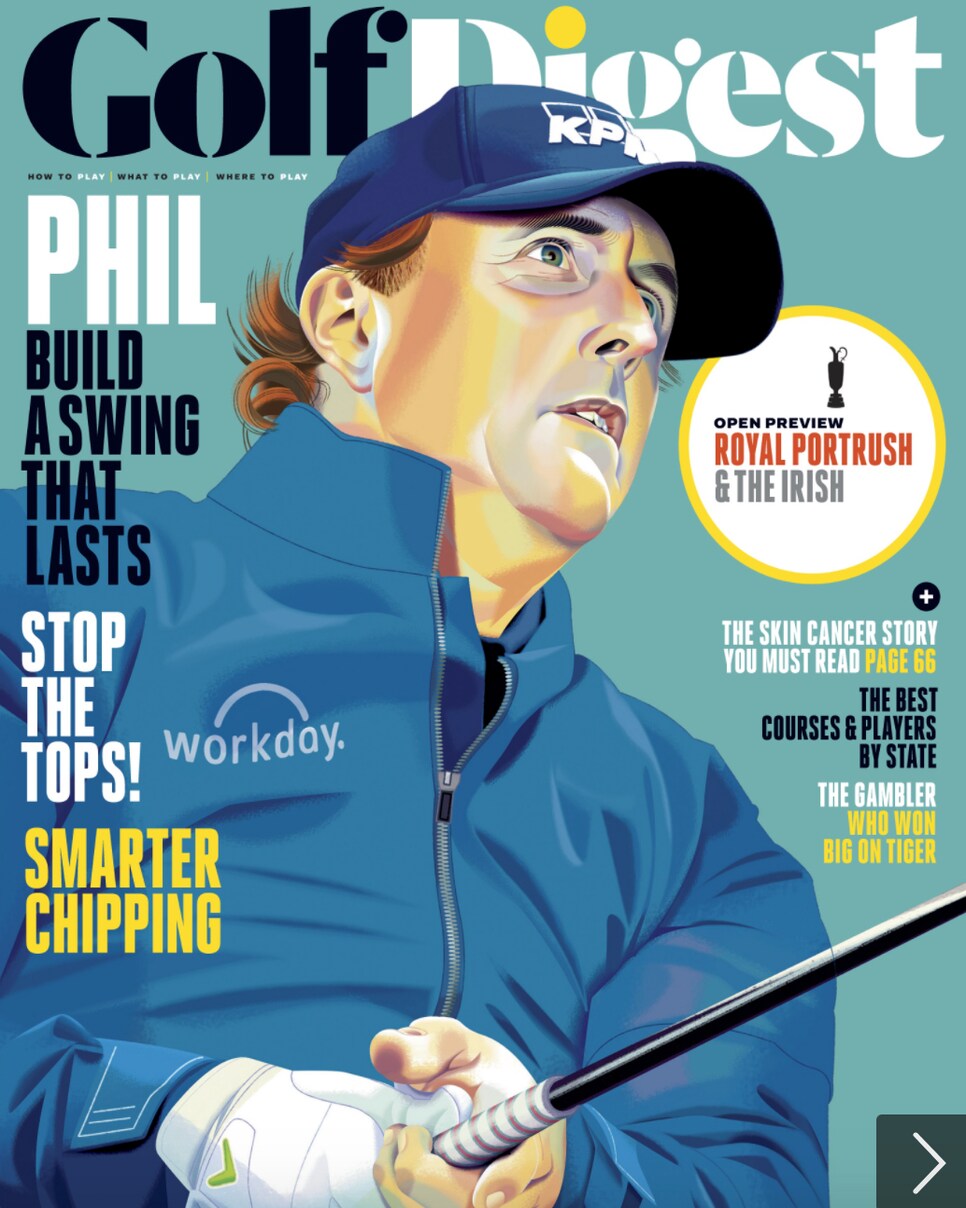 The six-page story closes with this quote from Foley, who, it should be added, is also enjoying a resurgence in 2021 having guided Lydia Ko back to the winner's circle, Justin Rose to leading at the Masters, and has the ears of young, rawer talents like Cameron Champ.
"I have no doubt Phil will win major championships in his 50s. I've observed him up close while walking with my players at least 60 rounds. His strength and skill, the mobility at his age, the way he loves competition, the fact he's loved by fans so much that every round is a home game for him, you can pretty much bet that his greatest moment is still ahead of him."
Nailed it. The additional insight from the other coaches, of course, makes the story read even more richly today. Especially uncanny is the photograph of Mickelson atop a one-third page ad for the Travelers Championship featuring the dual visage of Brooks Koepka reflected in a pair of aviator sunglasses.

You'd be hard-pressed to find an image that better captures the essence of Phil's stare-down at Kiawah Island. Anyways, it's a fun tour through the Golf Digest archive, which is available for free, as always, to Golf Digest subscribers.
Now the question remains, will the plural in Foley's lead sentence come true?