News
Tony Finau can't miss a putt and three other takeaways from Thursday at the Memorial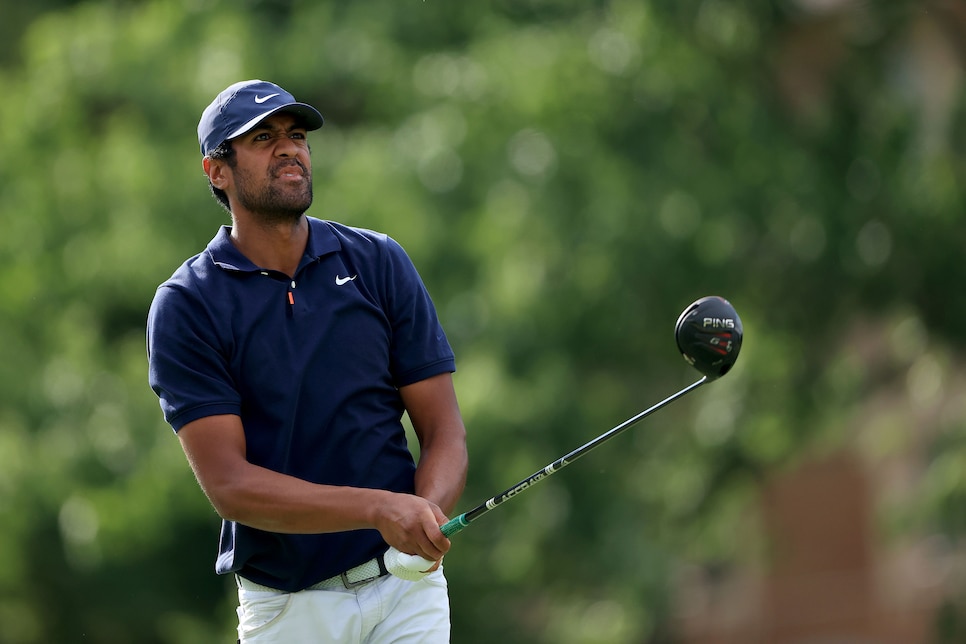 Tony Finau plays his tee shot on the 18th hole during the first round of the 2020 Memorial.
Sam Greenwood
Same course, but different. And significantly so.
A week ago, Collin Morikawa opened with a seven-under 65 at Muirfield Village and went on to win the Workday Charity Open at 19 under. Thursday, at the same venue, he struggled to a four-over 76 in the opening round of the Memorial.
There were plenty of other examples exposing the gap between the two tournaments: Rickie Fowler shot 81, Dustin Johnson 80, Xander Schauffele 78, Matthew Wolff 77 and Webb Simpson 76, to name a few.
It happens. If it makes them feel any better, only 24 players broke par in the opening round of the Memorial compared to 63 on Day 1 at the Workday.
Of course not everyone struggled. Tony Finau shot a nifty six-under 66 to grab the lead. Here are our takeaways from the opening round at Jack's Place.
As mentioned, last week's Workday Charity Open played significantly easier than this week's Memorial, at least through the admittedly small sample size of one round. On Thursday, the scoring average was 73.92, more than a stroke higher than it was a week earlier when the course played to a 72.12 average. It's hard to imagine things will get easier, either.
So why the difference from last week and other weeks that have yielded a boatload of low scores over the last five weeks?
The reasons are myriad—winds that ranged from 15 to 30 miles per hour, increased green speeds, thicker rough and setup with a couple of more pins placed closer to the edge of the greens than in the opening round last week.
"They let the rough grow a little bit, so you're unlikely to find some good breaks if you miss the fairways," Jordan Spieth said. "But mainly the course has dried out significantly without any rain the last few days, and the greens are a foot to two feet faster on the Stimpmeter. I left everything short last week. These are back to the speed you're used to seeing at the Memorial, but when you throw in 15 mile-an-hour winds and the winds have to be opposite the slopes because the greens are so fast, you're left with a lot of really kind of cross-wind, cross-hill putts, and it's very difficult to commit on the greens."
Finau's power and finesse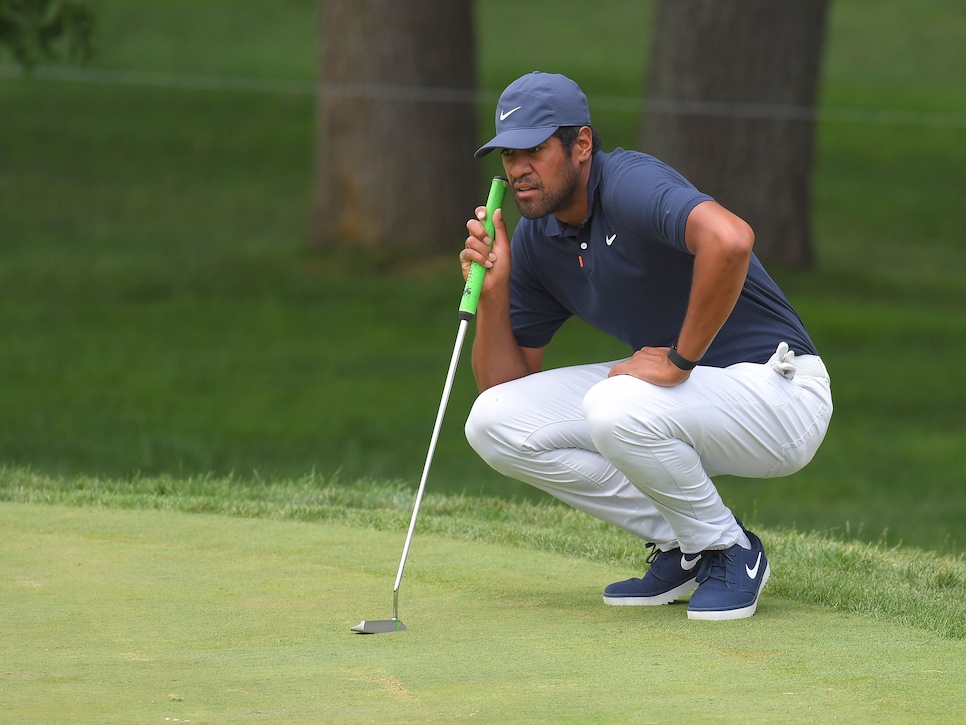 Tony Finau made 114 feet of putts on Thursday at Muirfield Village. His average distance of made putts in a round this season is just 66 feet, 4 inches.
Stan Badz
Tony Finau doesn't need to bulk up to hit it far—he's already one of the longest players in the game. Putting, on the other hand, has traditionally been a weak spot.
The 30-year-old one-time PGA Tour winner made them from everywhere in the opening round. He started with a 12-footer for birdie on the first and kept on going, closing with a 10-footer for birdie on the last to cap a 65.
There were plenty of good ones in between, too—notably a deft two-putt from 65 feet on the par-5 fifth and 20-footers on Nos. 10 and 15. In all, Finau made 114 feet of putts and finished the round with a strokes gained/putting mark of 4.4.
Still, Bryson DeChambeau has him thinking about the long ball. While practicing at home in Utah last week, Finau hit one drive that registered a ball speed of 206 mph and carried 383 yards.
"I don't think what he's doing is rocket science," Finau said. "It's executing at that speed. To swing that fast and hit it that straight got me thinking. I think I'm going to start bleeding that into my game."
"I sometimes can't believe it," DeChambeau said. "There were years where I hit 5-iron into that hole."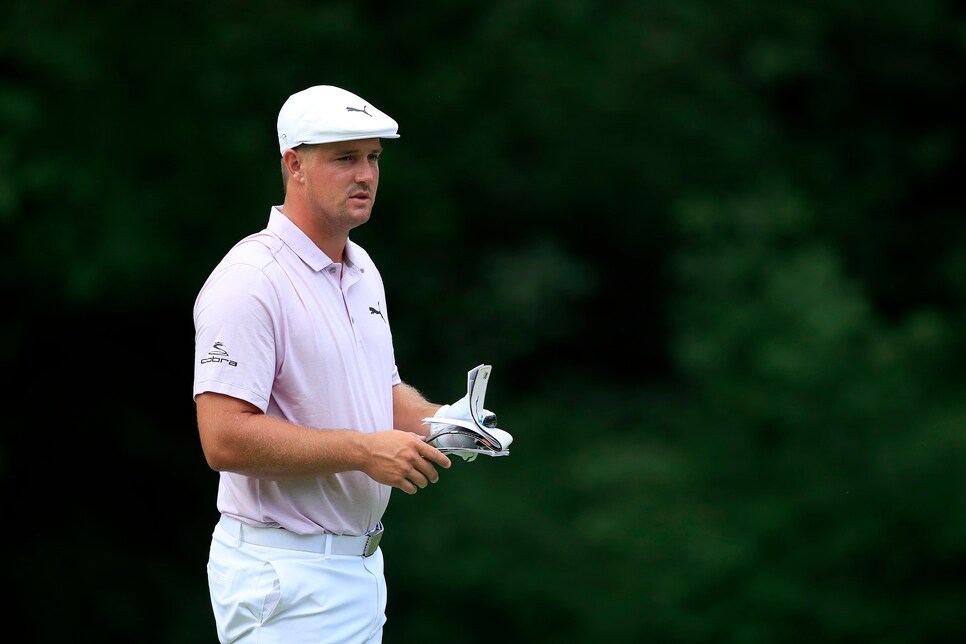 Bryson DeChambeau checks his yardage book on the 15th hole during the first round of 2020 Memorial.
Andy Lyons
It was hardly the only hole he had a short iron in his hands. DeChambeau averaged 331 yards off the tee and he had five more tee shots that traveled at least 347 yards.
"It's wild," he said of his power. "I'm just blessed that I've been able to figure some stuff out with the driver. Got a lot more to work on with the wedging and iron play."
DeChambeau hit just 11 greens in regulation and struggled on multiple occasions the closer his ball got to the hole. On the par-5 fifth, he rinsed his second shot then hit a poor wedge, surprised that his ball hooked even though it was above his feet, and missed a 12-footer that would have saved par.
One hole later, he hit an indifferent wedge to 30 feet. On 11, he three-putted from 30 feet. At the 13th, he hit a 359-yard drive but left himself outside of 20 feet despite being just 80 yards away in the left rough. The next hole was worse—from 92 yards, he hit into the back bunker and went on to make bogey. And on 17, after a 407-yard drive left him just 66 yards from the flag, he managed only par.
It all led to a one-over 73, his highest score on tour since a first-round 73 at the Arnold Palmer Invitational in March.
"One of those things, one of those days, and I don't know what to say," he said. "It was like the twilight zone out there for me."
A week ago, Ryan Palmer missed the cut at Muirfield Village—his third in his last four starts—with rounds of 77-81.
On the same course and in more difficult conditions on Thursday? A 65.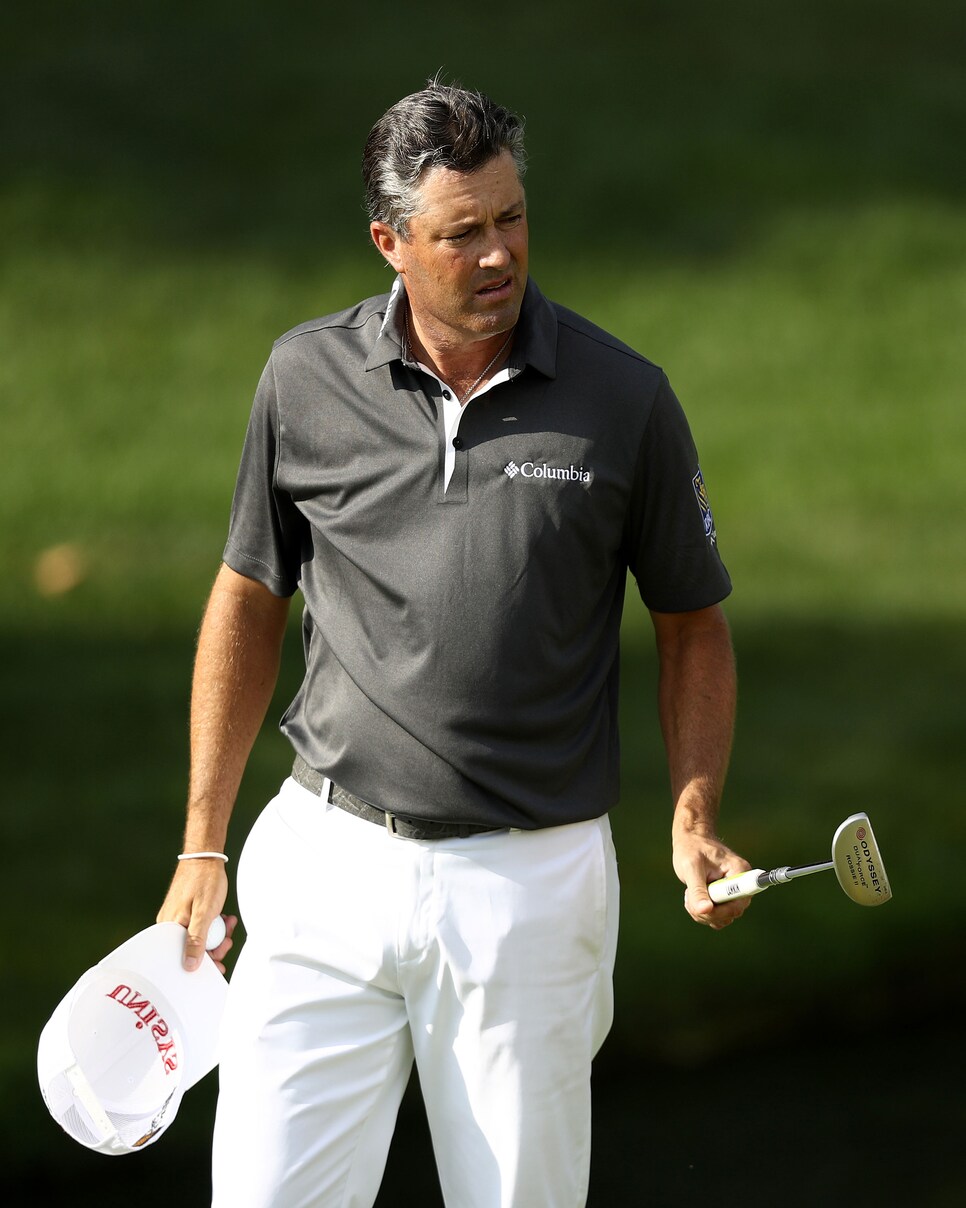 Ryan Palmer went home after missing the cut at the Workday Charity Open and found an old Odyssey putter he decided to bring out of retirement.
Jamie Squire
At the suggestion of his caddie, Palmer dug up an old Odyssey Rossie II putter that traces back to his college days at home in his garage. Then he took a lesson with his coach Randy Smith, who spotted a flaw in Palmer's takeaway.
When Palmer landed back in Ohio, he played nine holes with putter extraordinaire Steve Stricker and Jordan Smith, picking their brains for advice.
The result? Five birdies and no bogeys to sit just one back of Finau.