Memory Lane
Tony Finau tells funny story about the time he let one rip—while letting one rip off the tee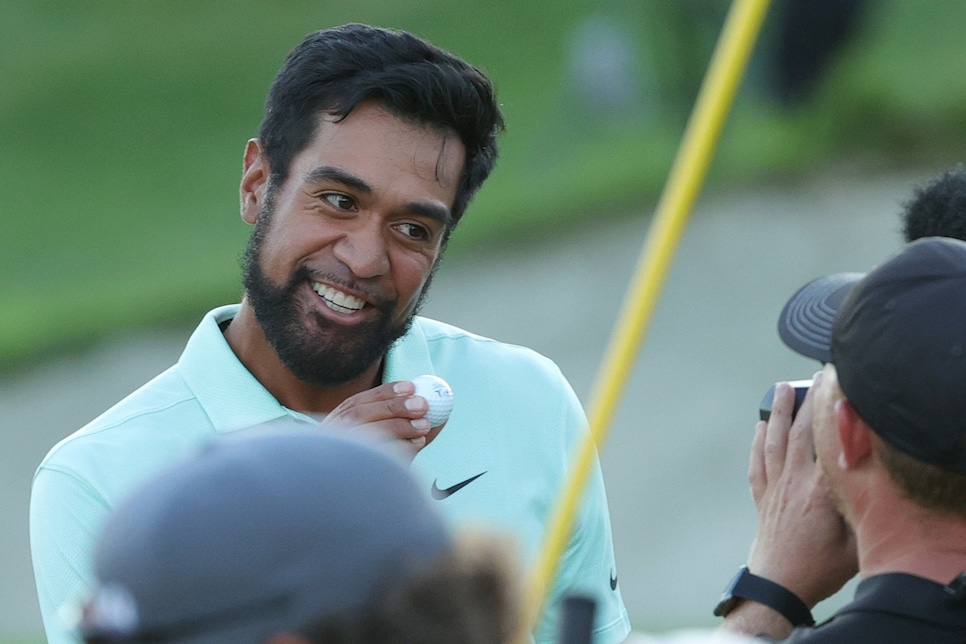 In recent years, Tony Finau has emerged as one of the best golfers on the planet. But he recalled making plenty of noise in his first start as a PGA Tour member. Just not the noise he wanted to make.
Finau was a guest this week on the Beef Golf Club podcast, where he shared quite a story from his early days on tour. Turns out, during the opening round of the 2014 Frys.com Open he let one rip—while letting one rip off the tee on No. 1 at Silverado Country Club's North Course, his 10th hole of the day.
"There's a nice little crowd around and I tee my ball up and they announce my name," Finau told host Andrew Johnston and co-host John Robins. "And as soon as I take the club back . . . I ripped one of the loudest farts you've ever heard."
"I just decided that I was going to do it," Finau continued. "I knew it was coming, but I take it back, and almost simultaneously, as the club is kind of rising back, you hear this, (makes fart sound), like, really loud. And I end up still hitting the shot."
Wow. Believe it or not, though, it got worse for our flatulent friend.
"I hooked this thing out of bounds. And people are already laughing before I even hit the shot because it was literally, like, as I was taking the club back," Finau said. "So I had to re-tee and, again, I'm a rookie. First of all, if you hit it out of bounds on the first hole and you have to re-tee, that's so embarrassing. But having farted super-loud and having to re-tee was about as embarrassing a moment I think as I've ever had on a golf course."
You think, Tony? Watch Tony tell this terrifc tale below:
What's amazing is that despite the gas-induced triple bogey on the hole, Finau still managed to shoot a three-under-par 69 that day and finish T-12 in the tournament. Talk about concentration. We should have known right then that this man was destined for greatness.