'Tommy's Honour' Captures The Game's Roots In St. Andrews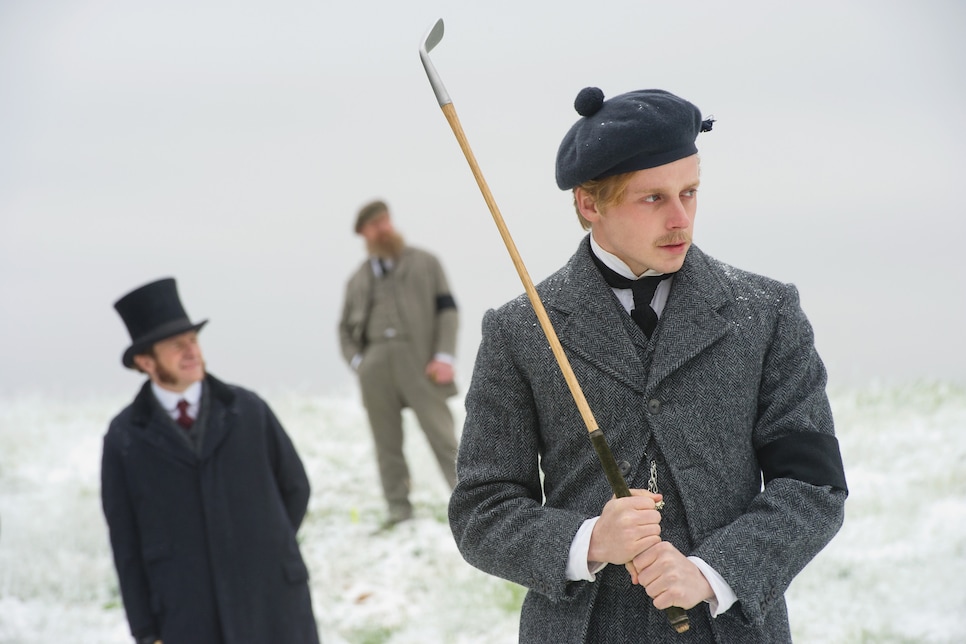 Courtesy of Gutta Percha Productions
Most golfers know something about Old Tom Morris—at least enough to be drawn in by a brogue-speaking stereotype pitching an online tee-time booking service. But how many really know Morris' story? He and his son, Young Tom, were there at the dawn of modern golf. And now a new movie, "Tommy's Honour," brings their relationship to life on the big screen. The film is a highly authentic presentation of how golf looked in the late 1800s. To re-create playing conditions of that era, the crew eschewed shooting on a course and instead built two holes on a seaside cow pasture in Scotland. Short, square metal flagsticks and balls painted red for snow are fun surprises (or to buffs, reminders). The filmmakers constructed a replica of the Royal & Ancient clubhouse to match its original façade, with stones of virgin tan instead of today's weathered gray. They hired St. Andrews Golf Co. to create all the equipment.
"On set we had three tractor trailers full of costumes," says producer Keith Bank, founder of a Chicago investment firm and a member at Conway Farms Golf Club. "Because so much time passes in the story, we wanted every detail to be exactly right along the way."
Jim Farmer, honorary professional of the R&A, closely supervised the leading men's training. (Young Tom is played by Jack Lowden, Old Tom by Peter Mullan.) "It actually made it easier that neither were golfers because there were no habits to break," Farmer says. "The proper swinging action with hickory is entirely different from a modern swing. You gripped the thick leather handle with 10 fingers, and there was so much mass in the shaft, the head felt almost weightless. It required a massive body shift and a disjointed break of the elbows to give the player even a chance at timing it right. Each hickory shaft had a distinctive kick pattern and would be whittled and customized to the build and swing of the man. The balls had about as much give as a billiard ball. And they hadn't realized yet that convex faces made hitting straight more difficult, and so you had to strike right in the perfect middle or the ball did nothing."
Farmer brought in a couple of low-handicap friends to serve as "swing doubles" when setting up lighting, but they were never called in to "save a shot" for an actor having a breakdown.
Farmer singles out Lowden for special praise. "Jack was a natural. After four or five hours, he was up and running," the instructor says.
The movie is an adaptation of Kevin Cook's book, which won the 2007 USGA Book Award. Jason Connery directs. Bank and producing partner Jim Kreutzer chose Connery in part because of his affinity for the Scottish heritage and his love of golf, forged through countless childhood rounds with his legendary father, Sean.
'The outcome of the golf is never the main drama.'
Yet in Jason's mind, "Tommy's Honour" was never really a golf movie. "The big mistake is to make a film about the game, when it's so much more interesting to make it about the people who play the game," he says. "We worked hard to make sure the outcome of the golf is never the main drama."
Indeed, much of the tension is domestic and societal. History tends to combine Old and Young Tom as winners of eight of the first 12 Open Championships, but their attitudes were very split. Old Tom was the clubmaker and greenkeeper steadfastly deferential to his gentlemanly superiors. Young Tom was Tiger Woods—long-hitting, wildly popular, unafraid to disrupt the established order while commanding serious compensation to display his skill.
"What you have is the beginning of professional golf, yet the characters involved have no sense of their own legacy," Connery says. "Every town had its best players, and they would go out there like pugilists. Thousands of people coming after work to watch them and bet, fights breaking out. . . . While films about periods tend to present a tableau, like you're standing outside looking in, we pretended we weren't aware of the period and focused on shooting the scenes in a physical way."
Which includes interpretations of several of the game's seminal moments. Among them is the invention of the golf bag. Young Tom, carrying his clubs loosely under one arm, is playing a circus-like exhibition against an archer when he notices the simple logic of the man's quiver. The film also shows the first use of a gallery rope—an on-the-fly fix during an especially rowdy match against the Park brothers in North Berwick.
"Tommy's Honour" debuts in American theaters April 14 in 30 cities, and Golf Channel has purchased the rights beginning in 2019.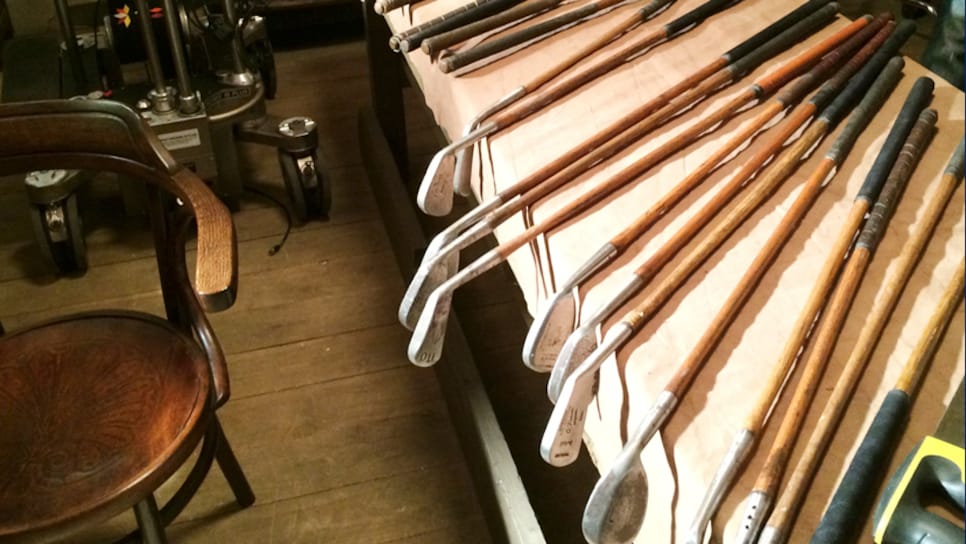 Courtesy of Gutta Percha Productions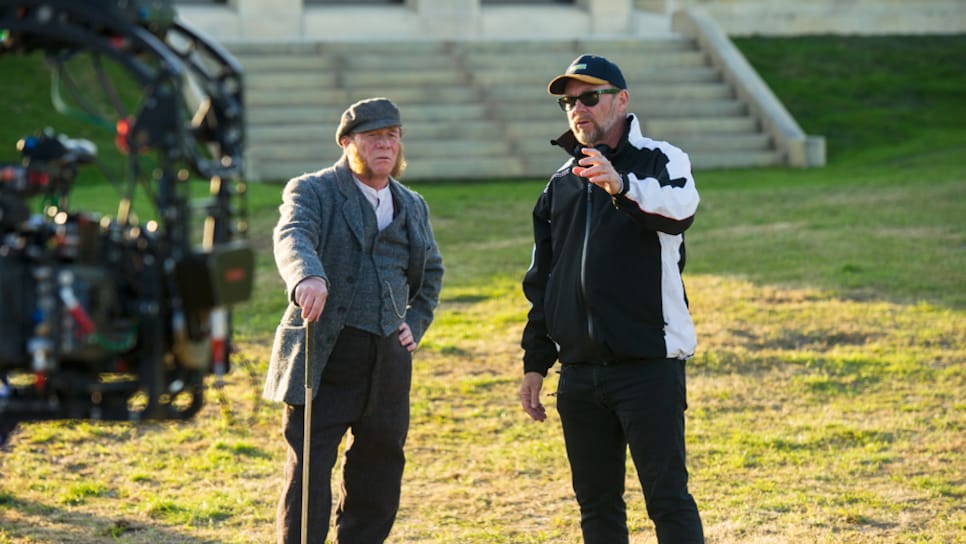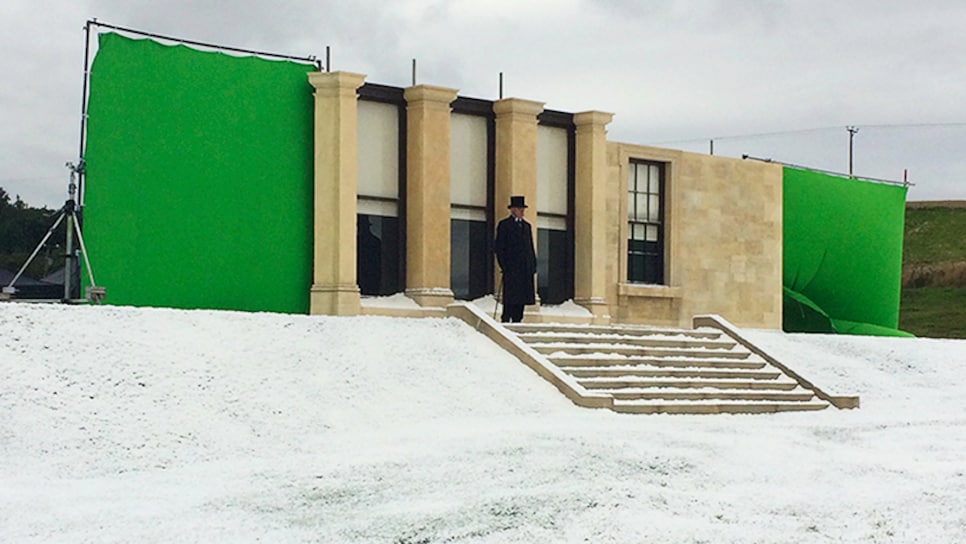 Courtesy of Gutta Percha Productions