Passages
Four-time PGA Tour winner and former Tournament of Champions chairman Tommy Jacobs dies at 87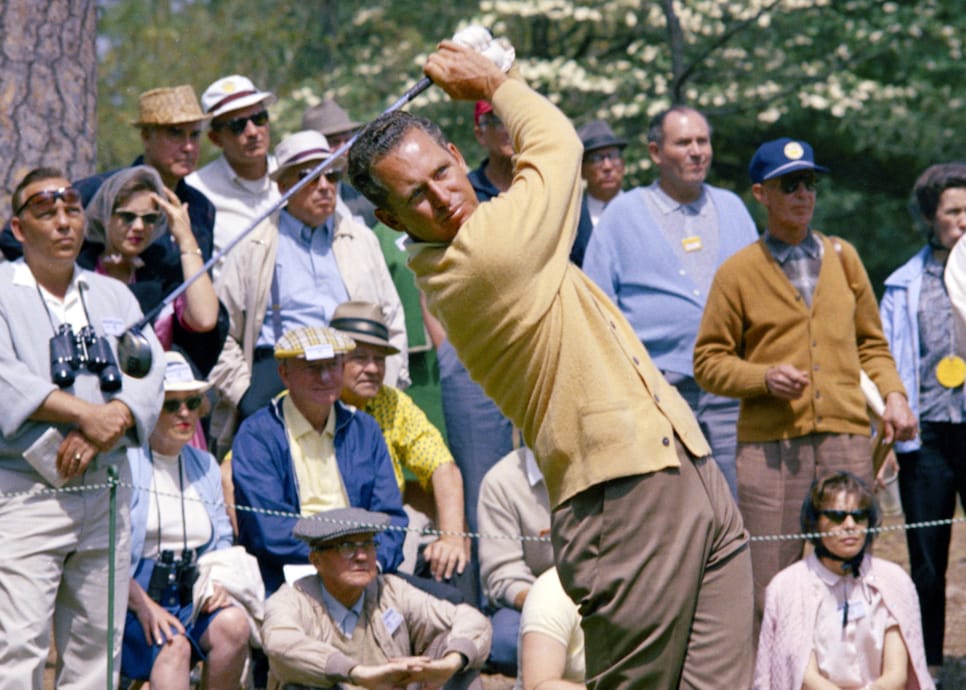 Tommy Jacobs plays a shot in front of a gallery during the 1966 Masters. He would lose in a playoff won by Jack Nicklaus.
Augusta National
For nearly 60 years, Tommy Jacobs was the answer to an often-cited trivia question: Who is the youngest golfer to play in the Masters?
As a semifinalist in the 1951 U.S. Amateur, Jacobs earned an invitation to compete at Augusta National the following April. He was 16 at the time and 17 when he teed it up in the Masters, where he finished 60th in an era when there was no cut. That distinction would stand until 2010, when 16-year-old Matteo Manaserro played at Augusta. (That mark was eclipsed by 14-year-old Guan Tianlang in 2013.)
The talent Jacobs showed in those early days, including a triumph in the 1951 U.S. Junior Amateur, did not wane. As a member of the PGA Tour from 1958 to 1971, Jacobs won four times and twice finished second in major championships, including the 1966 Masters, when Jacobs and Gay Brewer lost to Jack Nicklaus in an 18-hole playoff. In another milestone, Jacobs played for the winning U.S. side in the 1965 Ryder Cup, posting a 3-1-1 record.
Jacobs' family announced on Monday that he died over the weekend. He was 87. His survivors include his brother, John Jacobs, who played nine full seasons on the PGA Tour and won three times.
"Our Dad was the most likeable, generous men you would ever meet," sons Michael and Keith said in a statement. "We always enjoyed hearing countless stories of selfless and congenial nature, from countless friends from both the tour, and later in the operation of his golf course endeavors."
Among the favorite stories was about a first meeting Ben Hogan at Colonial Country Club in Fort Worth when Jacobs was a young pro. It was tournament week and Hogan approached Jacobs about playing a practice round. "My Dad later remarked, he didn't even know Hogan knew who he was," said the Jacobs sons.
Jacobs' first PGA Tour win came at the 1958 Denver Open, in the city in which he was born. He then won the 1962 San Diego Open, the 1963 Utah Open (in which he shot a career-low 62) and the 1964 Palm Springs Golf Classic. His other runner-up major finish came in a four-stroke loss to Ken Venturi in the sweltering 1964 U.S. Open at Congressional.
Jacobs excelled in a very different era in golf. His career earnings over 13 years on the tour: $227,376.
In 1988, he recalled for the Los Angeles Times that he went into the 1958 season opener in Los Angeles flat-out broke.
"I won a nice check there, around $1,000, and then I finished 10th in the U.S. Open," he recalled. "Still, I was kind of pressing because I had led some tournaments going into the last round and hadn't been able to win.
"Then I won the Denver Open, and I was on my way. I wound up winning $12,500 and finished 39th for the year. After that, I had enough money to get married and buy a new Cadillac. I always traveled by car, and I bought new Cadillacs every year. The Cadillac people gave the golfers a deal. We could trade them in for more than we paid for them."
Raised in Southern California, Jacobs returned to the area after he retired from playing professionally. He was the director of golf at the La Costa Resort & Spa from 1971 to '86 and served as chairman of the PGA Tour's Tournament of Champions there. He oversaw the course development and membership sales for The Farms in Rancho Santa Fe and became the owner and operator of Tommy Jacobs Bel Air Greens course in Palm Springs. He also was a principle in the purchase and operation of Magnolia Greens, a 27-hole facility in Leland, N.C.
The Jacobs family asked that those who would like to honor Tommy Jacobs do so with a donation to their local First Tee program.