Genesis Scottish Open
Tommy Fleetwood eyes first PGA Tour title once more, but with a Scottish twist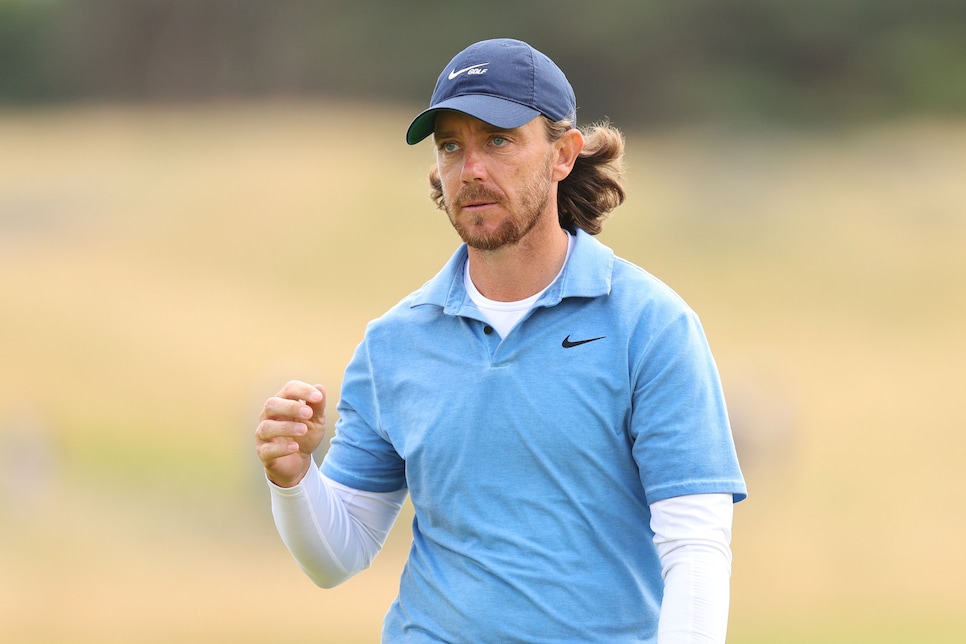 GULLANE, Scotland — The phrase, "Tommy Fleetwood shoots 63" isn't new, of course. The 32-year-old Englishman has some high-profile history with the number that was, from 1973 until 2017, the lowest in any of the four major championships.
Fleetwood closed the 2018 U.S. Open at Shinnecock Hills with a seven-under par version of 63 that saw him pull up one-shot short of what would have been a playoff against Brooks Koepka. Then, just last month, Fleetwood did it again at the U.S. Open, his closing 63 at the Los Angeles Country Club hauling him slightly less momentously into a tie for fifth place, five shots adrift of the eventual champion, Wyndham Clark.
Still, going so low when it matters most is not exactly a bad habit to have, whether in majors or regular tour events. And Fleetwood showed he is far from losing his touch by shooting another 63 in the third round of the Genesis Scottish Open at the Renaissance Club. With 18 holes to play, the man who is surely the best player in the game yet to win a PGA Tour title, is on 11-under 199, two shots off the pace set by Rory McIlroy.
Eight birdies dotted Fleetwood's card, his only blemish the shot he dropped on the par-3 17th (his eighth hole of a round brought forward by the threat of severe weather).
"Me and Xander [Schauffele, who played his first nine holes in five under] got off to a fast start so we both had each other's momentum going," Fleetwood said. "The 18th was actually a massive hole for me. I didn't really miss a shot on 17 and made bogey, then 18 is a really tough hole to follow that up with, But I made a three there and that kept the round going."
Indeed, Fleetwood has been battling for most of this week to overcome a sluggish opening-round 70. It was a day when everything was a struggle, note least his work on the greens.
"I actually played similar to what I did yesterday and a lot of Thursday, which was just a bad day on the greens, didn't score at all," Fleetwood said. "Yesterday, I had to battle a bit when I made a double on eight. I was level par for the tournament with 10 holes to play, at which point the first port of call is to make the weekend. But I played really well from there on in. Then today I got a bit of momentum going by making good putts on 11 and 14. It was one of those days where things go more your way than others. Overall, I've played pretty much the same for the three days."
Like just about everyone else, Fleetwood owned up to mixed feelings about the dire weather forecast for the final round, with gales expected to blow through East Lothian. Still, the prospect of battling the likes of McIlroy and close friend Shane Lowry was enough to lighten the mood.
"It would be nice," Fleetwood said. "It's great that we're all playing well. I would like to think that we all push each other on to try and be better. For European golf as a whole, it's great when so many of the guys are doing well."
All of which is undoubtedly true. But for Fleetwood victory here would be extra special, need nine that it surely won't take yet another 63 to get the job done. As this event is co-sanctioned by the PGA Tour that "best player etc." tag would finally belong to another.