Rules of Golf
Tour pro can't convince rules officials for relief after his ball defies gravity in bunker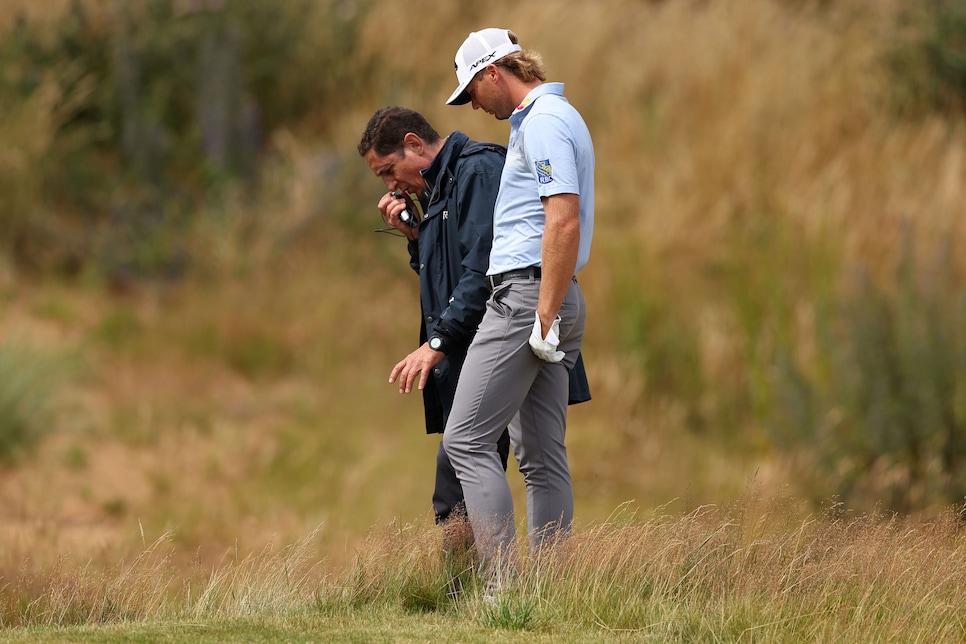 Sam Burns talks with Miguel Vidaor, DP World Tour rules official for a ruling on the 10th hole during Saturday's third round of the Genesis Scottish Open.
Andrew Redington
We're all in for all the quirkiness of links golf that's coming this week and next at the Genesis Scottish Open followed by the Open Championship. Well, all of us that is except perhaps for Sam Burns.
You see that quirkiness turned into bad luck for the five-time PGA Tour winner during Saturday's third round at the Renaissance Club. And while he was hoping that bad luck might turn into good with a favorable ruling.
It all played out on the 10th hole, Burns sitting at eight under par for the tournament, five shots back at the time of leader Rory McIlroy. After finding a bunker left of the fairway on the par-5 hole, Burns tried to get the ball back into the fairway with his second shot, only to get a tad too aggressive with the play.
However, Burns' ball was not embedded here so that option wasn't available to him. However, Burns sought out a rules official to see if he could get free relief from the sod seam at the very top of the bunker, arguing that it would interfere with the follow through of his stroke.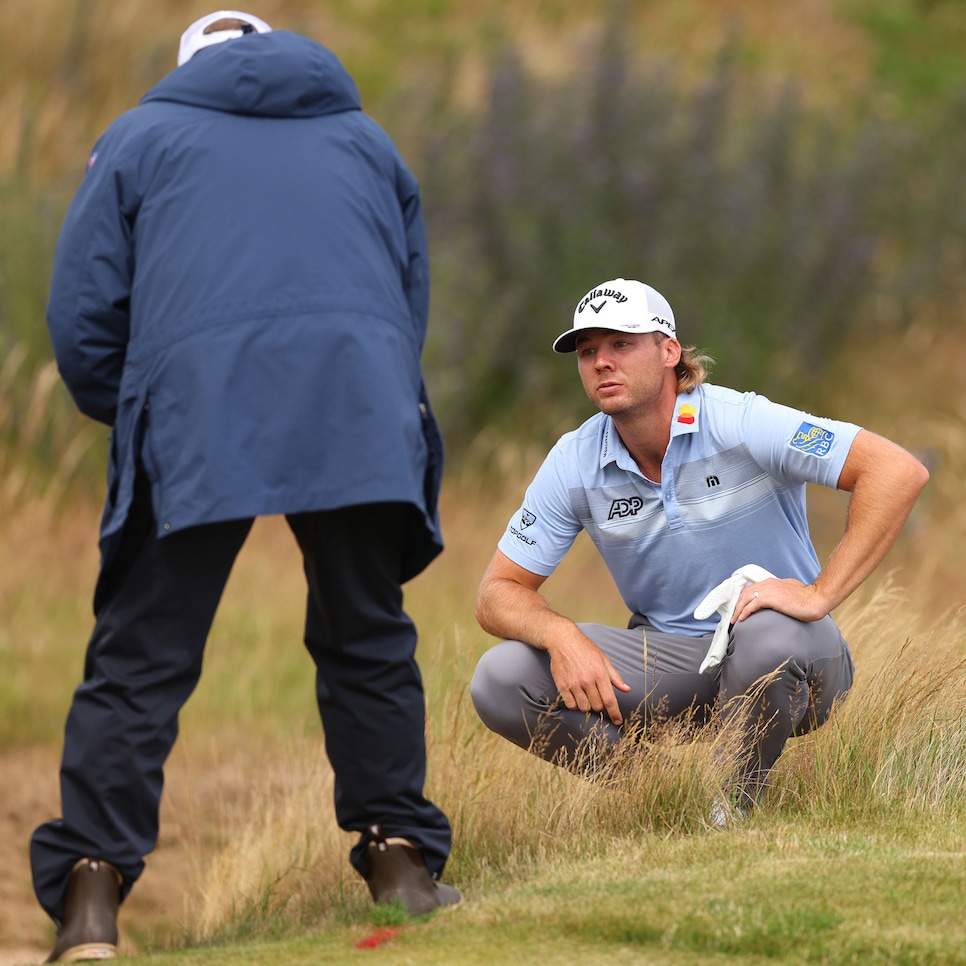 And argue Burns did. For more than 10 minutes he discussed the matter with a cadre of rules officials on the scene or communicating via walkie-talkie (you can hear the essence of the conversation below). At times there were discussions about Burns playing two balls on the hole to allow the officials more time to confer as to what the proper ruling should be.
In the end, however, the determination was made that Burns was not entitled to free relief from the seam because he would then, in theory, be entitled from relief from that same seam nearly anywhere his ball was found in the bunker. In this instance, it was simply the rub of the green.
Suffice to say, Burns was not thrilled with the ultimate decision. And when he played the third shot, sure enough his ball caught that seam and bounded back into the bunker.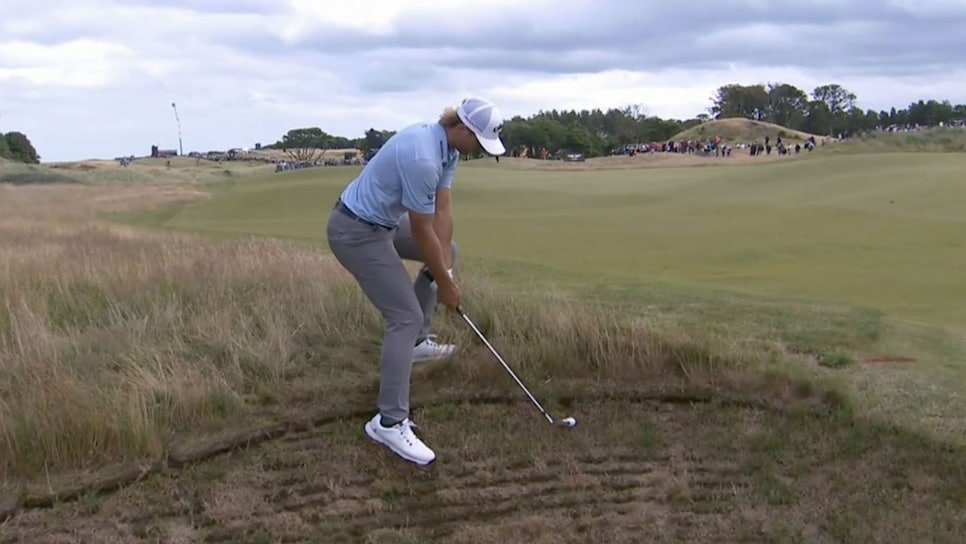 Burns playing his third shot.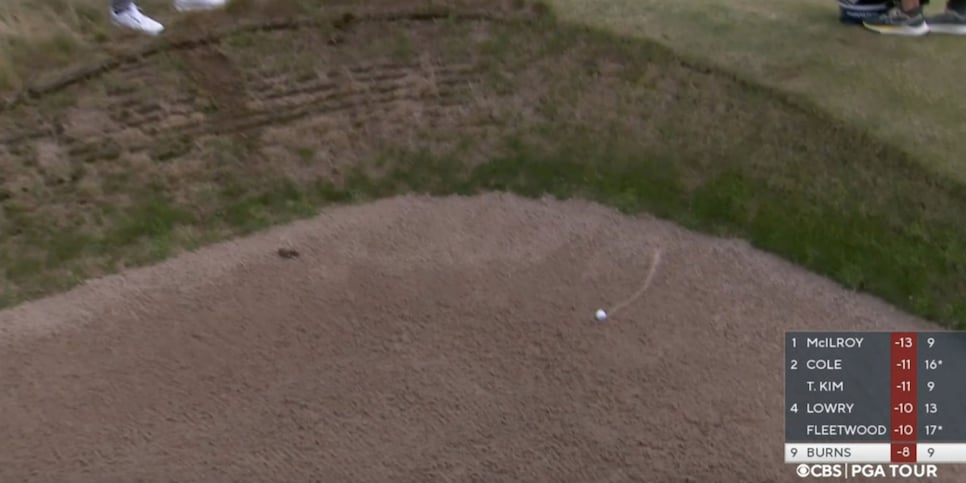 And after the ball hit the bunker face, here's where the third shot ended up.
Finally with his fourth shot he got out of the sand, but the damage was done. Burns would hit his fifth over the green, chip on with his sixth and two-putt for a triple-bogey 8.