Since turning professional in 1971, Tom Watson has been an ardent supporter of junior golf programs but always felt a nagging sense that more could be done at the introductory level to help grow the game and, as he says, "create lifetime golfers."
That feeling only grew stronger as he sensed a "hole" forming at the game's foundation as golf carts replaced caddies at public facilities and many private clubs. "Carts stopped caddies from being a part of the golf experience," Watson said. "By extension, that stopped the flow of young people into the game, their ability to have access to be around it and to play it and learn to love the game [by not being able to caddie].
"Ever since I got on tour," he added, "one of the things that always stuck in my mind is, 'What can I do to get more people involved in the game of golf?' And now I feel like I have the answer to that question."
Watson, 73, can't turn back the clock and erase carts and buggies, but he can recreate, to some degree, the process by which he was introduced to the game. That is the inspiration for the introduction of Watson Links, a golf mentoring program that gives junior golfers ages 10 to 18 free access to select courses in Watson's hometown of Kansas City, Mo., accompanied by an adult player who can teach in-play fundamentals, short-game techniques, strategy and etiquette.
"We finally came to the realization that what these kids need is not just a place to play but somebody to play with who can share their knowledge of the game while they are on a golf course," the eight-time major winner said. "That's how you get them interested, turn them into golfers, right? That's how I grew up. I grew up with my father taking me on the golf course when I was 6 years old. We'd go play three holes. And I'd hang around with his friends. At a young age I had all these players who were passionate about golf helping me to understand what it was all about."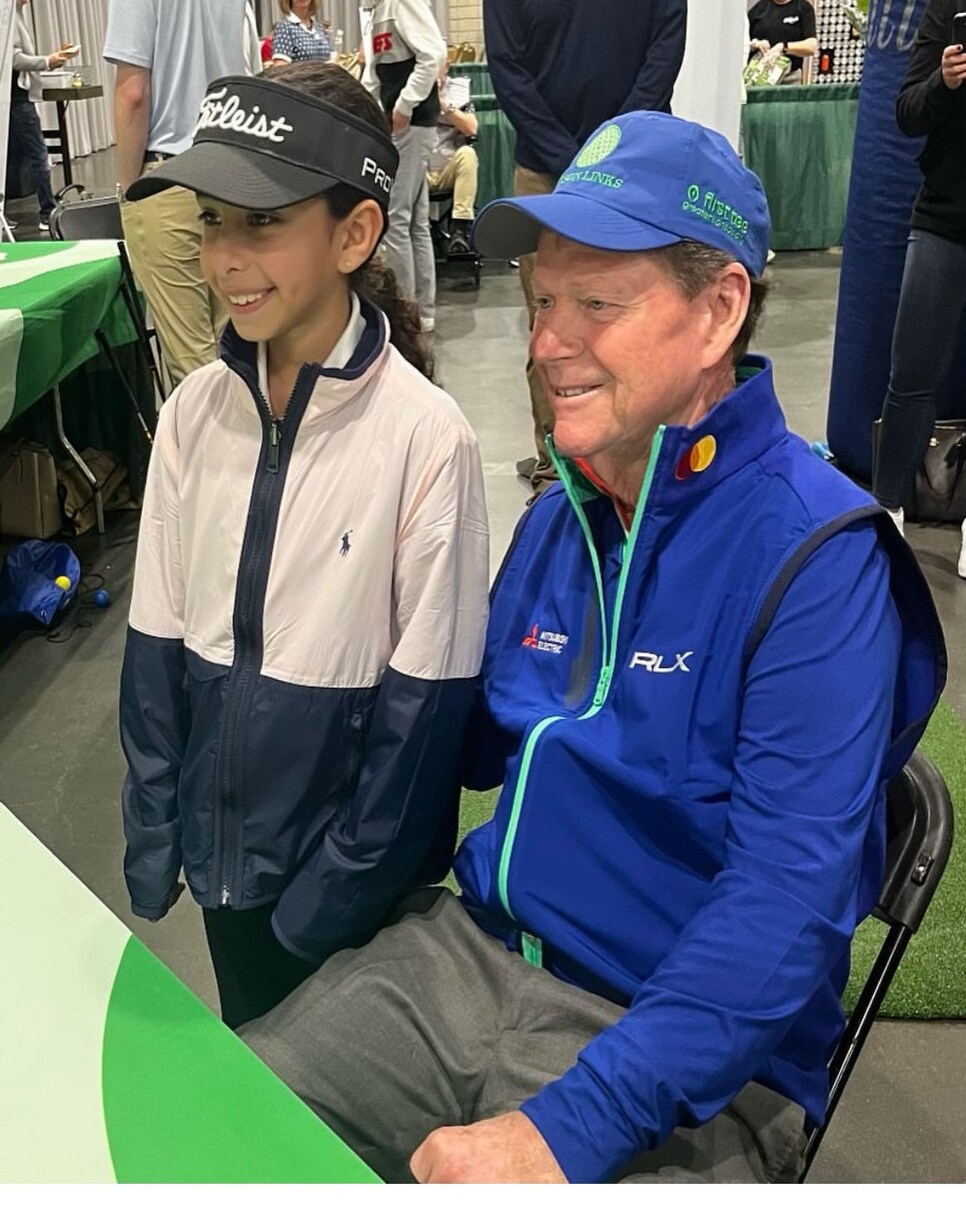 Watson met with junior golfers who were signing up for his new Watson Links program during the Kansas City Golf Show in February (Photo: Rachel Panko)
After a modest trial rollout last year, Watson Links is set for its first full summer, offering at this writing 900 free nine-hole rounds staring May 1. That does not include the complimentary rounds for the mentors, who must undergo an extensive vetting process before being approved to fill out a foursome. Tee times are paid for via course donations and the support of Watson's charitable foundation.
May times were filled in days of becoming available. The program, which runs for 22 weeks through mid-October, is operated in cooperation with The First Tee Greater Kansas City and registration links can be found on The First Tee website (firstteekc.org). But, as Watson points out, is not so much a part of The First Tee as an extension of it.
This gets youngsters beyond The First Tee to, well, a first tee.
"The First Tee is meant to ignite a spark in them. Teach them the basics," said Tony Blake, program director of the First Tee Greater Kansas City. "Tom's vision with his program is outstanding because it's sorely needed. Junior golfers need more access and opportunity not just to get them into the game but to keep them in it. There has to be a way for them to do more than just hit balls or go practice; that has its place. But they have to have experience playing the game. You fall in love with the game when you play the game."
Amid recent dubious assertions that throwing millions at already wealthy golfers is somehow going to grow the game, Watson appears to be onto something that might actually accomplish the task. Watson's goal is to take the program nationwide, and during the Masters he had discussions with the major golf organizations about lending support. Blake said he has heard from a few golf leaders in other cities about starting similar pilot programs.
"We believe this is a very solid program that can attract new golfers and turn them into being lifetime golfers, and that's my mission statement right there," Watson said. "This is how we can get young people involved with the game at the beginning of their lives, and they can carry that with them. Even if they should leave the game for some time, they can develop an interest and they can always come back to it. That's what I want. That makes them lifetime golfers."