GOATNESS
There's no greater testament to Tom Brady's longevity than this tweet about Patrick Mahomes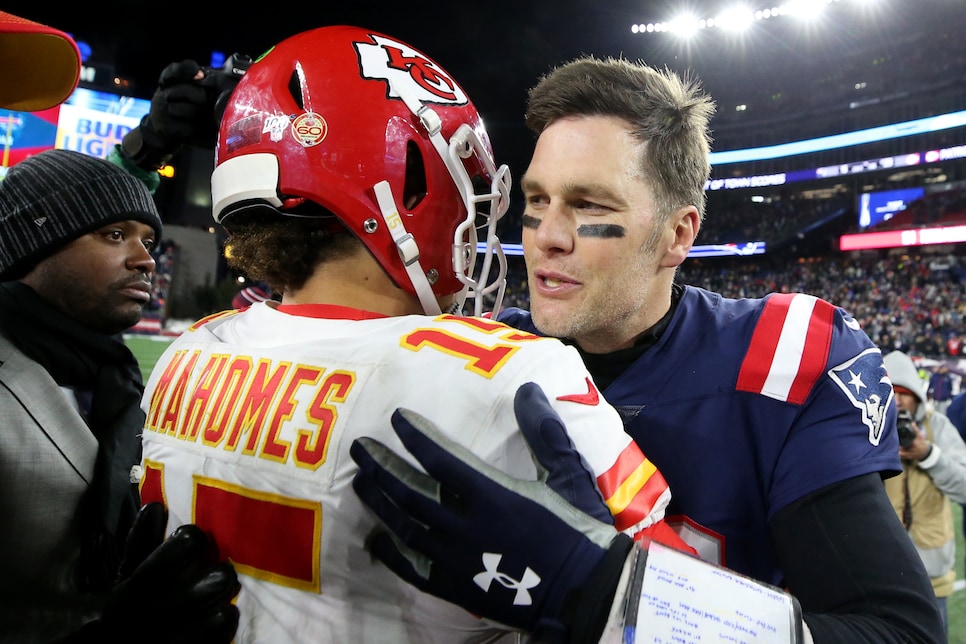 At this point, we can all agree that Patrick Mahomes is the real deal. Actually, scratch that. At this point, we can all agree that Patrick Mahomes has a chance to go down as one of the greatest (and winningest) quarterbacks in National Football League history, right up there alongside the likes of Tom Brady and Joe Montana. The trajectory is right. At 25 years and 143 days old come February 7th, Mahomes will have the chance to become the youngest quarterback to ever win multiple Super Bowls. The eye test is incendiary, the injury history good, and the Chiefs seem to be building the sort of ego-less, football-focused environment we saw in Foxborough for nearly two decades. Like we said, the real deal.
In order to become the greatest to ever do it, however, he's going to have to beat the greatest to ever do it, straight-up, mano-y-mano in Super Bowl LV. That will be the true passing of the torch moment for Mahomes, but as this mind-boggling made-up stat makes clear, even if Mahomes does win—even if does fell Brady once and for all and puts two Lombardis on his mantle before the age of 26—he has an absolute Everest to climb if he ever wants to rightfuly be called the GOAT.
Unreal. So far, we have spent our every breath praising Mahomes, but this story is really about Tom Brady. At 43 years old, Brady is about to play in his 10th Super Bowl in his 21st season. That means 47% of Tom Brady's playing seasons have ended in the Big Game. It also means that 18% of all Super Bowls EVER have included Tom Brady. The longevity and continued success are astounding, and if Mahomes wants to match them, he's going to have to hope humanity is still around to even host Super Bowls in 2039. At the current rate of devolution, that's not a given.
Maybe Mahomes gets hot, rattles off three in a row, and makes this interesting, but in order to be in the conversation with Brady when it's all said and done, he's going to have to be the greatest Super Bowl QB ever. He won't make it to 10. We guaran-freaking-tee it. He'll have to win five of six or six of seven in a 10- or twelve-year span. That's the path to GOATness for Mahomes, and thanks to Tom Terrific, it's just as absurd as it sounds.