To The Dunes
Finding the ancestral spirit of the game in the ongoing search for sand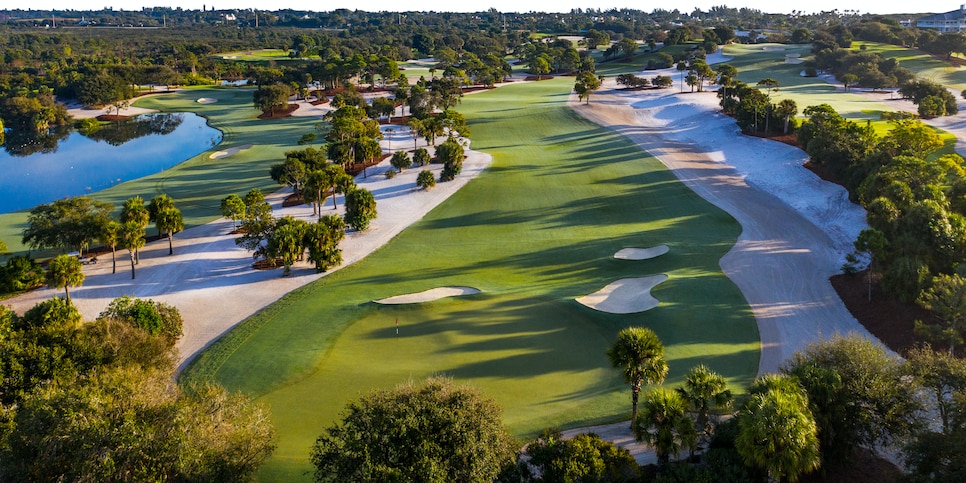 The British writer Bernard Darwin once described "a perfect stretch of golfing country" as "broken and undulating with . . . sandhills on the left and a vast expanse of rushes on the right." It was a sight, he wrote, "to make glad the heart of man, and at the same time to fill him with gloomy doubts as to whether he is quite good enough to play upon such a course."
The terrain Darwin writes of is, broadly, the links, those rather cold landscapes of hollows, sandhills, heather, fescues and gorse that occasionally arise in special places where the ocean cedes slivers of shore to golf. For several hundred years, players of the game knew nothing else; golf was played only in these conditions, across winding bumpy ground tossed hither and yon over grassy dunes. Strangely, when men began to manufacture the first courses away from the seaside links, they seemed to have forgotten that it was the infinite variety and vagary of the dunes that made the chase of the ball worthwhile. The 18th-century English landscape architect William Kent, who helped pioneer the idea of informal, naturalistic gardens, wrote that "nature abhors a straight line." Yet 150 years later his fellow Britons were laying out formalized courses full of symmetrical holes with hazards composed of harsh lines and right angles.
But golf doesn't stray for long, or often very well, from the random assertions of sand and dunes. We admire their ability to role-play and shape-shift—on heavy, nutrient-rich soils that ripen grass and trees, on mountain slopes, in reedy marshes or upon hard-rock stages of the scalding desert—because golf is at its most poetic and enduring when speaking its native tongue. Like the phylogenetic instinct of a species to return to its place of origin, the game yearns to reunite with its ancestral home, at least in spirit.
In the United States, a number of first-and second-generation courses sought out coastline settings, much in the image of their British and Irish predecessors—Cypress Point, Maidstone, Newport, Eastward Ho!, Sea Island and Seminole, to name a few. Most places in America, however, had neither the climate nor soils of the auld links. For the next 60 years golf architects took it upon themselves to attempt to create that character, sometimes going as far as constructing artificial dunes, and by the 1990s they had gotten quite good at it. More recently, developers have realized that exceptional natural dunes exist in many more places than originally thought, just not always near the ocean. The ongoing quest for sand has brought golf to places it had not previously thought to go.
Whether whipped into shape by nature or constructed with intent, interesting settings of undulating sand have lost none of their power, as Darwin put it, to make the hearts of golfers glad—not to doubt their worth, but to fill them with desire. Like the ebb and flow of a well-contested match, golf might move in and out of the dunes, but it always comes back.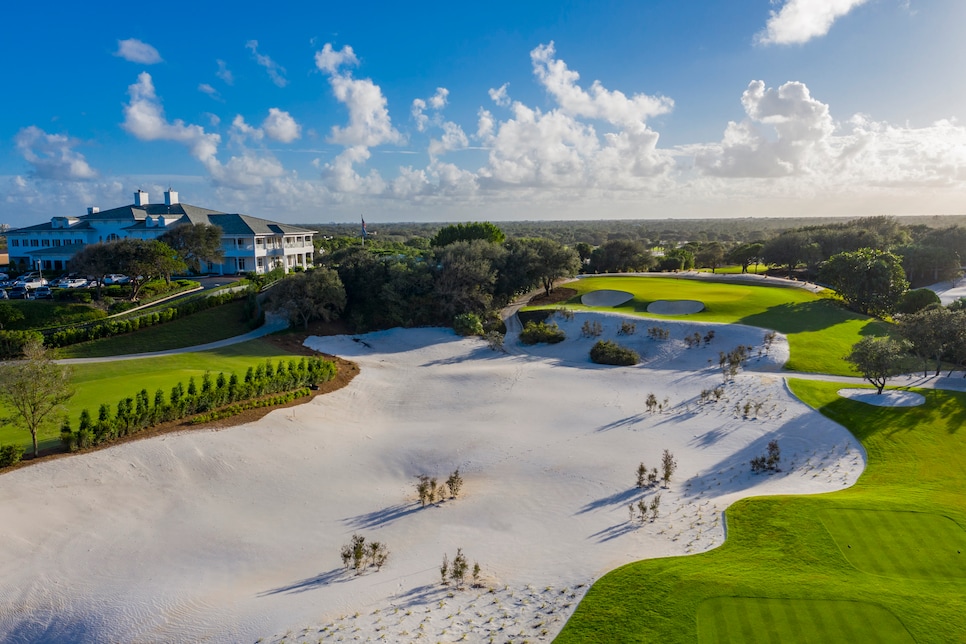 Despite reports to the contrary, Florida is anything but flat. Cresting sand ridges that were once under the sea crease of the state's interior and the prodigious coastline is full of long sections of vegetated dunes. Some are surprisingly tall, like the 70-foot spine that cuts through Jupiter Hills just off the Atlantic Ocean north of Palm Beach. The course was developed by former professional player and architect George Fazio in 1969, and he showed off the elevations by running holes up and down the ridge. Fazio tinkered with the design throughout his life (and it's received a number of subsequent modifications by his former partner and nephew, Tom Fazio) but the fundamental—and surprising—nature of its sloping, sandy topography hasn't changed.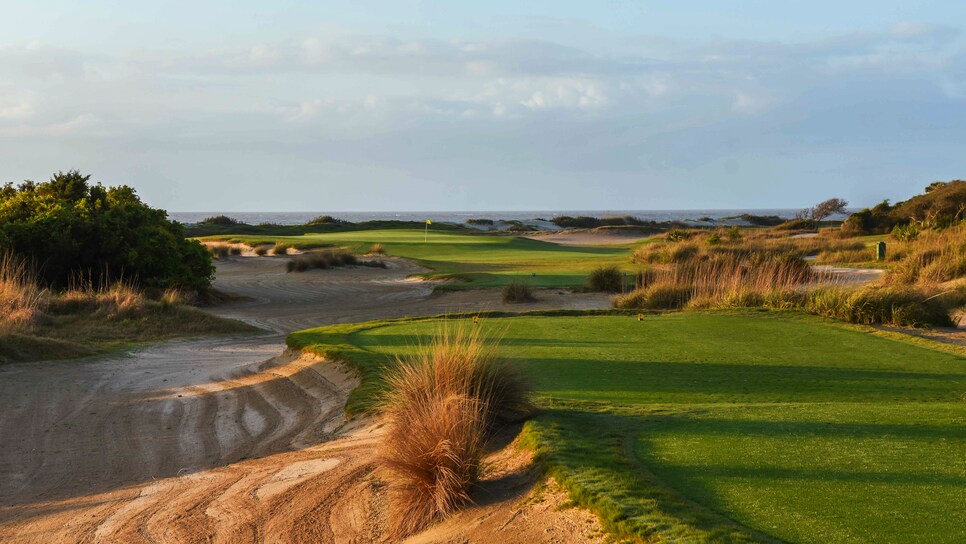 Courtesy of Wild Dunes Resort
The barrier islands of the southeastern United States provide breathtaking ocean backdrops, but they're rarely given over to golf. When they are, like at the Links Course at Wild Dunes, golfers show up because playing in dunes against the crashing waves of the Atlantic Ocean remains such a rare experience. Designed by Tom Fazio in 1980, Wild Dunes once ranked among the top 50 on the Golf Digest America's 100 Greatest Courses list, but that was before hurricanes and those crashing waves repeatedly wiped out sections of the course, leading to the sacrifice of the once great 18th. The finishing holes, however, are still beautiful and unique, even if the setting occasionally proves to be too wild.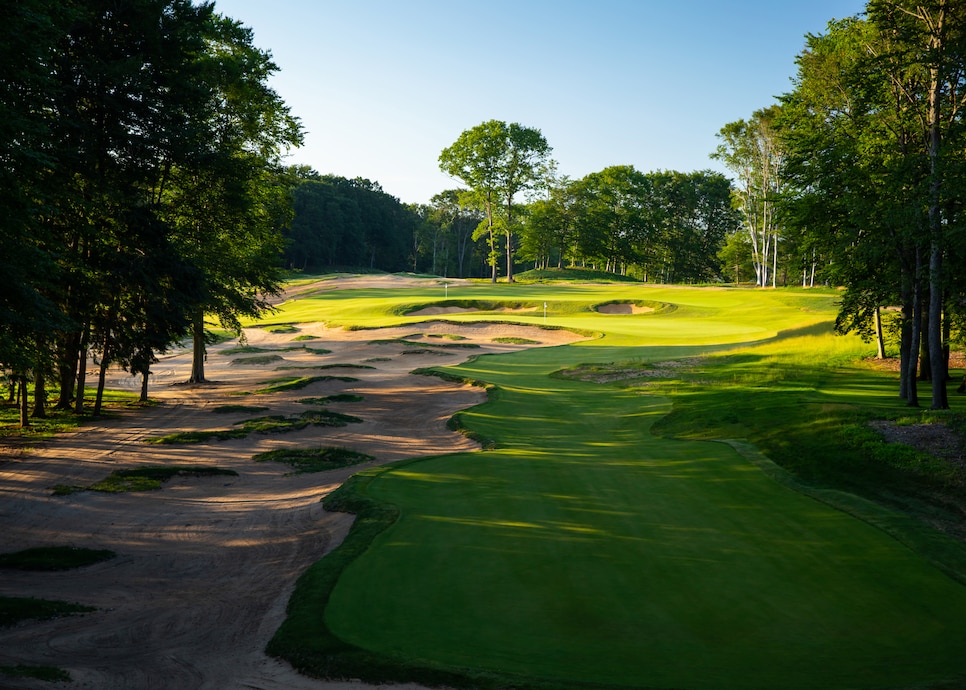 American Dunes photograph by Nile Young
American Dunes is the birthplace of Folds of Honor, a non-profit organization founded by Lt. Col. Dan Rooney that provides support and scholarship assistance to children and family of service members who have been wounded, disabled or killed, in part through funds raised by the golf course. The mission behind American Dunes is inspiring, but it wouldn't be as impactful as it is if golfers did not also have equally compelling reasons to want to play here. Jack Nicklaus and his design team overhauled the old 1960s-era course in 2020, ripping out earth and trees to expose evocative caverns of sand that cut into the fairways. This type of sand and dune topography runs most of the length of the western edge of the state along Lake Michigan.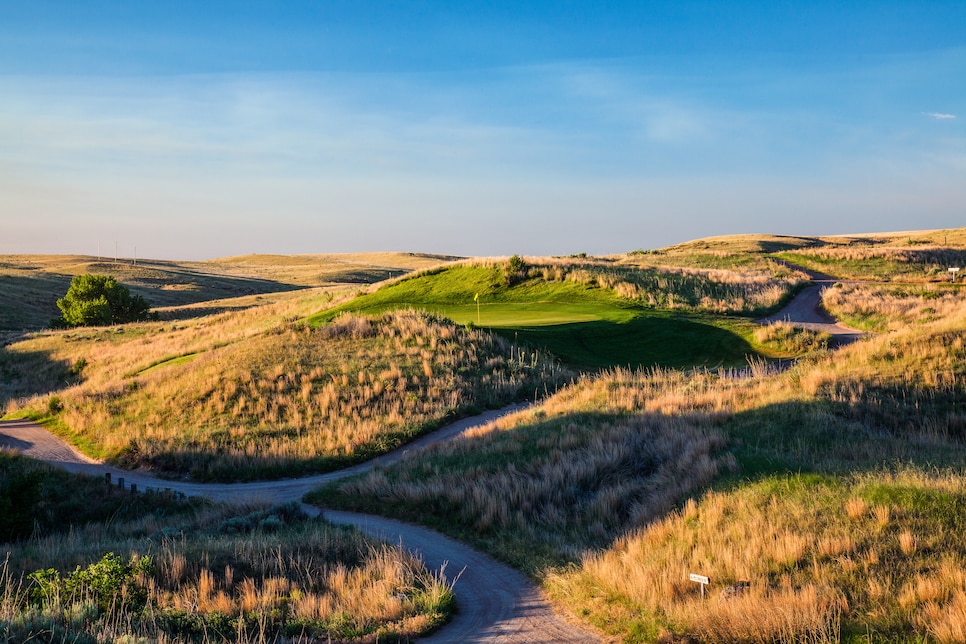 Bayside Golf Course photograph by Brian Oar
Not all dunes need be towering or shear-faced to be memorable as long as the golf holes accessorize them in inventive ways. Some of the game's most famous dunes at Seminole and Prairie Dunes are used primarily for elevation, as starting and stopping points for tees and greens. The dunes beneath Bayside, a public course designed by Dave Axland and Dan Proctor on the banks of Lake McConaughy in western Nebraska, are low and long and covered in prairie grasses. They gently push up sections of fairway giving holes a rolling profile, and in other places provide benches for a number of the putting surfaces.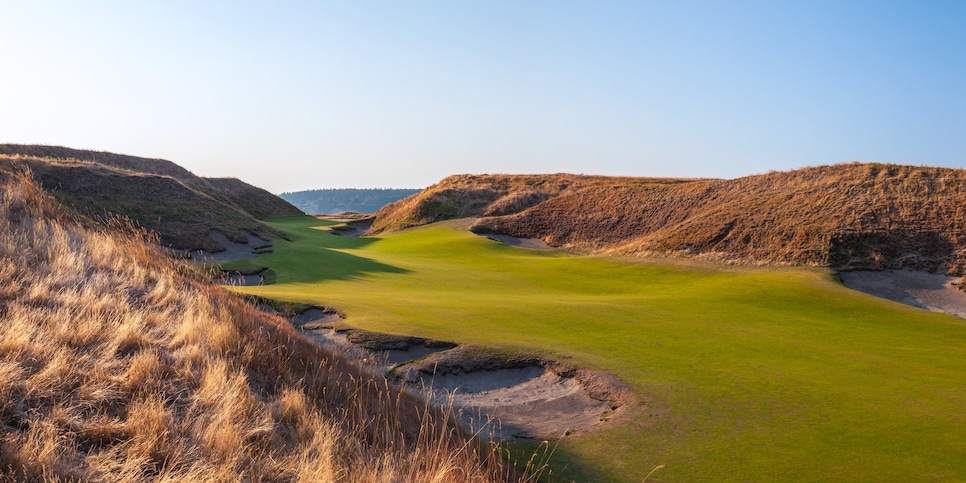 Chambers Bay Golf Course photograph by Brian Oar
Chambers Bay takes its inspiration not from the old Scottish links but from Ireland. Its dunes are abrupt and steep, covered with lush grasses that could have been sodded directly from Kerry or Clare. It possesses some of the bucking playfulness of Ballybunion and the inside-outside game of Waterville. Once perched well above the Puget Sound, the land was gradually lowered as the site was mined for sand and gravel and now edges close to the water. Every piece of golf was manufactured from the leftover material by Robert Trent Jones Jr. and his team, proving that forms crafted by hand can be just as believable as those created by time, wind and weather.
BALLYNEAL GOLF & HUNT CLUB

Ballyneal Golf & Hunt Club photograph by Brian Oar
When Sand Hills Golf Club opened in the heart of Nebraska's eponymously named region in 1995, it redefined how golfers interpreted the notion of links golf. The links could be hundreds of miles from the sea as long as the site had sand, firm turf and undulating land. Ballyneal, designed by Tom Doak, is such a place, one of golf's great natural courses with holes that ramble in, over and around the dry sandy Chop Hills of northeast Colorado. The greens rank among the wildest in the country—exemplified by the bubbling surfaces of the eighth and 12th—but they are only mimicking what the ground beneath was already doing.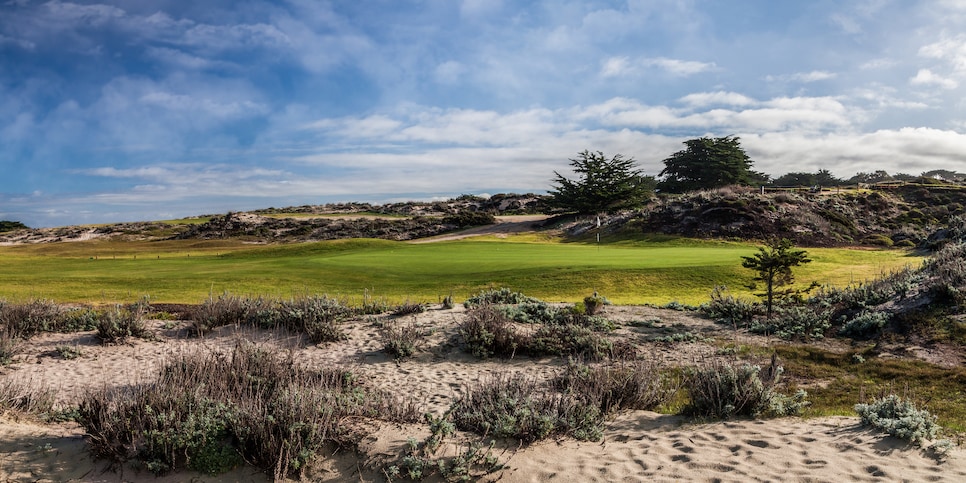 Pacific Grove Golf Links photograph by Brian Oar
Americans usually have to travel or pay high resort fees and membership costs to experience the feeling of golf in the dunes. Not at Pacific Grove, a city-bound public course on the north tip of the Monterey Peninsula where players can get swept away by sand, wind and scenery for less than $75. Created by Chandler Egan and Jack Neville, two of the designers responsible for Pebble Beach, Pacific Grove's second nine is golf for the soul playing above the ocean through low ridges of sand, sea plants and grasses. It's proof of how dunes and sand can make even modest golf holes seem significant.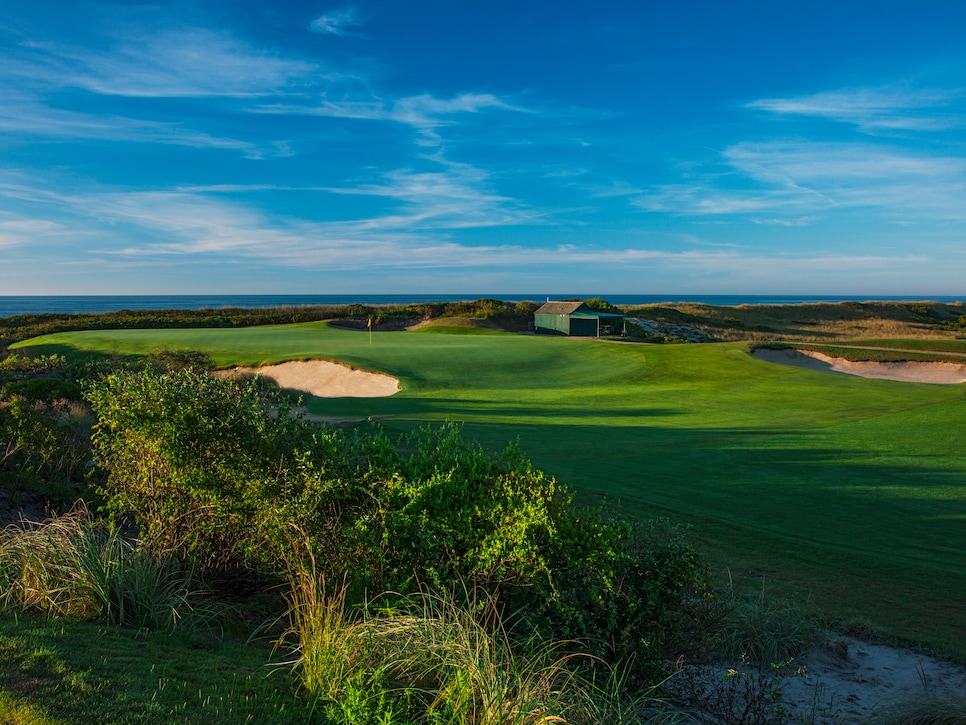 Maidstone Club photograph by LC Lambrecht
Laurence Lambrecht
There might not be a stretch of golf in the United States more resonant of the old-world links than the middle holes at Maidstone, located on the eastern end of Long Island. The early and late holes are mellow though ingeniously bunkered, but the run from the par-3 eighth through the par-5 15th playing through a gorgeous section of choppy dunes sparkled with colorful seagrasses is as visceral as golf gets, especially when the wind is up. Some of the best courses in the world are nearby, but with this rare gallery of holes, including four perched directly on the ocean, Maidstone embodies something uniquely ancient.