Equipment
Titleist Vokey Design SM8 adds "Jet Black" finish option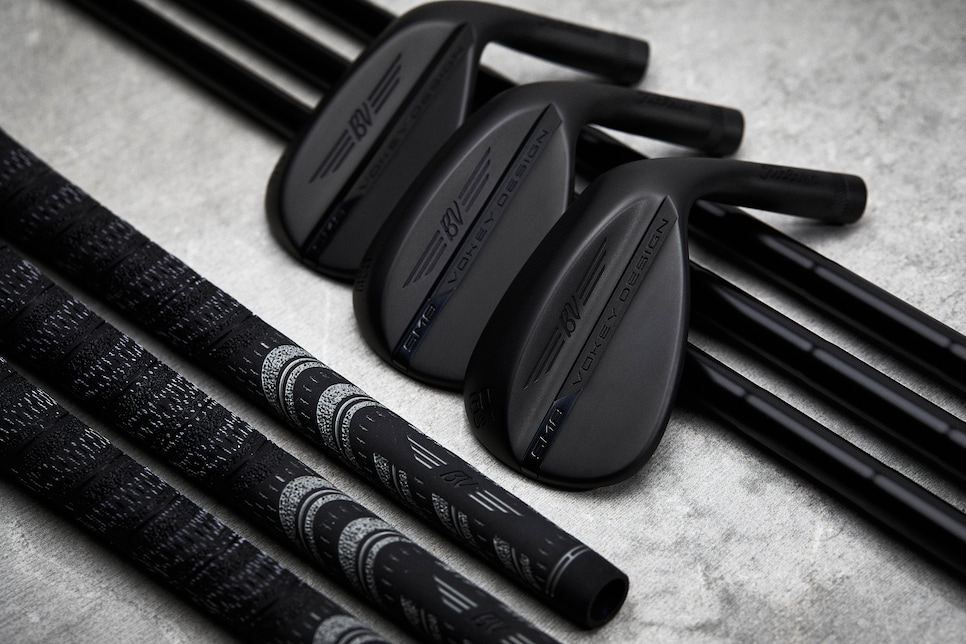 The breadth of Titleist's Vokey SM8 wedge line always has been one of its appeals to many players searching for the right loft, grind or finish. The company has added to an already strong lineup with the addition of a Jet Black raw finish with an all-black configuration.
Many all-black clubs are referred to as "badass" and the Jet Black SM8 certainly fits that description. The limited-release offering not only has the raw black finish on the clubhead, but uses black paintfill for the logos and graphics, a True Temper Dynamic Gold Black Onyx shaft and an exclusive Golf Pride New Decade Multicompound black/gray grip with the BV wings.
"I've been stocking more and more Jet Black heads on the Tour Van each year," said Aaron Dill, PGA Tour rep for Titleist Vokey wedges. "Players love the look of it, and the contrast you get when you add custom stamping and paintfill—it just pops. Jet Black also helps players reduce glare on those really bright days. When you add in the black shaft and grip, it's a sharp setup."
Of course, the Jet Black raw carries with it more than a nifty look. It contains all the technological horsepower of the SM8 design, including a forward CG position achieved by lengthening the hosel and adding tungsten to the toe, which minimizes dynamic loft at impact for a consistent, firm feel. The vertical CG is maintained, with the new approach increasing the club's MOI up to seven percent in higher lofts. This "push" produces a club that can more easily get square at impact thanks to its stability.
Vokey's spin milled grooves are present as well, maximizing spin and control, with microgrooves individually cut in between to get the most spin on partial shots. A proprietary heat treatment is applied to the impact area to double the durability of the grooves as well. The Jet Black raw is available in six grinds— F, S, M, K, L and D—allowing for a fit to a player's swing type and course conditions. In all, 23 loft, bounce and grind combinations are available in right- and left-handed versions.
Vokey also offers plenty of custom options as well, including six toe engravings, expanded stamping option (including 10-character Straight/Freestyle stamping and 15 characters around the toe), and custom paintfill for the loft, bounce, grind markings and BV wings logo. The Jet Black raw also can be custom ordered with a variety of shafts, grips, shaft bands and ferrules. For all the options, visit Vokey.com. The limited Jet Black raw wedges are available for pre-order and will be in golf shops on August 28. Custom orders are available via WedgeWorks on Vokey.com. Price is $179 per wedge.