News
Titleist unveils Bob Vokey's latest wedge creations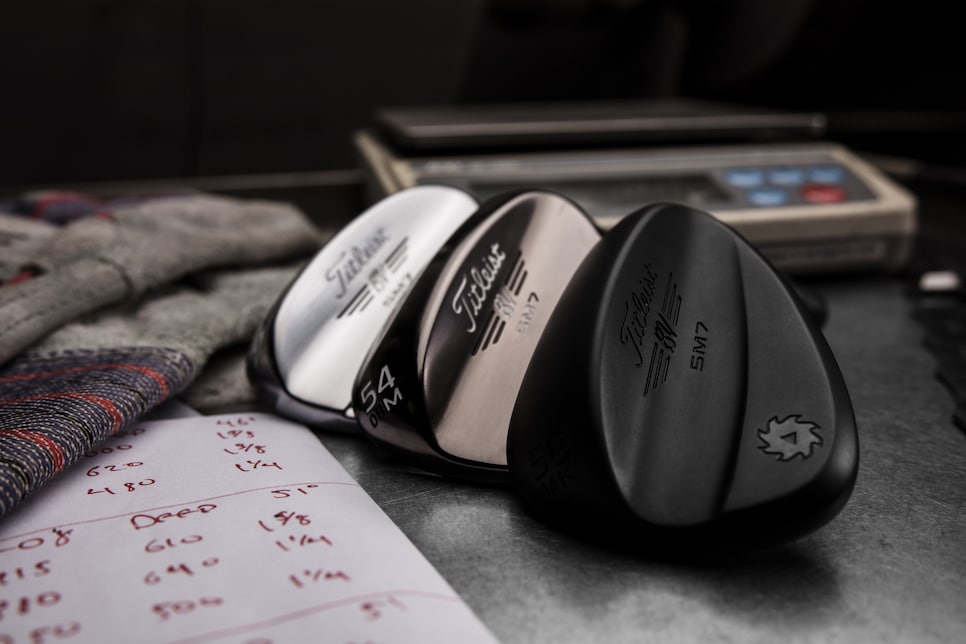 For Bob Vokey, even at 79 years of age, wedge design is never done. That's a requisite no matter what the age when you design wedges played by more amateurs and tour professionals than anyone else. It also helps to have a solid team assisting. For Voke, that means right-hand man Aaron Dill on the PGA Tour, the players on the PGA Tour offering feedback ("the best R&D facility in the world," Vokey is found of saying) and Kevin Tassistro, Titleist's director of wedge development
Using feedback gleaned from its tour staff, a few areas were targeted for improvement: shot versatility; distance control, spin and even ball speed.
For versatility some tweaks were made to existing models as well as one new addition. More bounce was added to the 46- and 48-degree models on the F grind and a 14-degree version supplements the K grind family. But the most attention is likely to go to the new D grind—a high bounce wedge with a crescent-shaped sole that brings the number of grind options in the SM7 line to six. Before becoming an in-line club, the grind was the most asked for custom grind on tour. It has more measured bounce than the K grind, but less sole width. In all the line carries 23 different loft, bounce, grind combinations.
Fort distance control, the center of gravity on the lower lofts have been dropped even lower and raised on the higher lofts. This not only assisted distance control but helped improve ball speed on the lower lofts—something first looked at in the SM6. With the SM5, the lower lofts were not producing the appropriate distance. By lowering the CG the distance came up to the point where two-thirds of Titleist iron players on tour are now using a Vokey wedge at pitching wedge loft instead of a set wedge. According to Tassistro, on the high lofts, the hit should be between the second and sixth scoreline. Bringing the CG up 2 millimeters brought about a four-foot tighter dispersion—important on those shots in close.
"It took us eight years of testing with hundreds of players to weed out the statistical noise," said Tassistro. "We did not find the change in CG changed launch, but it did provide more consistent distance."
Of course, no wedge line would be complete without looking at spin. For the SM7 that meant tighter groove radii in the Tour Chrome and Brushed steel models thanks to an additional Spin Milled cutting process while a localized heat treatment is used on all wedges (including the Jet Black finish) to ensure consistency while hardening the groove edge for durability. The result, up to 100 rpm more spin on average.
Each of the wedges (available March 9) carry a price of $149, however custom options on specs, grips, shafts and custom stamping and personalization are available. As Vokey himself knows, wedge design is never done.