The Loop
Those Titleist wedges are going to need a new stamping: Bob Vokey named to hall of fame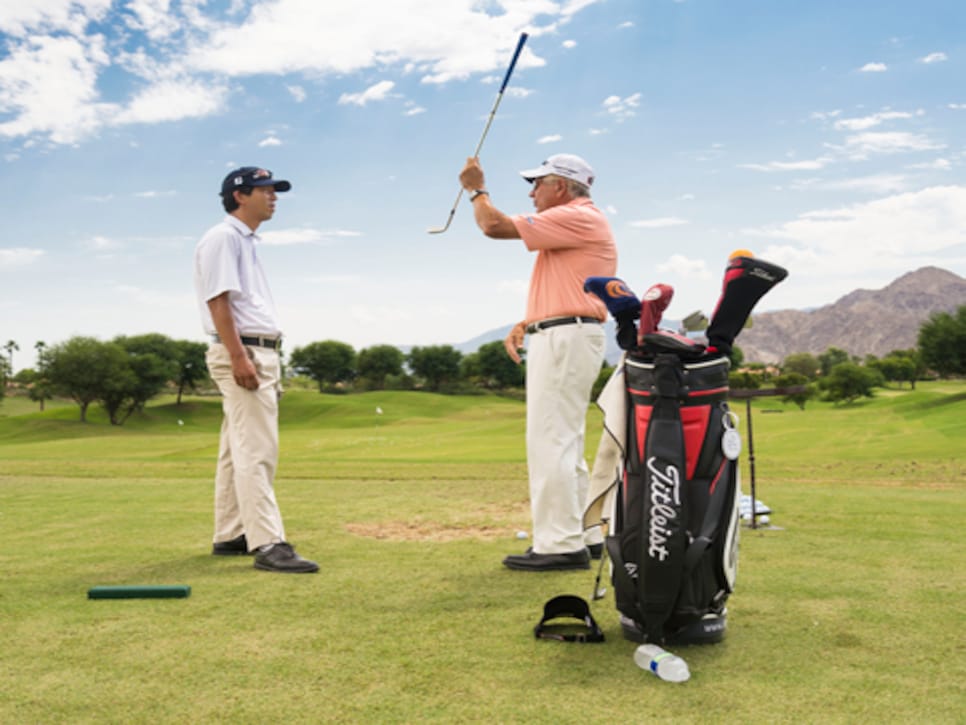 Bob Vokey, the wedge master craftsman behind the Titleist line of wedges that now bears his name, was one of two Canadian golf legends selected today to the 2017 class for the Canadian Golf Hall of Fame.
Vokey, who joined multiple-time amateur champion Judy Darling-Evans in this year's class, becomes the first golf craftsman named to his native country's golf hall of fame.
Born in Montreal and raised in Verdun in Quebec, Vokey has worked and designed clubs for TaylorMade, Founders Club and for the last two decades for Titleist, starting his first line of wedges for that company 20 years ago. Among the players that Vokey has designed wedges for are hall of famers like Seve Ballesteros, Lee Trevino, Bernhard Langer, Phil Mickelson, Ernie Els, Davis Love III, as well as Tiger Woods and current stars Sergio Garcia, Adam Scott, Rory McIlroy and Jordan Spieth.
"I'm an old guy but I'm giddy like a little 5- or 6-year-old," Vokey said. "I'm so thrilled. It's an honor I never thought would be possible in my wildest dreams. I'll never forget where I came from. I call it the tenements of Verdun, Montreal."
Vokey, who moved from Canada to Southern California to lay telephone wire for AT&T, started in the golf club business in 1976 when he opened Bob's Custom Shop in San Diego, which focused on club building and repair services. Working near the epicenter of the golf equipment business, Vokey had stints with TaylorMade as its primary club builder in its tour department starting in 1986 and later joined Founders Club in 1991. He joined Titleist in 1996, and his first line of wedges, introduced on tour in 1997, became a consumer product in 1998.
Vokey's style and influence on the modern wedge grew from his work with countless tour players and it led him to be a pioneer in developing an extensive catalog of loft-bounce combination and specific sole grinds. His 200 and 400 series wedges for Titleist established his name as synonymous with wedges. He later introduced wedges with a groove cutting technique called spin milling where a circular tool cuts the groove. That technique and the broad range of options have helped make his SM4, SM5 and SM6 wedges the top selling models in the game and the most played wedges on the world's professional tours.
"I've always had a motivation to help golfers, and I saw years ago when I first got into the wedge business with Titleist that the average weekend golfer hits maybe five-six greens a round, but what do you see on the driving range? He's out there trying to hit 300-yard drives all the time, and he physically does not have the ability to do that. But he does have the ability to get the ball up and down and close to the hole from inside a hundred yards.
"So I saw that and worked with all these different grinds from the tour players to help them execute all these different variety of shots. And that's what's always been important to me and that's what I'm going to continue to do."
Vokey, who also was named to the Quebec Hall of Fame earlier this year, was the 79th person elected to the Canadian Golf Hall of Fame, which honors amateur and professional players, as well as builders of the game, the category Vokey represents. Those in the hall include Jack Nicklaus, Canadian playing greats like Marlene Streit, Sandra Post, Moe Norman and George Knudson, as well as important contributors to the growth of golf in Canada like architects Stanley Thompson and Geoffrey Cornish.