Tim O'Neal has asked the questions of himself more times than he'd like to admit.
"What do I have to do to get over the hump?"
"Why didn't I get over the hump?"
"What do I need to do different?"
Twenty years is a long time for such things to rattle around in one's brain. "I'm not going to lie," O'Neal says. "I think about it."
Anybody who knows O'Neal and the perseverance he's shown in professional golf thinks about it. And those memories have become fresh again as the now-50-year-old embarks on another journey Friday, when he plays on a sponsor's exemption in his first PGA Tour Champions event—the Ascension Charity Classic in St. Louis.
"I'm looking at it as a new beginning," he says. "Maybe I can make some noise out there."
O'Neal's golf past is tinged with questions about what could have been.
In December 2000, at the final stage of PGA Tour Qualifying School at PGA West, O'Neal needed only a bogey on the 108th hole of golf's most grueling tournament to earn a tour card. His story would no doubt resonate with not just golf fans, but sports fans in general: a gifted golfer from a Historically Black College, Jackson State, reaching the highest level of the game to play alongside Tiger Woods, who'd just produced one of the greatest single-season runs in golf history by winning three straight majors. O'Neal already had captured the attention of actor Will Smith, who'd recently starred in "The Legend of Bagger Vance" and picked out the golfer as someone he wanted to sponsor.
But the dream evaporated in a matter of minutes in the California desert. O'Neal didn't know where he stood when he stepped onto the 18th tee box, and thought he needed to make a birdie to earn his card. With no scoreboards to let him know he could leave his driver in the bag, he took it out and painfully pulled his tee ball into the water. He compounded it by hitting his approach into a green-side bunker, eventually making a triple bogey and missing making the PGA Tour by two shots.
Emotional and thoroughly gutted, O'Neal offered to reporters afterward, "I couldn't help but be a little excited."
Four years later, there was another opportunity and another devastating miss at Q School. Again, at the 108th hole, O'Neal had about a 14-foot birdie putt to earn his card. His ball burned the edge of the cup and stayed out.
"We had it on TV at the golf course," said Tommy Schaff, O'Neal's childhood friend and fellow pro golfer. "We thought he made it. You miss getting your PGA Tour card two times like that, it's a tough pill to swallow."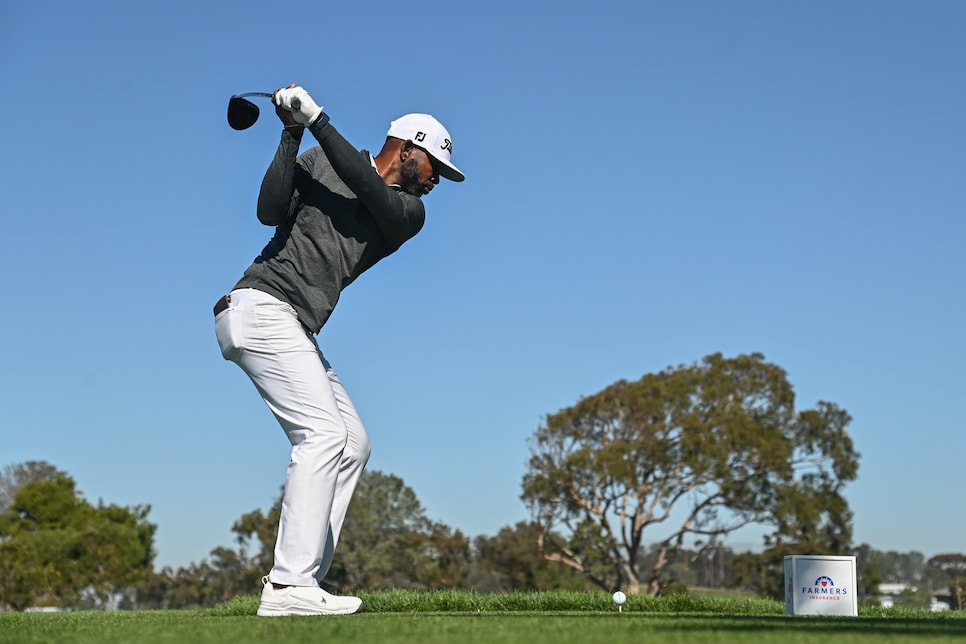 Tim O'Neal hits a drive during the APGA Tour's 2022 Farmers Insurance Invitational, where he finshed second.
Ben Jared
O'Neal hasn't come that close again. All told, he has made only eight career starts on the PGA Tour, mostly by way of sponsor's exemptions, and has yet to make a cut or earn a paycheck.
Maybe that was to be O'Neal's fate; that he simply wasn't good enough to compete regularly at the highest level. But to never truly get a chance to find out is what continued to nibble at him. Though those close to O'Neal will tell you that he never showed it.
"It never changed him as a person or a golfer," said Schaff, who is best known as a former contestant on Golf Channel's "Big Break." "He kept his head down and just kept going."
O'Neal, who has lived in Savannah, Ga., most of his life, did consider giving up the professional grind around 2010. He played four full seasons on the now Korn Ferry Tour between 2001 and '07, with nine top-10s that included a solo runner-up to Greg Kraft in the 2006 Northeast Pennsylvania Classic. (Bubba Watson finished third.) But with no real financial backing or consistent status on any significant tour, O'Neal began teaching golf and didn't see a path to competing anymore.
"If it wasn't for my mom, I probably would have stopped," O'Neal says. "She said, 'You can't stop; you're too good. You'll get a break. Something will happen.' And it happened just like she said."
Of all places in the world, O'Neal found his golf spirit again in Morocco.
In 2011, the eGolf Tour was looking for four players to send to a seven-event, all-expenses-paid swing to the tiny European country. They offered a spot to O'Neal, who cajoled Schaff into going with him. O'Neal won the first event they played and made roughly $6,500. Then he won again, and again. The trip changed his life.
"That got me going" he says. "I bankrolled myself into playing again."
The Advocates Pro Golf Association, a tour founded to give minorities more opportunities to compete, was a fledgling circuit at the time. O'Neal came back from Morocco and dominated, winning all three events the APGA staged that season. (He has won nine career APGA titles, including two victories this year, on the tour that has grown exponentially and is staging a concurrent event with the Ascension in St. Louis this week.)
O'Neal parlayed his new-found confidence into qualifying in 2013 for PGA Tour Latinoamerica, where he won twice that year. That got him back to the KFT, but he didn't keep his card, returning to Latinoamerica, where he won again in 2016.
In the years since, O'Neal has filled out his schedule with APGA and other mini-tour events, and state opens. He has two kids—daughter Jordan, 20, and son Jayden, 16—who provide him a well-rounded life.
"He's so great with his kids. I've learned so much from him about how to be a father," Schaff says.
If O'Neal's history with the PGA Tour is one of heartache, he doesn't let it come close to defining who he is. Schaff, who roomed with O'Neal on the road for years, says his friend has a goofy sense of humor and a generous soul. Schaff recalled O'Neal giving him money when he needed it to enter Q School. Then there are the times they'd walk into a pharmacy and O'Neal would shout from another aisle, "Hey, Tommy, I found the Preparation-H for you!"
"He's the nicest person in the world. You'll never hear anybody say anything bad about Tim O'Neal," Schaff says. "Everywhere he goes, people remember when they play with him. He used to say, 'That's because I'm the only Black guy out there,' but it's not true. He's just a good dude."
Schaff marvels at the completeness of O'Neal's golf game—"It's sickening how talented he is"—and gets a bit hyperbolic when he says, "You can ask anybody. He's by far the greatest player to not have a PGA Tour card."
'I'm looking at it as a new beginning. Maybe I can make some noise out there.'
—Tim O'Neal on trying to make it on PGA Tour Champions
O'Neal might be the first person to disagree with that, but he's worked diligently in recent years to give himself a shot at a career re-birth on the senior circuit. He can look to players such as Steven Alker, who moved from a non-descript regular-tour career to one that now includes four Champions victories.
"It's definitely a fresh start for me, and that's why I kind of want to hit the ground running when it's time to play," O'Neal said on the day his Ascension exemption was announced. "I've done certain things to kind of stay in shape, and not let myself go and still work really hard."
O'Neal will compete this week while hoping to secure other sponsor's exemptions before the season is over, and then he begins full preparation for PGA Tour Champions Q School, which only awards five full cards after regional and final qualifying. He hopes to have the chance to answer the questions that have long nagged him.
"Sometimes, when I think about it, I know I had the skills to play on the PGA Tour, and I think I tried a little too hard," O'Neal says. "Sometimes you can want something too bad. I knew it was there for me, and then it wasn't."