The Offer
Former PGA Tour pro tweets out hilarious 'offer' from fake World's Affluent Golf League (WAGL for short)
With LIV rumors constantly swirling, the conversation always revolves around which big name will make the jump next. Xander Schauffele? Collin Morikawa?! Viktor Hovland?!?! Patrick Cantlay?!?!?!
All fine players, and all recognizable names who the PGA Tour would rather not lose. But the real question we should be asking, is, is Tim "Lumpy" Herron next?
If so, the PGA Tour Champions will suffer a massive blow. But it's not LIV it should be worried about. It's the WAGL, also known as the World's Affluent Golf League, which recently made Herron an offer that he couldn't refuse, and Herron shared the offer letter to his Twitter account:
Five-inch cups and double the amount of clubs you're normally allowed in a professional event? Bath bomb basket? Just show us where the dotted line is, please and thanks.
And that's before even getting to the really good stuff. Before you criticize Herron for possibly taking this offer, first ask yourself this: would you turn down an Arabian horse? Your hypocritical silence is deafening.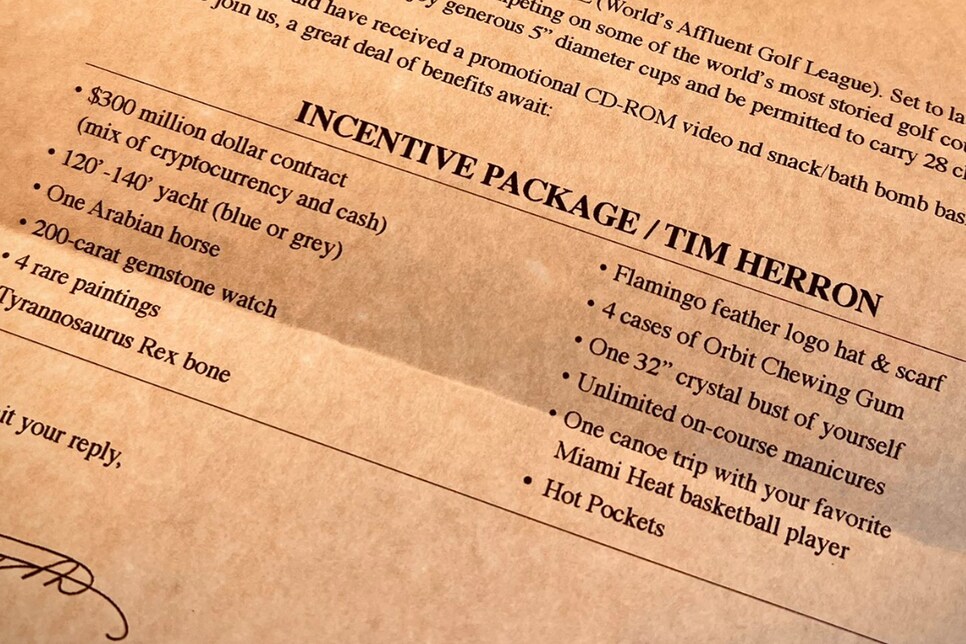 Not sure the PGA Tour Champions, or the LIV Golf series, for that matter, has anything to offer that could match "Hot Pockets." Lumpy is as good as gone.
All kidding aside, Herron is pretty damn good at this Twitter thing. Who remembers this gem of him announcing his leap to the PGA Tour Champions:
A+++. We'd say he should tweet more, but Lumpy sure seems like a quality over quantity guy, unless it comes to cases of Orbit chewing gum.