The Loop
Tiger's tantrums? "Not on this stage," says Curtis Strange
AUGUSTA, Ga. -- As for the meaning of the Tiger Woods tantrums during Friday's second round of the Masters, two-time U.S. Open champion Curtis Strange says, "It shows how truly frustrated he is. Only two weeks, he thought he had it. Now, not so much."
Woods won Arnold Palmer's tournament at Bay Hill two weeks ago. During Friday's round -- his 72-75 made the cut by two shots and left him behind 39 players -- Woods muttered curses picked up by television's microphones. At the 16th tee, after a 9-iron shot fell short and right of the green, he dropped the club, then kicked it.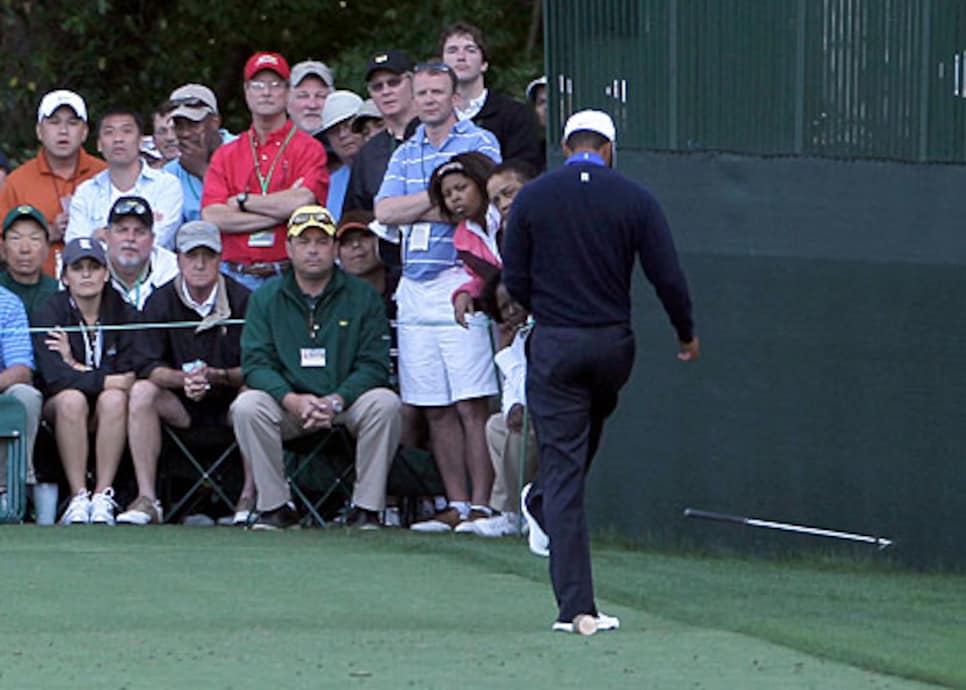 Photo by Jamie Squire/Getty Images
Maybe Joe Hackenchop could go unnoticed with such an act in the Screen Door Open at Carlock, Illinois. But Tiger Woods is Tiger Woods, and attention must be paid. If the PGA Tour had any spine at all, it would change its policy of disciplinary measures carried out in secrecy. It then would fine Woods for the tantrums and announce that the next piece of boorish behavior would be cause for a month's suspension. Of course, it's more likely that I will be the Republican nominee for president before the PGA Tour dares move against its cash cow.
Strange, in Augusta to do television commentary for ESPN, said, "Tiger's frustration is that time -- time's not running out -- he's 36, yes, but he's in such good physical condition and he's such a competitor -- but he might not be healthy forever, then..."
There, Strange left a question mark in the air, the sentence unfinished but clearly suggesting that, absolutely, time IS running out for a man who once imagined breaking Jack Nicklaus' record of 18 professional major championships. Woods needs four more to tie. What once seemed a steep climb now seems an Everest in a blizzard.
Like many a child prodigy who became an outstanding player, Strange admitted to his moments of hot-headedness, "at 17, at 37, hell, at 57." Famously, Robert Tyre Jones, Jr., in his first competition at St. Andrews, walked off the course in anger. Only after some stern talking-to by his elders did he harness that temper and become the great, sainted Bobby Jones. (Even in his maturity, Jones said, "Some emotions are too powerful to be experienced with a golf club in one's hands.")
All that said, still, there's a time and place.
Throw your tantrum in Carlock.
"Not on this stage," Strange said.