Equipment
Tiger's new GAPR driving iron? Yup, TaylorMade just debuted ones just like it you can buy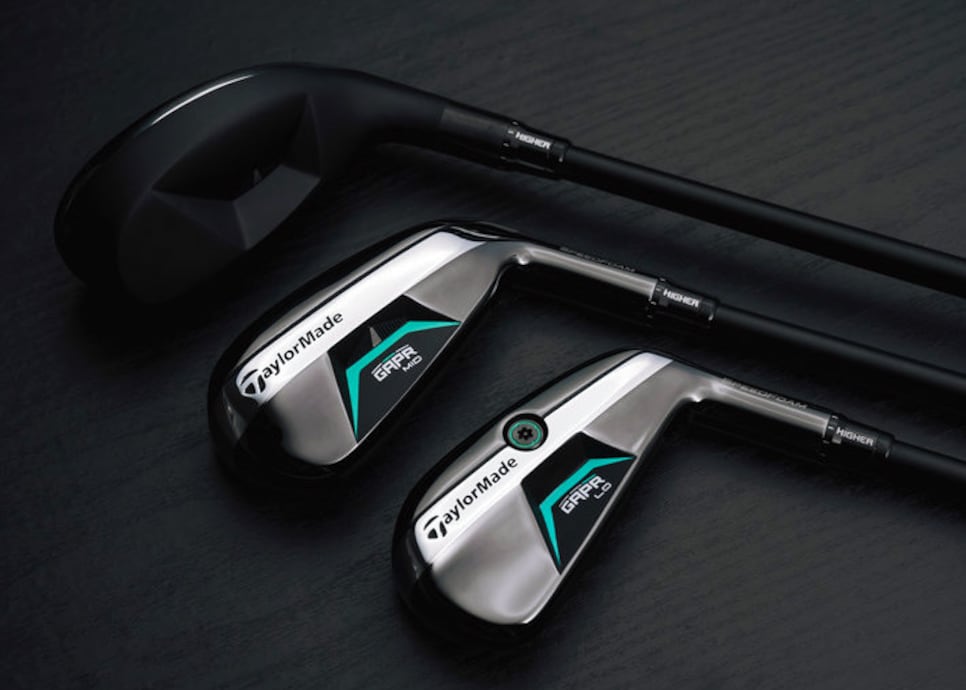 TaylorMade's GAPR line of long-iron replacement clubs, which have been seen in the hands of Tiger Woods and Justin Rose during their Open Championship preparations in recent weeks, got their formal launch today and immediately sparked the question: What exactly are they?
The short answer is the GAPR clubs fit a growing hole between increasingly difficult to hit and lower-lofted long irons, hybrids that fly too high and long-shafted fairway woods that are harder to control. The name refers to the "gap" in a player's set make-up between your longest comfortable iron and your shortest fairway wood.
"GAPR provides innovative options for players to confidently hit a specific yardage with a specific trajectory," said Tomo Bystedt, TaylorMade's senior director for product creation in metalwoods.
Increasingly, iron set purchases have been seeing fewer and fewer 3- and 4-irons sold, and some sets were only offering those long irons as a custom set. With those iron lofts dropping down to numbers as low as 18.5 degrees on some 4-irons (the loft of a typical 5-wood, for example), many golfers couldn't elevate shots with those clubs and were turned off from making that purchase. For example, the average loft on 4-irons in Golf Digest's Hot List of game improvement irons is 20 degrees, or what the loft of a 3-iron was as recently as the late 2000s.
Meanwhile, on tour, the traditional hybrid has started to fade from use. On the PGA Tour, the number of hybrids in play on a given week is about 40 percent less than it was just five years ago. Players wanted more control of trajectory, Bystedt said, control they couldn't get from a typical hybrid. Hence, there's been an increase in the kind of hollow body, low-lofted driving or utility irons on tour.
"More Tour players are adopting utility clubs to bridge the gap between their longest iron and shortest fairway wood," Bystedt said.
But based on TaylorMade's research, those shifting views don't yield one answer, however. That's why the GAPR clubs offer three solutions, GAPR LO, GAPR MID and GAPR HI. While each of the hollow-body designs benefits from TaylorMade's slot technology in the sole, plus the use of a foam filling that supports the face and allows it to flex and still feel solid. It's that technology that was behind the company's successful P790 hollow body players distance irons. On the GAPR clubs, each also will feature an adjustable hosel, But the new trio presents three distinct and technologically relevant looks, too. The former is the most iron-like of the three, while the latter is a smallish hybrid. The main differences center on each club's internal weighting.
The GAPR LO is aimed at players with higher swing speeds. It features the narrowest sole for most workability and a center of gravity that is low and forward for a low- to mid-trajectory. The GAPR LO is the club Woods has been testing at Carnoustie to hit his famed low-flighted, shallow-landing, long-running stinger tee shot.
The GAPR MID is also cut from the utility iron mold, but offers a larger profile and wider sole. That wide sole offers forgiveness and yields an ultra-low center of gravity. The GAPR MID's internal weighting also is forward for low spin and high launch.
The hybrid-style GAPR HI likely has the broadest appeal. Smaller than the majority of hybrids on the market, its sole is the widest of the three, pushing the center of gravity low but also back. That combination provides high launch with a little more forgiveness. A dropped crown design also shifts the weight lower to help decrease spin.
The GAPR LO and GAPR MID come in three different lofts (17, 19, 22 degrees on the former; 18, 21 and 24 on the latter) but the same three lengths (40.25 inches, 39.75 inches and 39.25 inches). The GAPR HI is offered in four lofts and half-inch longer lengths (19, 22, 25, 28 degrees). The GAPR lineup will be in stores Aug. 24 ($250).