News
Tiger's last start before the Masters ends with a stumble, but offers more signs of hope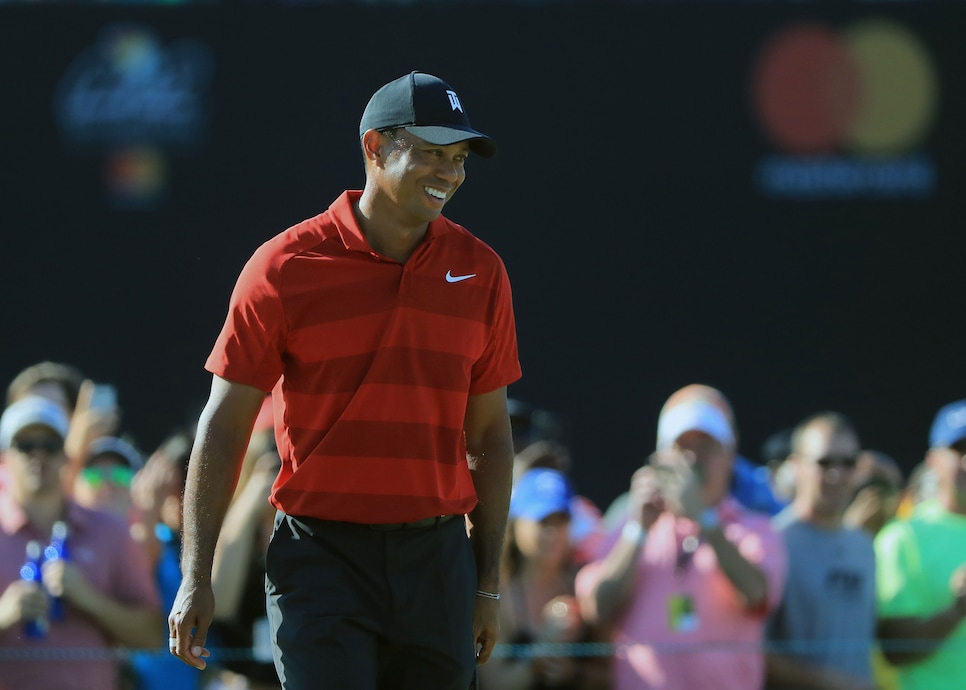 Photo By: Sam Greenwood/Getty Images
ORLANDO — Somewhere in the recesses of that steel-trap mind of his, Tiger Woods had to know he was capable of this. He had to know that if he could return to competitive golf, he would return to being competitive.
He wasn't going to be ceremonial, and he most definitely wasn't going to countenance any trace of incompetence. He wasn't going to put himself out there under the microscope to be dissected and picked at again like a cadaver. The last-ditch attempt to re-ignite his stalled and atrophying career with a Hail Mary spinal-fusion surgery was either going to make him whole or make him quit.
He can hedge and demur all he wants—and he has—but you can't blame him for that when the journey has been so awkward and bumpy and, yes, mystifying. And even uncomfortable, for us as well as him, when you think back to that unfortunate traffic stop last May that resulted in his DUI arrest, truly a bottoming out for a man with so many gifts, so much ability and charisma.
Woods has said repeatedly he didn't know what to expect in this latest comeback, how his body would hold up. Perfectly logical. But as Ernie Els said earlier this week, "Talent don't leave people. Talent and grit and determination, that comes from inside."
And Tiger knows this, too. Which is why he left the grounds of Bay Hill Club on Sunday night not hopeful or satisfied, but "a little agitated." He was in this tournament, the Arnold Palmer Invitational, for 69 holes, striping irons, stalking the golf course, making a charge that electrified the swell of patrons who had come to see magic and were getting a fair dose of it.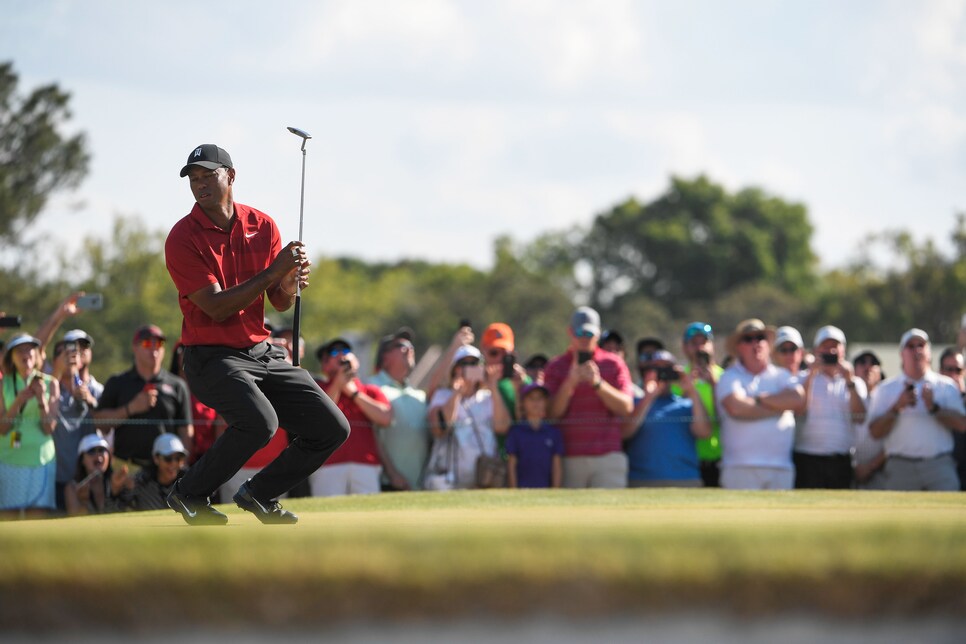 "If I can play with no pain, and I can feel like I can make golf swings, I'll figure it out," he said after signing for a 69 that possessed far more effervescent elements than previous outings this year. "I'm starting to piece it together, tournament by tournament, and each tournament's gotten a little crisper and a little bit better."
And yet, he didn't author the finish he wanted. A tie for fifth at 10-under 278 isn't going to bring a copious amount of satisfaction to a man with 79 PGA Tour titles. He was, after all, closer to winning the week before, when he left a tying putt two feet short at the Valspar Championship.
On this steamy day, in a tournament he has won a record eight times, Woods finished eight strokes behind a rejuvenated Rory McIlroy, who is making a comeback himself, though not from the same depths of doubt and debilitation. But the performance Woods submitted at Bay Hill seemed more consequential, more dynamic than the week before at Innisbrook Resort's Copperhead Course when he appeared to be spinning his wheels. He was managing his game, more or less, and not yet ready to let it flow through his hands and eyes and instincts.
Seven days later, in his former hometown, Woods had become comfortable and confident enough to attack, to go for the win, go for broke, if you want to conjure memories of Arnie.
"Overall I thought it was a clinic of ball-striking today except for two tee balls," said Joe LaCava, Woods' caddie.
LaCava was referring to a flare to the right that cost him a bogey at No. 9 and a double-cross left at 16 that cost him any chance to win, both with driver in his hands. The second one, born of indecision, was the killer after he had rallied within a stroke of McIlroy and third-round leader Henrik Stenson after back-to-back birdies at 12 and 13. Woods knew what to do. He simply lost track of how he should do it, perhaps one of the only traces of rust from his nearly two-year hiatus.
"I didn't decide what I was going to do," he explained. "If I hit driver, I've got to fit it, I've got to cut it in there. And I was, in the back of my mind, I said, 'Why don't you just bomb it over the top [of the right corner]?' And it was like a 315, 320 carry. And I bailed out and hit a bad shot, and that's on me for not committing."
Though Sunday was just his 18th competitive round of 2018, Woods wouldn't blame it on lack of reps. He couldn't. Woods has played four of the last five weeks, and in each of the last two he climbed within a stroke of the lead. In the end, he didn't have enough of a scoring kick, though he now knows without a doubt he has enough firepower.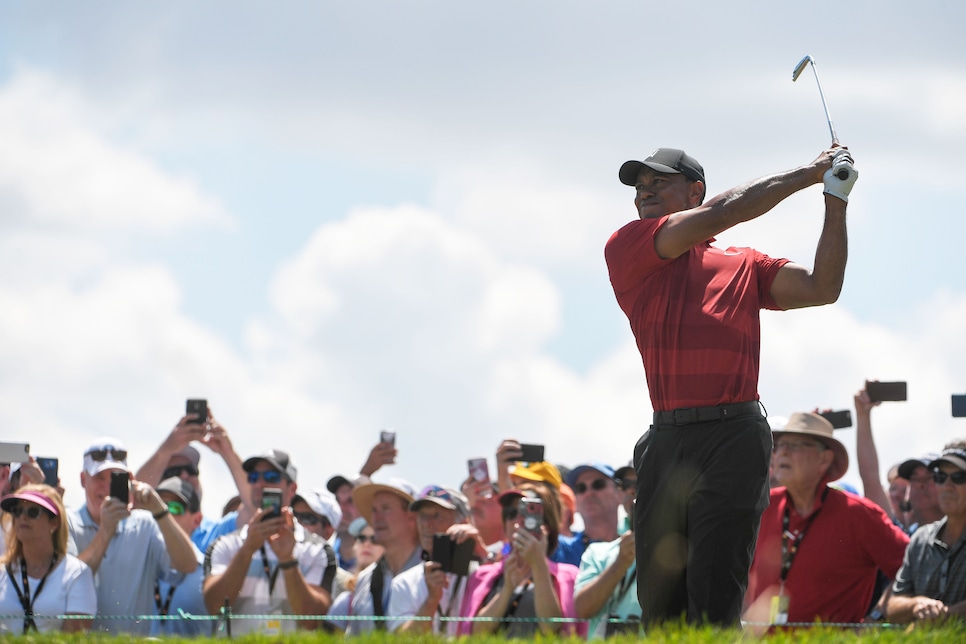 And now the Masters awaits, the first jewel of the season, the tournament he has been building towards methodically. Sure, he wanted to win a record ninth API. But his appetite is for the majors, or why else would he do this? Give this man four more majors, and he ties Jack Nicklaus with 18 for his career, and he passes Sam Snead for the most all-time tour titles. Nifty package all rolled together.
Woods plans to visit Augusta National Golf Club in the next two weeks before Masters week arrives. He hasn't putted on bentgrass greens, he said, in two years. His last two trips to Augusta were dyspeptic episodes, to say the least: a meal and small talk at the Champions Dinner and then the agony of having to forego a bid for a fifth green jacket.
"I miss playing there. I've been there for the dinner and as great as that is, it's frustrating knowing that I'm, I would have to say, young enough to play the event, where some of the other champions are not, and I just have not been able to physically do it," he said. "I've had a lot of success there, too, so really looking forward to getting up there and doing a bit of work and getting a feel for the golf course and basically feel for playing that style of golf again."
More hedging, which again is understandable given his absence from the tournament the last two years and three of the last four. Then there's the fact that his last Masters win was 13 years ago.
But make no mistake, having played his last tournament before the year's first major, he is better prepared for this challenge than he could have ever imagined or hoped for when he opted to return to the golfing grinder.
"If you would have given me this opportunity in December and January, I would have taken it in a heartbeat," he said. "Everything was an unknown. I didn't know what I was going to feel like, what I was going to do, what swing I was going to make. Especially Torrey Pines, was the rough going to be the same pain I was going to feel like I felt last year? I don't know. But coming through that I've gotten a little better, a little bit sharper and I worked my way up there into the leaderboard back-to-back weeks and had a chance, which is nice."
Nice? Sure. But this comeback is in no way an exercise in niceties. As he signed autographs after his media obligations, Woods smiled but also seethed. And that is a good thing.
"It is a good thing," he agreed. "It means I care. And I do."
Of course, he cares. He's capable of more, and he knows it.