News
Tiger Woods Sunday live blog: Tiger comes up short, finishes with three-under 69 at Bay Hill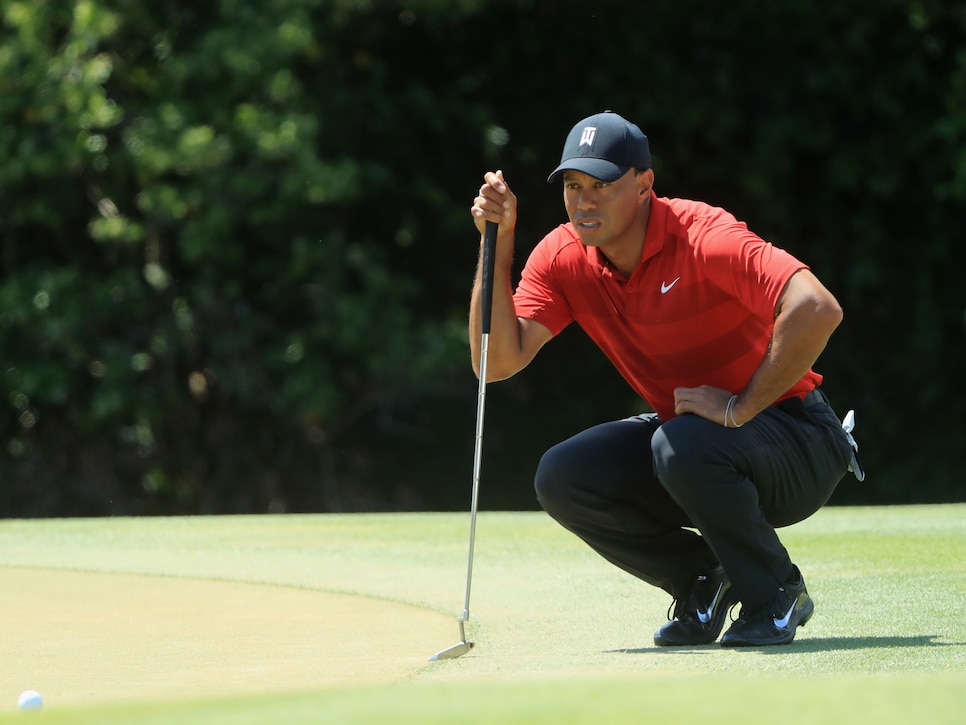 While Tiger Woods has been far from perfect this week at Bay Hill, he still finds himself lurking at seven-under 209 entering the final round, five shots back of leader Henrik Stenson. Woods' three-under 69 on Saturday was another grind, capped off by a huge 12-foot birdie putt at the par-4 18th that produced a vintage fist pump from the 14-time major champion. It will take the lowest round of his comeback to threaten for his ninth victory at the Arnold Palmer Invitational, but Woods knows better than anyone that it can be done.
Not only will he have to chase down Stenson, but he'll need to leap a few other of the world's best to do so, like the resurgent Rory McIlroy, who sits at 10 under after firing a third-round 67. At 11 under is Bryson DeChambeau, who is in search of his second PGA Tour victory at the age of 24. Justin Rose (-9), Ryan Moore (-9) and Rickie Fowler (-8) are also in the hunt.
Woods tees off at 1:30 p.m. alongside Bud Cauley, who is also at seven under. Golf Digest will be here throughout the afternoon charting Tiger's progress at the Arnold Palmer Invitational.
5:49 PM: After missing the fairway with his drive, Woods hacks one back out into the fairway left of the green. From there he knocks his third to 12 feet and holes the par putt for a three-under 69. Could have been a real low one, but still an impressive day from Woods at Bay Hill. Augusta can't get here soon enough
5:31 PM: Another bogey to drop to 10 under. Sigh.
5:30 PM: Woods' tee shot at the par-3 17th finds a greenside bunker, and he hits one a little fat from there, leaving him a another tough putt for par. Starting to fade.
5:25 PM: McIlroy just holed a dagger of a birdie putt at the par-3 14th to get to 15 under. Even thought it looks like Woods will come up short on Sunday, it's good to see he and McIlroy back at the top of the leader board, especially with the Masters less than a month away.
5:21 PM: Good effort, but not good enough. Two-putt bogey to drop Woods to 11 under. Going to need a miracle to pull this off now.
5:18 PM: Woods finds the green on his fourth, but it's a long way from the hole. Would be an incredible par save if he gets it to drop. Meanwhile, McIlroy gets to 14 under with a birdie at the 13th. Not looking good for Tiger.
5:10 PM: Oh no. Disaster at the par-5 16th, as Woods pulls driver out-of-bounds into someone's backyard. He did smoke his third off the tee, so par is within reach if he can find the green. Still, a potential dagger late in the round.
5:04 PM: Woods gave his 25-footer a great run, but it just slips by on the left side. Still at 12 under as he heads to the par-5 16th, a hole he's birded all three rounds this week in impressive fashion. Goes without saying that a fourth would be ideal.
5:00 PM: Woods finds the green at the 14th and keeps it well under the hole. Long birdie putt coming up to grab a share of the lead.
4:56 PM: Another great iron off the tee at No. 14, but it just trickles into the rough. Bad break there for Woods.
4:50 PM: Very classy pitch shot from Woods, and he saves par. Huge.
4:45 PM: Woods was staring down his tee shot at the par-3 13th, but it came up short right and rolled well off the green. Challenging up-and-down coming up.
4:42 PM: BANG! Center of the cup! It's really happening. Woods is now 12 under and one back of McIlroy and Stenson.
4:40 PM: Pitching wedge from 142 yards out lands a few feet from the hole but had just a little heat on it, rolling 12 feet by.
4:34 PM: Another iron off the tee at No. 13 and ... wait for it ... yup, another fairway. Guy is in rare form on Sunday. Will it be enough?
4:30 PM: Excellent bunker shot from Woods, rolling it out to four feet. He converts on the birdie, and now sits just two back. This is surreal stuff.
4:23PM: Woods needed a little "pinch cut" but instead pulled it left of the green and into a bunker at No. 12. That hurts, but an up-and-down birdie would still be big for momentum.
4:18 PM: Another fairway at No. 12, this time with the driver, putting him in position to go for the green in two. Have to figure Woods has seen the leader board and knows it's starting to get real at Bay Hill. Like really REAL.
4:15 PM: Good chip from Woods, and then a nervy par putt that 360'd around the cup and in. Way too scary. He's now just three back after Stenson makes his first bogey of the day at the par-4 eighth. He's tied with Rory McIlroy, who just posted a three-under 33 on the front nine to get to 13 under. It's all happening now.
4:09 PM: Yikes. Wood' misjudges his approach and comes up short, but it barely hangs on in the rough and stays dry. Missed opportunity after a great drive. Needs to save par here to keep it interesting.
3:58 PM: Another frozen rope with an iron off No. 11 tee, or as Johnny Miller called it, a "pinch cut." Love it.
3:55 PM: Never a doubt. Woods gets back to 10 under, right after NBC flashes the graphic of his career-low back nine at Bay Hill, which was a five-under 31 back in 2000. Hey, it could happen!
3:50 PM: Make that eight out of 10 greens as Woods finds another at the 10th, hitting a 186-yard 8-iron to within 10 feet. Good look to get right back to 10 under. That bogey is really going to hurt now if he drops this one... OK, forget about that. Positive vibes only.
3:48 PM: Another beautiful iron off the tee at No. 10. Woods has now hit six of his eight fairways and seven out of nine greens.
3:40 PM: Par putt slides by on the high side, leading to his first bogey of the day. One of the bigger "what could have been" two-under 34s you'll ever see from Tiger Woods. He heads to the back nine five off of Stenson's lead.
3:38 PM: Woods juices a bump-and-run about 10-12 feet past the hole. Not ideal.
3:35 PM: A vintage-Tiger recovery shot on his second, one that was all over the flag but went a little too far. Perhaps it was too good. He should be able to save par, but it's his first real short-game test of the day. We'll see how he fares.
3:27 PM: Oh dear. Woods hits one off the property at the par-4 ninth. OK, obviously it's still in play, but it was MILES to the right. After a nearly perfect opening eight holes, Woods will face some adversity before making the turn. Big moment here.
3:25 PM: Boom! Woods drains the six-footer for birdie to get to 10 under. He's now 53-for-53 on putts inside nine feet. But Stenson is now at 14 under, and has a good look at the fifth to get to 15 under. Tiger is giving it a hell of an effort, but he's going to need the leaders to back up a bit to have a realistic chance.
3:19 PM: From 173 yards out, Woods hits a sky-high 8-iron that comes down just right of the pin inside of 10 feet. Useful shot, giving him a great chance to get to 10 under.
3:12 PM: Woods splits another fairway at the par-4 eighth with an iron. Having a strong day off the tee.
3:06 PM: Two-putt par. Clean card through seven holes, but it needs some more circles.
3:00 PM: Good iron shot at the par-3 seventh, but a little short. He'll have a lengthy birdie look to get to 10 under.
2:55 PM: UGH. Woods' eagle putt looked so good, but it catches the lip and rolls by a few feet. Even Tiger was walking it in. That hurts, but he makes another "disappointing" birdie to get to nine under, four back of Stenson. Woods is now 11 under on the par 5s this week, the best of anybody in the field.
2:50 PM: Oh MY. Woods ropes one into the green and it rolls all the way back near the hole about 15 feet away. He seems to be firing on all cylinders on Sunday.
2:46 PM: Woods takes an aggressive line at the par-5 sixth and his ball clears the water, rolling out to 317 yards, two short of Jason Day's longest drive of the day. He'll have 227 yards left to find the green and get another eagle look. Have to keep capitalizing on the par 5s to stay in it.
2:38 PM: Woods hated his putt immediately walking after it in disgust, but it hit the flagstick! Unbelievably, it didn't go in, and Woods tapped in what was left for par. Wild, wild four, and one he'll take and run considering his birdie putt would have ran well past the hole.
2:35 PM: Woods' drive actually ended up in the rough, and then he caught a terrible break on his chip when his ball hit a sprinkler head as it rolled up to the green. What looked like a good chance for another birdie is now looking like a par at best. To make matters worse, Stenson and DeChambeau both just birdied the first hole. Woods is now five back.
2:30 PM: Woods takes a mighty lash with the smokewagon at the 390-yard par-4 fourth and it lands up near the green. That was a bomb.
2:26 PM: Hard to complain about a two-putt birdie, but Woods never really gave his eagle putt a chance, leaving it a few feet short. He's now gone 394 holes since his last eagle at the 2015 Wyndham Championship. He's now at eight under, four back of Stenson.
2:19 PM: Woods hits a majestic 2-iron that finds the green at the par-5 fourth. Should have a putt for eagle inside of 30 feet. Here we go.
2:14 PM: Woods bombs a driver down the middle and finds his third fairway of the day. Big opportunity to start gaining some ground here. He'll have 243 yards left to find the green and potentially get a look at eagle.
2:08 PM: Woods' approach comes to rest about 30 feet from the hole, and his delicate birdie try slides a few feet by and he cleans it up for par. He's now 48 for 48 on putts inside nine feet this week. Is that good?
2:00 PM: Woods stripes an iron 296 yards down the fairway at the par-4 third. Some would call that a useful shot.
1:55 PM: Less-than stellar effort for Woods on his birdie try, coming up about seven feet short. But he bangs home the par to stay at seven under. Can't really afford to drop any shots today, so remember that save if Tiger is able to mount a charge. A few good opportunities coming up for birdies.
1:48 PM: Woods hits a high fade to the center of the green and gets it to funnel slightly left toward the hole. Safe play, leaving him another long look at birdie.
1:43 PM: Good looking two-putt par for Woods at the first. Onto the the par-3 second.
1:36 PM: Woods takes 6-iron from the fairway and overcooks it just a tad, but it hangs on the back of the green. Long look at birdie coming up.
1:30 PM: Woods rips an iron down the middle off No. 1 tee. Couldn't have asked for a better start.
1:11 PM: The wind looks to be blowing a bit right now in Orlando, and the scores so far back that up. Martin Laird, Brandon Harkins and Emiliano Grillo are tied for the lowest round on the course right now at three under. Alex Noren posted a five-under 67 this morning, and Kevin Na carded a four-under 68. Other than that, no one is lighting it up just yet.